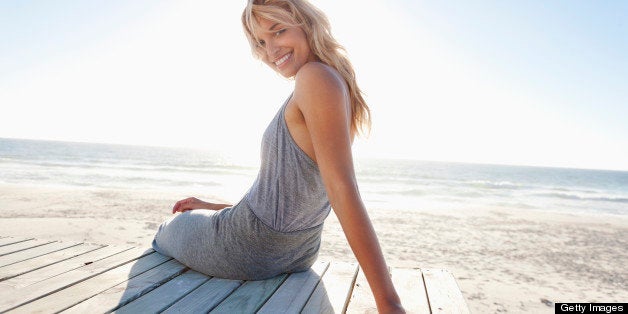 Summer is arriving thick and fast in LA: the evenings are staying sunnier, weekends are for the beach and my sweaters have all-but-one-hoodie been packed into a box. I love this time of year. But the warmer weather gets me thinking about being bikini-ready, getting on a healthier diet and keeping my skin glowing -- seeing as it's about to be on display a little more!
Well if there's one thing I've learnt in the last decade, it's that what we feed ourselves on the inside reflects how we look and feel on the outside. I happen to be obsessed with avocadoes, which -- full of nutrients and good fats -- I eat one of per day. My make-up artist thinks that is the biggest contributor to keeping my face less lined. I'll eat them mashed on rye toast, on a salad or just straight up with a squeeze of lime and a spoon.
Another tip? Check out Soupelina.com, my friend's brand new vegan soup business. Don't be fooled by the 'V' word: these are hearty, tasty but extremely healthy vegetable soups, made fresh and delivered daily in adorable pots illustrated with the Soupelina fairy. 'Sweet coconut Thai' is my favorvite, made with sweet potato, red curry, coconut and lemongrass, closely followed by 'Kale-ifornia Dreamin' a delicious mix of kale, sorrel, new crop potatoes and onion.
Last but not least, don't forget that with the changing of seasons, your body can crave different minerals and vitamins compared to a colder time of year. I try to gobble down a few supplements every morning, including spirulina for energy and flaxseed oil for digestion and glowing skin. With dryer skin in the summer, Udo's Choice Omega Oils blend is the best thing ever to drizzle on a salad or tuna steak. Now instead of spending hours in the drug store, I browse on this amazing website Feel Unique, which has the most enormous range of health and beauty products ever, and does a good job of explaining what each pill or potion does.
Heat and sunshine can play havoc with your skin, so I like to prep my face with an oxygen facial at Carasoin Spa. Lena, the therapist there, unclogs pores and exfoliates dead skin cells, before hydrating and plumping the skin up with the oxygen machine. It's an incredible treatment but don't underestimate the effectiveness of beauty rituals at home. Steaming your face over a bowl of hot water with a towel over your head, then using a gentle scrub, followed by a hydrating mask, will make your skin feel as soft as a baby's bottom! If you're heading outside afterwards, be sure to apply moisturizer or foundation containing SPF (Maybelline FIT ME is my favorite, I use Nude/Beige).
Maybe it's because I'm outdoors more, or playing sports more, but in the Summer, I chip my nails like crazy. It's so annoying to shell out on a mani-pedi only to ruin it 2 hours later. So for the Summer months, I get gel nails done at Mars salon in West Hollywood. The process takes a little longer as layers of varnish are added slowly, but it won't chip at all for 2-3 weeks, which is genius. I usually go for a primary color like bright red, or a neutral nude, so that my outfit options aren't limited by clashing nails! Plenty of local salons now offer gel treatments for a reasonable price -- and why not have a little fun with nail art or embellishments while you're there: check out this blog for fun ideas go to A Polish Problem.
Last but not least, let's talk beauty sleep. A temperature change of just 2 degrees can play havoc with your sleeping patterns, so when it get's hotter outside, it's important to stay cool between the sheets. I just moved house, and found the packing process very cathartic, mainly because I threw so much stuff out! One bag of which was filled with old t-shirts and shorts that I used to sleep in. My (very late) New Year's Resolution is to look cuter in bed! So I found, Marigot, a gorgeous brand designing night shirts and pyjamas. These are all I want to wear in bed again, ever. Made from crisp white **cotton and printed with cute motifs such as coral and seahorses, these are chic, comfy and no kidding, I've never slept better....