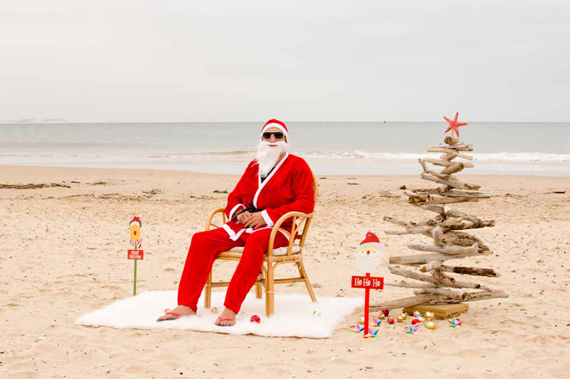 A white Christmas the Australian way is different to what you're used to. Instead of glistening white snow, you're more likely to see white sand baking in the sun. Rather than rugging up inside with family and friends to beat the cold, we're busy trying to cool off in mid-summer. Here's five ways Australians do Christmas differently.
1. The food
Our British heritage means that the traditional Christmas dishes like turkey, roast and pudding all make an appearance. However, you'll also find some foods more appropriate for our warmer climate. An Australian dinner table at Christmas always, always, includes fresh seafood. At the very least prawns (shrimp).
Other Australian Christmas Day favourites include cherries (which are in season), cold-cut meats, barbequed meat, cool salads and pavlova: a desert common in Australia and New Zealand (like many things, we bicker about which of our countries it originates from) made out of meringue and topped with fresh fruit.
2. The drinks
You won't see mulled wine or eggnog making the rounds here. An Australian Christmas is more likely to be celebrated with lighter options like cold beer, white wine, champagne or fruit juice.
3. The celebrations
A beach-side barbeque in the sun is the quintessential Australian Christmas. The beach location is optional, but the barbeque is certainly not. In Australia, Christmas without a barbeque is about the equivalent of New Year's Eve without a countdown, a birthday without a birthday cake or Thanksgiving without a turkey.
4. The attire
Obviously, you're unlikely to see a Christmas jumper. You'll find us in Christmas singlets, board shorts, bikinis, sun dresses and thongs (the name for flip-flops in Australia, what did you think I meant?).
5. We have our own Christmas carols
The most popular songs on Australian Christmas playlists include: Aussie Jingle Bells (Bucko & Champs), Carol of the Birds (John Williamson), Aussie 12 Days of Christmas (Various) and White Wine in the Sun (Tim Minchin).
An Australian Christmas has a different flavour to the one you're used to. But we like to think we get the best of both hemispheres through another, slightly sneaky Christmas tradition of ours: Christmas in July. July is in the middle of winter in Australia, and when the temperature drops, the Christmas in July invitations start to go out. Through Christmas in July we try to experience a European or American-style Christmas too, with novelty Christmas jumpers, hearty foods and heavy deserts. Because sometimes, even though we love our summer Christmas, movies make us a little intrigued about your winter-wonderland Christmas. Has this article made you curious about an Australian Christmas from your cold, December climate? If so, Christmas in July may be a new tradition to try in 2015, for the best of both worlds.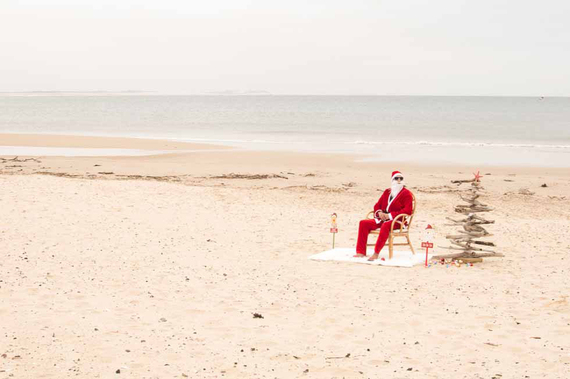 Dominique Kane is a freelance journalist and photographer based in Sydney, Australia. Follow her blogging from Bondi at www.dominiquekane.com. Interested in travel photography? Sign up for Dominique's free eguide here.