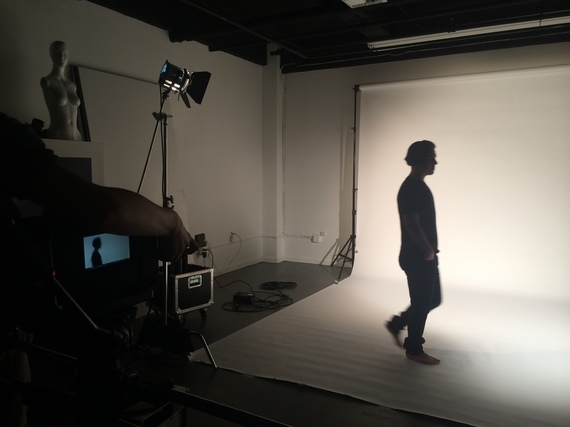 When I first met Jhonatan, he gave out the immediate soft voice, reserved strength and arrogance you get when talking to most artists but they always have a sweet side. It's like there is a formula for elegantly strange individuals who are seemingly introverted but what I often think is they would rather spend time making things than dealing with other people. It's just about priorities for them. So I was curious to find out what Jhonatan's priorities were and why he is doing a solo show in NYC's New Museum this spring? He is incredibly charming and his accent makes his journey present at all times; although he seems very at home in New York City. We sat facing east watching the sun set on Manhattan's buildings from Chelsea and with his love of heights had a great view... I promised him I'd only ask questions until the city went dark and here's what I got:
EP--Considering you have no formal training, would you describe your work as "folk art?"
JB- I would not give you a name or a definition about my work; I think it is something without titles, just feelings. I am always justifying myself as a person, as Jhonatan...different from everyone else, with no sex and no judgements. Of course, I am a man, but I will not say that I feel like one.
EP-- How did you choose your materials? --How long does a piece take for you? Is there a picture in your mind or a concept that you feel the need to express? Start to finish give me a time frame...
JB-The material of my creations can become or can easily be every little thing but my paintings are mostly with oils. Recently I played with acrylic and I liked it because as you asked about time; acrylic dries so fast. The time or the process of a painting can take 20 minutes to 1 week but after that, they have to dry so it can take 15/20 days to put a frame on it. I also do sketches which I would say I initiate by drawing (this began when I was really young, maybe 7 or 8 years old) I started to understand and really tried to impress my parents. Drawing my mother or a woman's image that she had in her bedroom. I've done it so many times and tried to get as close as I could, with graffiti ,the material I had at that time. Houses to my father, I tried showing a perfect floor-plan, but they never really paid attention.
EP--What about creating something that exists in physical form is important to you?--Why, just why?
JB- My art teacher started to encourage me, she probably saw something or maybe she just found the quiet one, who would pay attention and follow her instructions to "copy " so many artists such as Candido Portinari ,Tarsila do Amaral and other Brazilian painters. Then almost 18 or 19, I went to Italy to view my first exhibition, which was Rene Magritte. I was impressed and inspired by his paintings that made everything come back again; all the feelings and emotions I had to show. However, through clothing which I was in Italy for, I could not find a way to make it happen by myself. I had no talent to make that. From that moment, I began to paint more seriously, until later I had a hard panic and depression which resulted in my returning to Brazil. Advised by my psychologist, I went deeply into the canvas, and from that time on never quit. I never think or prepare a drawing or something I want to paint; it just comes from the paintings I drop on the canvas. It is just like they are saying where they want to go and I just follow that feeling unconsciously. Mostly different each time, I have no kind of identity or rules that you could find to define me or my art but maybe you feel it.
EP-- Why, just why? Do you follow other artists or have any heroes in the art world?
JB- Since I read that he never read magazines and he only looked at the pictures...I started to adore and admire Andy Warhol. I saw clearly with him the possibility to create my own language, something new. Without studying Greek art or old stuff that I am not very interested in; I am very practical, simple and minimal. I like all kinds of visual things like a window, a magazine, a label, or furniture. I just like to create new and conflicting pieces that make us think in possibilities; different ideas and interpretations ...
EP--How old are you? Besides the physical, how old do you feel in your soul and what perspective does this play in your art?
JB- I am 28 now and hope to be timeless.
I would say I have a 12 year old soul; I am from Brazil. My culture was not influenced by anything or anybody , I was quite shy and alone creating my own world. The need of changing everything that was around me, every space, wall, or garden...everything must have been changed to my direction including the arrangement of furniture. I was always home alone and I had a plenty of ideas that my parents did not mind by that time.
EP--Where do you see yourself in 10 years, 25 years... beyond?
JB- In 10 years, I see myself helping people in some way, not exactly with money but with words and colors. Helping them find a positive way or find a bird on a abstract painting...helping them to dream!
EP--You've lived in very different cultures, what has this brought to your art?
JB via EP transcription- Brazil taught me: to have the courage to be independent and strong and go out into the world to find my way, my art. To be open to the world.
Italy: Art, the galleries, I loved the time there...I became more social.
New York: Freedom and a curiosity that I had never experienced before.
New York wasn't my plan, learning English was, so I just got in the city to learn the language.
After my first show in Brazil, I found it necessary for me to know and to be able to express myself. I totally fell in love and found out that there was no other place I could live and work. The noise and the atmosphere inspires me; it makes me creative and motivated. I really do love living here and getting the opportunity of showing my work in New York at The New Museum will be a huge impact on my career. I am super excited to show my thoughts and visions through the canvas.
EP--You're doing a presentation May 14 in the New Museum, Soho... who's invited?
JB- Everyone. Just tell me, info@jhobstudio.com
Calling all HuffPost superfans!
Sign up for membership to become a founding member and help shape HuffPost's next chapter