It seems every time I travel, my skin goes crazy. In Mexico, my hands turned into lobster claws. In Tanzania, an allergic reaction to malaria meds blew up my lips to Big Ang proportions. I came home from Fiji with MRSA.
My recent trip to French Polynesia kept the tradition alive. This time, it was my own damn fault. I used SPF 50 and wore a hat on the beach. While snorkeling the reef at Motu Tapu, a tiny islet off Bora Bora, I stayed in the water too long. A hot prickle drove me back to shore. An hour later, the full burn emerged on my legs, back and shoulders. Sitting and lying down was torture. For the next two days, I put on a thick layer of SPF 50 and carefully reapplied every hour. It didn't matter. My burn got worse--puffy, angry, and screaming red.
We flew to Moorea for the second half of our trip. I'd reserved a massage at the resort, but didn't see how I could go through with it. I went in person to cancel and showed the therapist my glowing skin. She said, "Aita pe'a pe'a," Tahitian for "no problem."
Instead of monoi oil from coconuts, she used tamanu oil, made from the nut of the tamanu tree, a native to Southeast Asia that grows all over the South Pacific. "It's healing, better than aloe," she said and claimed that the oil is why Polynesian women have no wrinkles. This is what a branch with raw nuts looks like: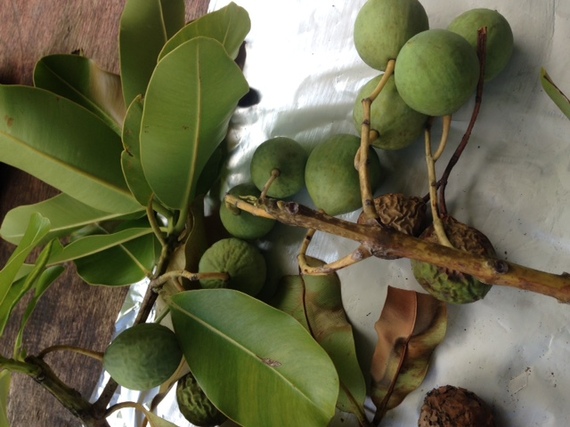 It was worth a try. She rubbed it generously into my burn. The massage didn't hurt, which I feared. It was a lovely, actually, and my skin felt cooler instantly.
I'm happy to report that at dinner later, I could sit in the restaurant's wicker chairs without popping up. In a day, my skin went from radioactive to neon. I used tamanu repeatedly over the next two days. By my return trip to New York, my back had quieted to fuchsia. I sat on the plane comfortably for the whole fourteen-hour trip.
As it turns out, tamanu oil seems to have been custom made by Mother Nature to heal skin. It's got calophyllolide, a unique anti-inflammatory agent, along with anti-inflammatory coumarins and antibiotic lactone. Whatever. I'm not a chemist or a dermatologist. I'm just a travel junkie with weirdly sensitive skin. I'm telling you, tamanu oil is the shit. I brought a ton of it home with me and love it.
Popular in the Community