Every time the van from the Salt Lake City airport takes that telltale left turn and starts following the gentle curve of the ice-pure brook up the side of the mountain to the Sundance Resort, I feel an anticipatory thrill.
I've been coming to the Sundance Institute Theater Lab for ten years or more, originally as a starry-eyed young playwright, one of the fellows invited to write and rehearse a new work for the American stage. More recently (since I went grey), I've been returning as an advisor, lending whatever craft and acumen I can to the plays in process. (Sundance, of course is renowned for its advocacy of independent film. But many people forget that the estimable Robert Redford made his first big career splash on the Broadway stage, not on celluloid, as the hilariously uptight husband in Neil Simon's Barefoot in the Park. His passion for movies is equaled only by his passion for the theater, and Sundance is a leader in the evolution and development of new shows on and off-Broadway and across the country as well.)
I settle into my room at the lodge, with its rough timber roof and old-time ceiling fan. I know I'll be facing some long rehearsal days, so I check to ensure that I have a coffee maker and attendant supplies. (Whew; a basket filled with dark roast sits in the fridge.) This year, I've been asked to serve as an extra set of eyes as playwright Paula Vogel and director Rebecca Taichman bring their newest opus to life: a sly and ultimately very moving backstage drama about the tortured production history of a once celebrated, now forgotten landmark in Yiddish drama called The God Of Vengeance. I'm a bit nervous; I've never before been asked to consult on a script with a veteran like Paula, who boasts a Pulitzer Prize. In fact, I wish I had a new play of my own, so I could solicit her advice.
Nevertheless, I find the rehearsal room an inviting and convivial space. (It helps that the natural surround is so unbelievably beautiful; towering pine trees, an azure stream, and no noise but the occasional birdcall and the steady grind of the near-by chair lift as it ascends the rock-face.) The cast is an eclectic mix; among them, Broadway favorite Celia Keenan Bolger, Mad Men's Charlie Hofheimer and Obie winner David Cale. Almost immediately, I feel part of the troupe.
Rebecca guides the company through Paula's richly layered first act, and it starts to blossom into three dimensions as the actors infuse it with emotional life. I make a few tentative notes in pencil. Later -- over a make-your-own-tacos dinner in the meal tent -- I share them with the author herself. In spite of her acclaim, Paula is her effusive and down-to-earth self. She listens to many of my observations with zeal, filing the comments which speak to her away in her mental "to do" list, and lets other, less trenchant critiques course over her as surely as the water runs over the stones in the near-by river. (Paula has one of the most contagious, unapologetically joyful laughs in the literary firmament; when I amuse her, I feel like a million bucks. To hear her happy peal is a delicious reward.)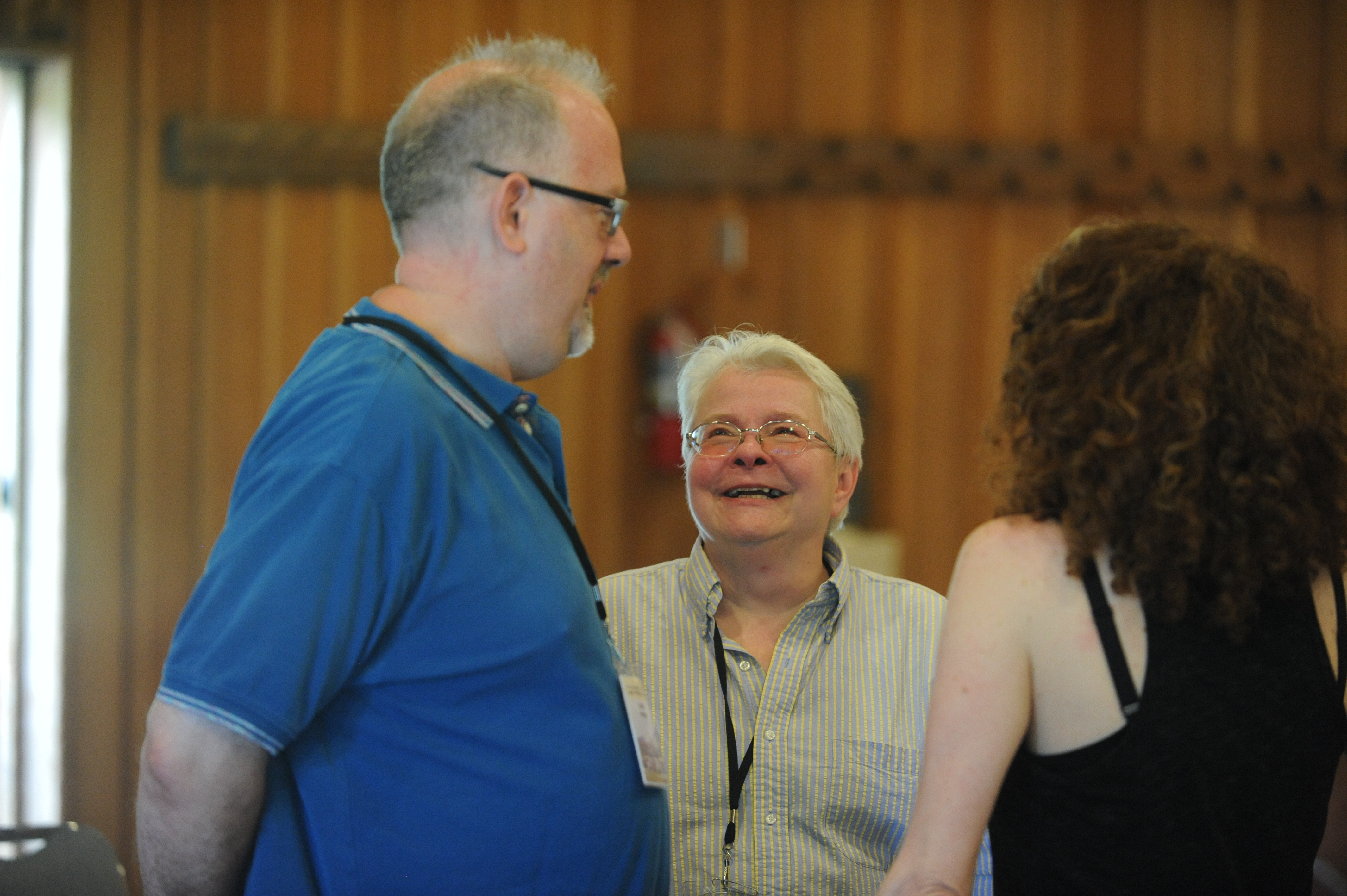 Doug Wright with Paula Vogel and Rebecca Taichman. Photo by Fred Hayes.
Paula's play is but one of seven currently being rehearsed in the timber buildings of the resort. In one room, performance art darling Taylor Mac dons the psychedelic fright wig and bulbous nose of a gleefully homicidal clown for his ingenious, wildly subversive children's show. In another, director Liesl Tommy guides a game cast through the irreverent ups and downs of War is F**king Awesome by Qui Nguyen and composer Shane Rettig. (In their wickedly funny parable, a young girl cursed by immortality is forced to fight in every American war from the revolution all the way to Iraq.) In the upcoming theatrical season, eleven Sundance plays will premiere across the country, in venues ranging from prestigious regional theaters to venerable old theaters on the Great White Way.
I take a break from rehearsal to speak with seven visiting international directors, from such diverse African countries as Rwanda, Burundi and Ethiopia. I'm presumably meant to inspire them, but the opposite occurs. After all, these intrepid theater makers are creating their work in the face of ever-revolving, frequently corrupt governments that all too often view artists as inherently suspect. Their questions are provocative and challenging; I leave feeling a heady elation. (Just a few hours later, we all befriend one another on Facebook. Now I have chums in Kenya!)
Throughout the week, the Lab's artistic director Philip Himberg casually checks in on each collaborative team in his deceptively casual, off-hand way, offering dollops of paternal wisdom and the occasional bon mot. Despite his slender frame, to playwrights everywhere Philip is a kind of benevolent Santa Claus, giving them the gift of a safe environment to realize their passion projects. His acute dramaturgical sensitivity is rivaled only by his absorbent shoulder, the perfect place to cry over a bungled monologue or an overly long second act.
Mr. Redford has long contended that the mountain has certain mystical properties conducive to bursts of sudden, unexpected inspiration. He's right. I've come merely to advise, not to write myself. Still, in the back of my mind, I've been wrestling with a long-overdue commission, an ambitious play I'm frightened to actually start for fear it will overwhelm me. Almost inexplicably (because I'm NOT an early riser), I find myself bounding out of bed one morning at 6 a.m. Before insecurity has time to set in, I've turned on my computer and opened a new, blank document on the screen. I hear the voices of querulous, unruly characters in my head. I start to transcribe them. Almost against my will, I've once again succumbed to Sundance's singular magic. I've begun a new play.
REAL LIFE. REAL NEWS. REAL VOICES.
Help us tell more of the stories that matter from voices that too often remain unheard.