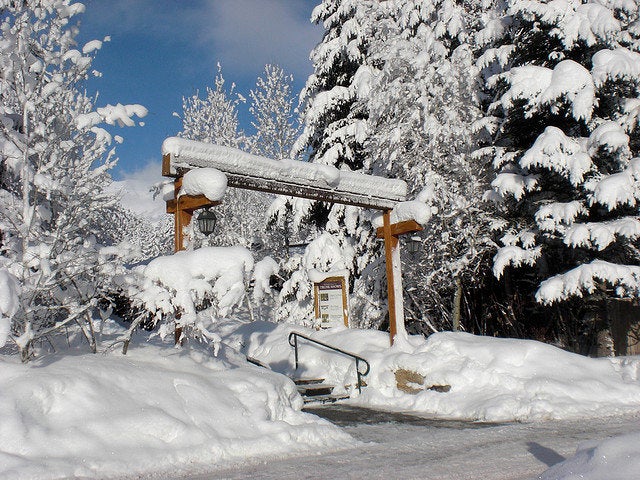 Just northeast of Provo, Utah,
is known for its celebrity owner, Robert Redford, its
and its intermediate trails. Advanced skiers will enjoy their time on the slopes -- more than half of the trails are considered difficult. Resort-goers typically fly into Salt Lake City and travel one hour by
to the property. Upon arrival, snow lovers learn that the Sundance Resort is also dedicated to the arts and nature, as exhibited by additional on-site activities including an
and a
.
The Sundance Resort lies on a protected property that is the home of
, considered the most popular mountain in Utah because of its visibility. At 12,000 feet and with a vertical drop of 2,150 feet, there are 450 acres of well-groomed terrain that adventure seekers take advantage of year-round. The ski and snowboard season is restricted from early December to early April, with man-made snow created during the earlier and later parts of the season when needed. Because of its steep height and average snowfall of 320 inches, the mountain itself has had deadly avalanches in the past, but the Sundance Resort always closes
.
Quality is more important than quantity at Sundance Resort, and skiers and snowboarders will enjoy
(both groomed and backcountry trails) with three lifts (one quad chairlift and two triple chair lifts), a rope tow and generally short lines. Beginner terrain makes up only 35 percent of the trails while 45 percent is considered intermediate and 20 percent is listed at the advanced level. Thrill seekers take Bishop's Bowl straight down from the top of the mountain for a wild ride. Four nights a week, skiers and snowboarders enjoy
until 9 p.m., while snowshoers can take part in occasional
.
Sundance Resort always ranks high as one of the
in the world. It's come a long way since its humble beginnings, when owner and actor Robert Redford apparently named the resort after his role in
. Currently, the Sundance Ski and Snowboard Team trains young athletes to perform at competition level. Sundance has always been about more than just skiing and snowboarding, though, as illustrated by Redford's
, which includes well-known events like the
, the world's largest independent film festival, held in nearby Park City.
The Sundance Resort offers
, including full-day, half-day and night-only tickets. Full-day adult tickets are $49 to $59 per person per day, while kids are $27 to $37 per person per day. Groups of 20 or more can get a slightly preferred rate. Resort-goers can save money by choosing from a variety of
, including family night and lesson packages.
range from $20 to $54 for a child or adult three-day package with K2 skis and Rossignol snowboards; poles and helmets cost extra. Child and adult
at Sundance Resort are about $70 to $75 per half-day per person.
Sundance has two elegant
, plus a deli and a bar that features live music. It also boasts two
. A third, award-winning Sundance-owned restaurant,
, is located in Park City. The
and
sell equipment, gear and local and organic clothing and accessories. The
blends an eco-friendly building with Native American traditions for a truly calming and spiritual experience. Visitors can also participate in
or attend theatrical, literary and
held throughout the season.