"Hello, all you pussies," Maria Bello exclaimed as she took the microphone at the Sundance Film Festival's women's march on Saturday. An already spirited crowd swelled at her invocation.
Miles from Washington, where a gargantuan protest was unfolding, snow covered the ground but fire filled the air. Thousands of festivalgoers and Park City locals took a break from seeing movies to storm Sundance's downtown hub in solidarity with nationwide demonstrations. Traffic delays stalled movement throughout the Utah town, but bright spirits prevailed.
Protesters ambling down Main Street waved signs, banged drums and chanted the refrain of Bob Marley's "Get Up, Stand Up" in the name of equality. At one point, a woman behind me proclaimed to her companion, "I feel so united with everyone. I feel like smiling. I feel so happy."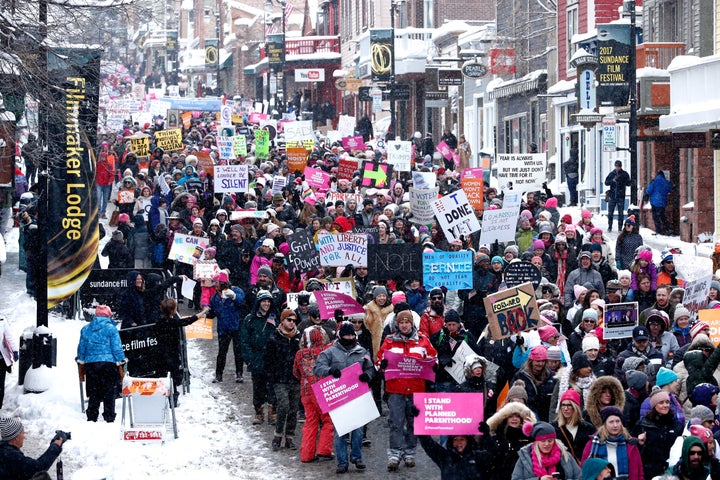 Sundance is, of course, a watering hole for movie stars, and Hollywood made a grand showing at the march. Chelsea Handler led the rally, which was independent of the festival's organizers, and was joined by the likes of Kristen Stewart, Charlize Theron, Laura Dern, Jessica Williams, Connie Britton, Benjamin Bratt, Kevin Bacon, John Legend, Aisha Tyler, Jennifer Beals and Joshua Jackson.
"This isn't 1917 ― this is 2017," Handler said in her speech. "We shouldn't have to fight for progress we've already made, but we're ready to. It's our duty to take care of the next generation and to ensure that our children have the same access to the essential services that we all did." 
Meryl Streep was there in spirit: Festival director John Cooper was among many sporting "I'M WITH MERYL" stickers, and the crowd went wild when Bello said Streep's political Golden Globe speech helped her out of her post-election stupor.
But for such a star-studded gathering, celebrities were hardly the morning's highlight. There was a widespread sense of community as protesters huddled together, the Park City mountains providing a picturesque backdrop. Volunteers handed out bagels and miniature American flags. Strangers offered one another help through the slush and snow. Even a few dogs attended the event, including one wearing a sign that read "STRONGER TOGETHER." 
The most surprising element? Humor. As speakers urged protesters to fight for human rights, the crowd was moved to laughter again and again. It was a two-hour church service for the worried, with hopeful benedictions all around. 
"My ancestors were slaves," Williams said while addressing the congregation. "Williams is my last name, but it is not my real name ― it is my slave name. I am my ancestors' dream. They fought for me to be able to stand up here in the cold-ass snow in front of a bunch of white people wearing UGGs."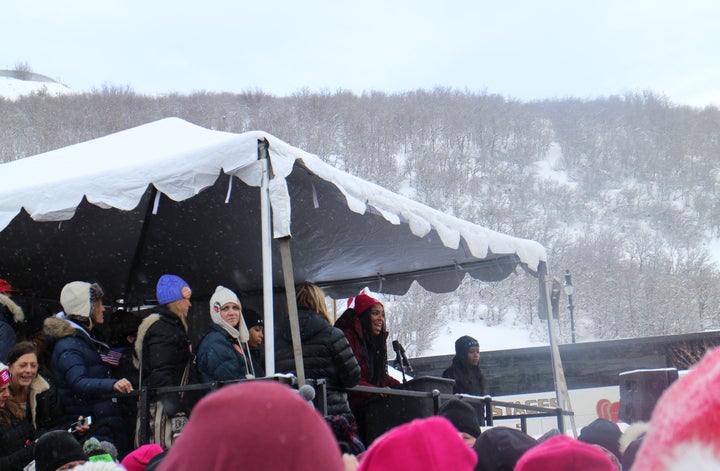 As I left the march to catch a movie, stragglers holding signs wandered through the streets nearby. People joked and carried on, seemingly encouraged that the conviviality they felt would result in continued resistance. As the day continued, the good mood seemed to cover Park City and provide a welcome, if temporary, reprieve from the festival's dour aura on the eve of President Donald Trump's inauguration.
Calling all HuffPost superfans!
Sign up for membership to become a founding member and help shape HuffPost's next chapter
BEFORE YOU GO
PHOTO GALLERY
Women's March On Washington