Sunday is my favorite day of the week.
Most people find that odd as it usually means the end of the weekend is near and the beginning of the work week is even nearer, but to me, it's always been a day of relaxation, lazy afternoons and gluttony. In some form or another, we're all partaking in a last minute get-it-all-in chill/party/booze/nap/eat frenzy, and one or all of the aforementioned comes either before, after or during THE Sunday activity: Brunch.
It's a time-honored NYC tradition that, in its most basic form, involves Bloody Mary's and Eggs Benedict.
While I was in London, it became obvious real quick that on Sundays the English either have breakfast, lunch, dinner or a Roast -- with a capital R.
Not that some Brits don't enjoy a good eggs benny or "toastie" with egg and meat in those middle hours between breakie and lunch, but in my experience, their preferred middle-of-the-road weekend meal seemed to be The Roast, which features some sort of roast meat (chicken, pork or beef), potatoes or carrots and Yorkshire pudding with a side of wine. Preferably an entire bottle. Or two.
Call it "Linner" if you like a portmanteau.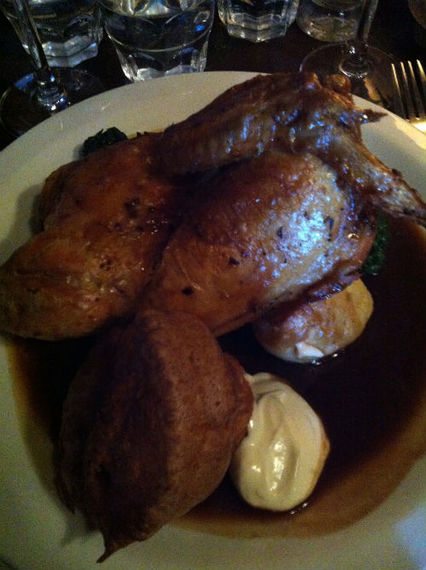 Brunch, on the other hand, tends to feature bread baskets of corn muffins and sweet, fluffy sticky buns, entrees of the egg variety that require syrup and libations of the juice assortment. (Spiked, of course.)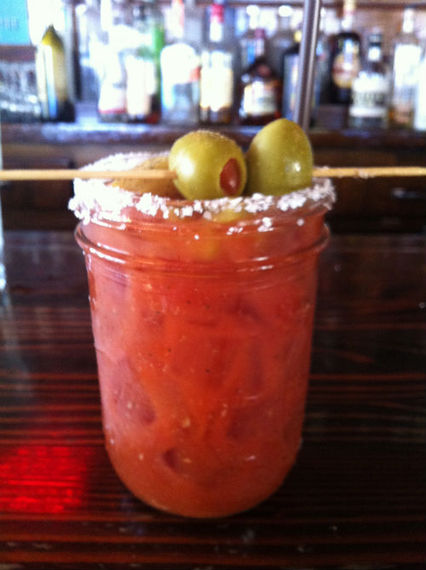 The menu choices for both may differ, but the meal types have one thing in common: good 'ole laziness. They provide New Yorkers and Londoners with an enjoyable way of prolonging the weekend by indulging in gluttonous food and drink -- and not having to clean up after they're done.
While the average Roast and Brunch can last up to at least four hours, brunches typically start earlier -- say, between noon and 2:00 p.m. -- with a Roast first getting going around 2:00 p.m. and lasting up until 6:00 p.m, at which point you're in a complete food coma and oblivious to the fact that Monday is just around the corner. That is, until your alarm goes off at 8:00 a.m. and you wake up fully clothed on your couch, the "telly" still tuned to BBC1 from attempting to watch another enthralling episode of Africa.
Upon returning to NYC in June after three months of roasting in Blighty, my first meal out was brunch. I say "meal out" because I had obviously gone straight to Joe's Pizza for a slice, which, let's be honest, is really just a sidewalk snack.
As many New York foodies do these days, my friend had a list of places she'd been wanting to try. Since my list was so January 2013, and, well, I sort of lost the desire to crosscheck and add, I told her to pick. All I had to do was show up. Fantastic for someone still trying to pursue the idea of a No-Plan Plan.
When arriving at Clarkson, a bright, light, newish spot on the cusp of SoHo and the West Village, I found my pal sitting at the bar drinking a Pimm's. As much as I wanted to pay homage to my London days where a Pimm's is often the bevvy of choice (when not sipping wine or ale, of course), I hadn't had a good Bloody in a while. While the tomato mixture could've been a bit thicker and spicier, I appreciated the fact that I got both an olive and a piece of celery. (Oh, how I love the tasteless green crunchy stick dipped in tomato juice and Tabasco!)
It'd been a while since we last saw each other, so the poor waiter had to come by at least five times before we were ready to order. We eventually settled on a starter of shaved Brussels sprouts, duck confit with sweet potato hash with sunny-side-up-egg, and the ricotta-herb pancakes with heritage bacon, thyme and a sunny-side-up egg.
Sunday food-snobbery at its finest.
I don't usually order pancakes, but I had been craving the round, fluffy flappers. (Brunch tip: If you're with a group, order pancakes or French toast for the table as a starter or dessert, so you can satisfy your sweet tooth while also gorging on the salty.)
And then there were the drinks. While sipping our first ones, representatives from Leblon cachaca roamed the room with samples of the day's specialty cocktail: a refreshing mix of vodka, grape juice, something fizzy and this cachaca stuff, which is really just distilled spirit made from sugarcane juice.
After indulging in two shot-sized gulps, I suggested that we splurge and share a pitcher, promising that we'd get good returns on our investment. (Likely in the form of us being wobbly and slurry, but it was Sunday!)
"I have work to do," said my friend before caving in with a: "but f-- it."
By the time we paid the bill -- three hours later! -- we had a different waiter.
So, which of these two gluttonous Sunday meals do I prefer? While I do love me some bone-in meat, it often felt really heavy to ingest and digest in the middle of the day. Plus -- and this will probably get me into trouble with the Brits -- I never quite got the Yorkshire pudding fascination. The consistency can be lovely, yes, but it doesn't seem to have much taste on its own. Dip it in the juice of the roast and that's another story. (And perhaps the point?) But still, it ain't no sticky bun.
I commend the motivation behind both meal-types, but (and I admit I may be bias here) Brunch, you win.