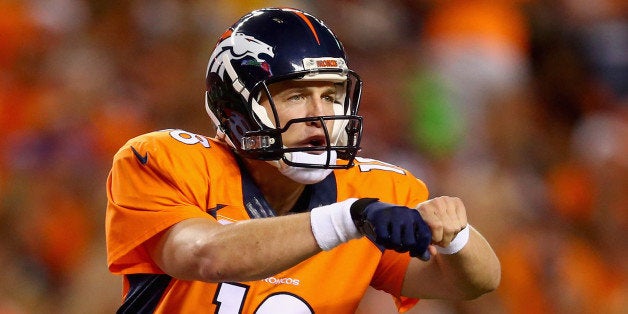 Until Peyton Manning hangs them up, he and Andrew Luck will play against each other at least once a season. That once is Sunday night. Manning and Luck are inextricably linked in one of the NFL's most coincidental "stranger than fiction" tales as Colts fans went from 14 years of "The Sheriff" to the Andrew Luck era at the price of only one lean season. Would someone please give Luck a better nickname? "Meal Ticket" just doesn't have that Hall of Fame ring to it.
The Colts. Fortunately for Indy, Luck is far more nimble than he looks while being just as solidly durable as he looks. The offensive line has allowed a league-worst number of hits and sacks in the quarterback's young career. During a Week three pre-season debacle in which the entire team played like carnival mirror versions of themselves, he was harassed and rattled relentlessly by the Saints defense. Hardly reassuring. The O-line must stiffen considerably for the intended launch of an aggressive passing game or the hoped-for emergence of a rushing attack. Otherwise, offensive coordinator Pep Hamilton (he of the apt gridiron name) will be forced to use the pass to open up the run, leaving it to Andrew to throw receivers open while running for his life. Frankly, No. 12 might be up to this challenge.
Watch out for the unusual five-wide sets. Three receivers (established star Reggie Wayne who is recovering from an ACL tear, new star T. Y. Hilton, hopefully resurgent star Hakeem Nicks) will line up on one side, with TE's Coby Fleener and Dwayne Allen on the other. That would occupy most of the Denver secondary and a couple of linebackers. So much for a blitz, allowing Luck time to survey the field and take his pick. Not a favorable scenario for any defense.
Analysts have gnawed so continuously on RB Trent Richardson's struggles that his only chance to avoid being spit out is to ignore everyone and go back to the instinctual running that made him the No. 3 overall pick. Tune it out, Trent.
Defensively, pass-rusher extraordinaire Robert Mathis has been suspended for a month due to banned substances that he contends are the result of fertility treatments. Unfortunately, the failed test raises some eyebrows about Mathis' career season in 2013. Fans of both Mathis and the game hope that his tremendous production resumes undiminished in October. In the meantime, one can imagine that Peyton Manning is less than heartbroken at the absence of his former teammate from the field on Sunday.
New addition D'Qwell Jackson is an outstanding linebacker and leader. He was probably brought in to improve on the more than 125 rushing yards per game that the Colts D allowed in 2013. However, pass coverage isn't his strong suit, so Manning will probably test him early if the Broncos have a slot receiving substitute that they can trust. With Jackson on the inside is Jerrell Freeman, who isn't a household name but probably should be. Last season he tallied five and one-half sacks, six forced fumbles and two interceptions.
The veteran Colts secondary will face possibly their most difficult challenge in this opening game. At least they'll know where they stand in their anticipated playoff run. DB Greg Toler is having his own personal Renaissance and may come out hot--Manning or no Manning. Vontae Davis (Vernon's little brother) is an excellent CB and was rewarded with an excellent contract, despite sounding like a spacey mystic in interviews. Maybe he's just a free spirit. In his first two years with Indianapolis, Davis has four interceptions, 20 passes defended and 91 tackles.
Center Khaled Holmes, ready to take his turn in the starting lineup after being drafted in 2013, sprained his ankle in the first pre-season game. Will he return to form or will it be 2014's undrafted rookie Jonotthan Harrison? Or starting LG rookie Jack Mewhort? Or veteran A.Q. Shipley? See why Andrew Luck's Mama is worried?
2012's No. 3 overall draft pick, Trent Richardson, is more firmly under the microscope than a lab sample. In his third offensive system and first full season in Indy, this is likely the young man's last chance to prove he can be productive in the professional ranks. So many things have been thrown at Richardson that he seems to have lost his identity as a power running back. When purely bulldozing the defense, he's the threat the Colts need. Leave the kid alone when it comes to schemes--he's a running back for Pete's sake!
Fellow 2012 RB, Daniel "Boom" Herron cemented a spot on the roster after Vick Ballard's injury. The team has four RB's and fans hope at least one can take the pressure off of Luck. Herron is the starting kick return specialist.
WR Donte Moncrief, from the University of Mississippi, was a third-round pick this year. He's put in extra time with coaches all summer on the playbook and has very smooth moves for a rookie.
Griff Whalen has been around on Special Teams since 2012, probably courtesy of playing with Luck at Stanford. But he's been catching more passes this pre-season.
TE Dwayne Allen should have a large role in the offense in 2014. The former Clemson player was considered to be the best college TE in 2011, but injured his hip last September and missed the year. He and Coby Fleener could tear it up on two-TE sets.
LB Henoc Muamba might win you a bar bet or two. He's Congolese and was the No. 1 overall pick in the Canadian Football League's draft in 2011. His ability to play every down should get him in the mix early.
Bjoern Wertner (linebacker from Germany) will be in the spotlight during the Mathis suspension. Coach Chuck Pagano compares him to Paul Kruger. Not that he should be worried, but he is a rookie facing Peyton Manning.
Third-year DT Josh Chapman takes over at nose tackle. Being 340 lbs. is a good start.
Rookie DB Loucheiz Purifoy found a roster spot in the return game when the Colts took a chance on the Florida product after off-the-field legal issues.
The Broncos. Peyton Manning worked on increasing upper body strength this off-season, so another stellar passing run is not out of the question. He'll have to perform without top-tier slot receiver Wes Welker for the first month. That adjustment will probably result in more targets to TE's Julius Thomas and former Colt Jacob Tamme. Emmanuel Sanders, new arrival from Pittsburgh, became more in sync with his QB in the pre-season. Sanders is versatile and experienced at multiple positions, but he was envisioned initially as an outside WR and may not yet be quite up to Peyton's precise requirements in the slot. If he does move inside, expect to see more of speedy Andre Caldwell down the sidelines. That Demaryius Thomas, superstud ball-catcher and budding actor, is an afterthought in this analysis gives credence to the theory that the Denver WR-ing situation is just fine.
The only thing Manning really needs to continue his attack on virtually every NFL record is an upgraded offensive line. Sound familiar? LT Ryan Clady's return from injury is a gigantic (no pun intended) step in the right direction. The interior line features solid veterans now playing in their best positions and Chris Clark moves back to RT, where he should shine after a 2013 dealing with every team's best pass-rusher on the left side.
Now that RB Knowshon Moreno is a Dolphin, second-year Montee Ball is the designated ball-pounder at Mile High. Peyton Manning mentioned him in virtually every pre-season interview, when not rapping the joys of Direct TV. Until Manning stops talking about him, expect Ball to tote the rock with frequency. Change-up back Ronnie Hillman protected the football better than in the past this pre-season. Should that stability continue he'll get chances in the open field for both runs and receptions.
OLB Von Miller and his counterpart, former Cowboy DeMarcus Ware, are pass-rushing plans A and B. Ware wants to show the Cowboys that they made a mistake letting him go, not to mention finishing his career with a ring. Miller needs to prove that he's recovered from his knee injury and his substance abuse problems. DT Sylvester Williams out of North Carolina, 2013's first-round selection, should build on a strong rookie season and will not be helpful in Trent Richardson's redemption quest. Derek Wolfe is healthy again and formidable Terrance "Pot Roast" Knighton is now a TV celebrity, but can probably still run stuff with the best of them.
Starting LB Danny Trevathan broke his leg in pre-season; third-year Brandon Marshall (no, the other one) will try to man the weak side until his return. Nate Irving has worked his way up from 2011 fifth-round draft pick to starting MLB. That means he's the Peyton Manning of the defense. Theoretically.
Corners Aqib Talib, late of the Patriots, and Chris Harris, Jr. were college roommates at the University of Kansas. Harris is also recovering from an ACL injury, but has been progressing well. Second-year CB Kayvon Webster gambles often and sometimes gets burned, but he should continue to grow. Veteran Tony Carter is sometimes outmatched on a play, but never outfought. Free agent acquisition T.J. Ward brings hard hits and attitude to the safety position.
The secondary will have to play tight and prolonged coverage against Andrew Luck. The Colts QB is extremely accurate on the run, extending plays to the point where his receivers break free. Depending upon how closely the officials actually call the pass interference penalties, this could be difficult. Luck's scrambling ability also makes sellout blitzes risky.
In the pre-season, some of us wondered what was wrong with fantastic kicker Matt Prater. Turns out it was a relapse in his struggles with alcohol and the PK will miss the first month of the season as he tries to get his recovery back on track. Brandon McManus was signed to replace him, rendering an automatic three-point scoring option much less certain.
Undrafted rookie RB Juwan Thompson made the final cut after demonstrating the versatility to play fullback, tailback and special teams. Since the Broncos don't carry an official FB, Thompson may see more time than your average fourth-stringer, especially given his skills as a pass protector. That is, if No. 18 really means it when he says he hopes the team has a plethora of rushing scores this season.
Second-string Guard Ben Garland isn't really a "young" player (in football years) after fulfilling his service commitment to the U.S. Air Force and playing two years as a practice squad member (on both the offensive and defensive lines). This may be the year that Garland sees the field in rotational duty, though he is not playing in Week 1. It's a cliché, but his locker room character has always been a factor in his continued presence at Mile High. Along with the expected military work ethic, Garland has been a steady volunteer for team community service activities. Sometimes stereotypes are a good thing.
WR Isaiah Burse may have made the team by virtue of being the only punt return man left standing after both Wes Welker and Jordan Norwood were injured. (If John Fox lets Welker back onto a special teams field, the coach should have his contract revoked.) Burse impressed this pre-season, with glimpses of explosive playmaking. His hero in high school and college was--Wes Welker. Despite an extremely difficult and disadvantaged childhood, Burse graduated from Fresno State with a degree in criminology, due in part to the bond formed with a former coach and his wife who became surrogate parents for the young man.
The last member of the running back quartet, undrafted C.J. Anderson from California, is third on the depth chart. Nevertheless, Anderson is really the alternate inside power back behind Ball. He exhibited the ever-essential "flash" in the pre-season.
CB Bradley Roby, this year's first-round pick from Ohio State, is backing up top-flight corner Aqib Talib. The rookie's impressive pre-season play foretells some nickel back in his future. At 5'11" the only real question is whether he can "hang" with the tallest WR's on those jump balls.
Promising second-round rookie WR Cody Latimer will be one of the options to take up the "Welker slack," depending upon his reliability in real-game action.
Prediction. Indianapolis has a brutal five-game stretch in October so they'd like to start the year strongly. They are also frankly desperate to establish a respected running game with Richardson and newly healthy Ahmad Bradshaw. (Don't forget Bradshaw's "buttdown" with the Giants that put away Super Bowl XLVI.) If they are successful, the Denver defense isn't as solid as expected. If they are not successful, Luck will have another black-and-blue season. As always, the burden is on Indy's D to disrupt Manning's rhythm--in this case without Robert Mathis leading the charge
The Broncos need a win immediately so that they can forget all about the Game That Shall Never Be Spoken Of Again. Sunday night's contest will hinge on how well the Broncos can compensate for the loss of Wes Welker on offense, whether Indianapolis has solved their offensive line issues and whether the Colts can exploit a revamped Denver secondary. Denver by five.
REAL LIFE. REAL NEWS. REAL VOICES.
Help us tell more of the stories that matter from voices that too often remain unheard.