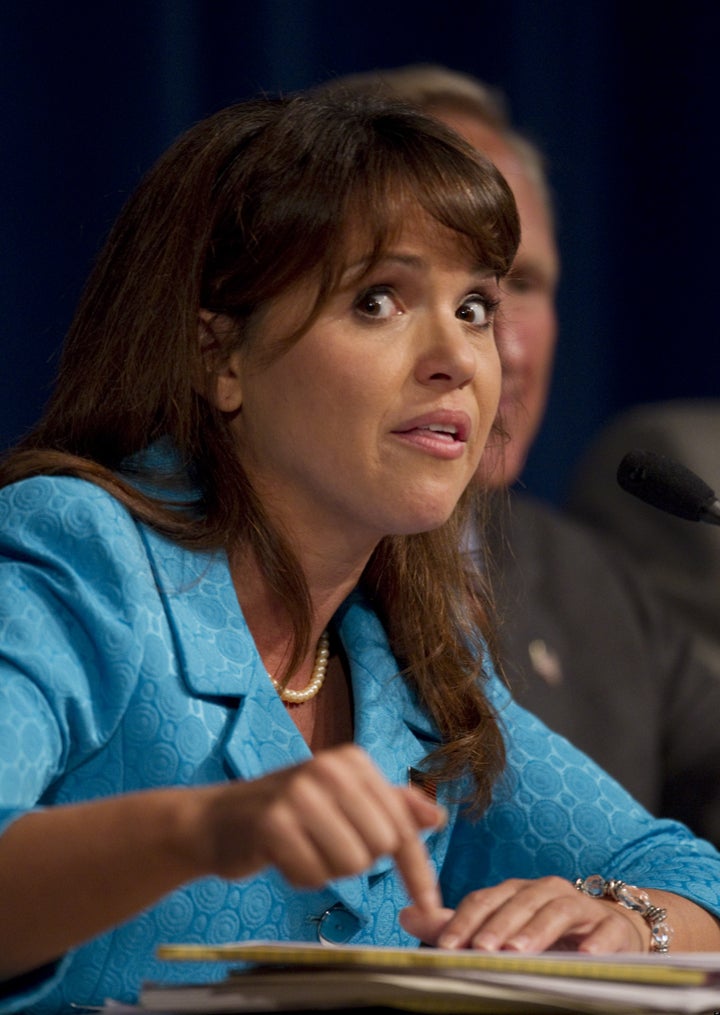 Delaware GOP Senate nominee Christine O'Donnell was scheduled to appear on two national Sunday morning talk shows today but canceled at the last minute after a video of her saying in 1999 that she once "dabbled in witchcraft" began making the rounds.
Spurned hosts Chris Wallace of "Fox News Sunday" and Bob Schieffer of CBS's "Face the Nation" both called O'Donnell out for not coming on their shows. Wallace noted with suspicion the fact that her campaign gave the show conflicting answers for canceling:
WALLACE: This is not the program we were planning to bring you. Christine O'Donnell, the surprise winner of the Republican Senate primary in Delaware, agreed to come here live in Washington today to take our questions. However, late Friday night ,her campaign canceled, saying O'Donnell was "exhausted" and had to return to Delaware. Saturday morning, O'Donnell called me and said this: "I got-triple booked. I had been invited to go to church and then a picnic. I have to keep my priorities to Delaware voters."
SCHIEFFER: Well, after we became aware of this [witchraft video], we e-mailed the campaign again and asked them if in fact was that the reason that she decided to cancel the appearance. We got back an e-mail that said, "No, that is not the reason. We weren't aware that he had released this tape until yesterday afternoon." As for dabbling in witchcraft -- whatever that is -- her campaign spokesman said, "Campaigns about what she did as a teen is hardly a worry to her or the people of Delaware."
Slate's Dave Weigel cast some doubt on O'Donnell's reasons, writing, "These shows tape in downtown Washington and wrap early in the morning. The picnic is at Dave Wilson's Auction in Lincoln, Delaware, in the northern part of Sussex County. It takes around 2 hours and 20 minutes to drive from D.C. to there, and the picnic doesn't start until 2 p.m. So this isn't really an excuse at all."
The Huffington Post contacted the campaign of O'Donnell's Democratic opponent, Chris Coons, which said that it had also received inquiries about going on the Sunday morning shows this week -- both before and after O'Donnell canceled. Coons, however, was unavailable. "That said, future broadcast and cable appearances have been discussed and some are in the works," said a campaign staffer.
UPDATE: Coons campaign spokesman Daniel F. McElhatton put out a statement on Sunday criticizing O'Donnell for backing out: "Ms. O'Donnell has not yet provided a single solution or idea on how to get our economy back on track. It is clear that she is simply not prepared to defend her positions. The next United States Senator from Delaware will be voting on the very serious challenges facing the nation. Chris Coons looks forward to the time when Delawareans can hear the two of them debate their ideas and their solutions to the challenges facing us."
*************************
What's happening in your district? The Huffington Post wants to know about all the campaign ads, debates, town halls, mailings, shenanigans, and other interesting campaign news happening by you. E-mail us any tips, videos, audio files, and photos to election@huffingtonpost.com.
Calling all HuffPost superfans!
Sign up for membership to become a founding member and help shape HuffPost's next chapter