Oh, yeah, there was none. But look, it was really important that Sunday pundits cover this whole "Will Chris Christie Survive This Scandal To Run For President In 2016?" story. Time is of the essence on that one: They've only got two years left in which to have Really Deep Thoughts about it.
Plus CBS' "Face The Nation" just had to commemorate the Hudson River landing of U.S. Airways Flight 1549 -- the five-year anniversary of that is in three days!
And Martha Raddatz had some important breaking news that definitely supersedes coverage of the Elk River spill:
Take a look at the newest star at the Smithsonian National Zoo. We got a sneak peek at Bao Bao getting ready for her big public debut this week. But you might catch her during a nap. The four-and-a-half month old panda sleeps 20 hours a day.
Yes. Twenty hours, people! (And I'd wager the panda is still better informed.)
Maybe I'm being unfair. These shows are tightly booked and timed out, and there's probably just not a lot of opportunity to mention breaking news of any sort, right? Oh, wait, let's flash back just one week, to see if they've ever found the space for a similar story, shall we?
"FACE THE NATION," Jan. 5, 2014:
BOB SCHIEFFER: And good morning again, and before we get to Senator Reid, a quick update on this bitter cold that has two-thirds of the country in its grip from the Midwest to the Northeast and a good part of the South. This cold is expected to set record lows in many parts of the country, some of the coldest weather so far is in the St. Paul, Minn., area and WCCO TV reporter Jamie Yuccas has the latest from there. Jamie.

JAMIE YUCCAS (WCCO-TV): Bob, it is currently nine degrees below zero and it's only expected to get worse. For the first time in 20 years, schools are closed statewide on Monday with lows expected at -25. With windchills expected to be around -70 degrees, exposed skin can become frostbitten in just minutes. Ski hills and ice rinks have closed until Tuesday at the earliest. Today's Green Bay Packers playoff game could be among one of the coldest NFL games ever played. The temperature at Lambeau Field is expected to be two degrees below zero with windchills at -30 when the Packers and San Francisco 49ers kick off. The arctic air will keep its track east, as well. By Monday Chicago will likely hit 25 below. New York and New England will deal with frigid temperatures as residents there continue to dig out from that massive snowstorm. Many heading south to escape the cold could also be out of luck. Atlanta is forecasted to stay in the 20s, and those chilly temps could continue into Florida. Highs in the Minneapolis area may reach above zero by Wednesday, but many meteorologists predict that now that we've seen these cold temperatures, it will just continue through the rest of the winter season, Bob.
"MEET THE PRESS," Jan. 5, 2014:
DAVID GREGORY: Good Sunday morning. Happy New Year. It is a bitterly cold morning as an arctic blast of freezing air is roaring through much of the U.S. Temperatures are gonna plunge well below zero from the Midwest, where they're playing some football today, to the East Coast with historic lows predicted.
"THIS WEEK," Jan. 5, 2014
STEPHANOPOULOS: Happy new year, everyone. And for so many of you this morning, it is a frigid one. Half of the country from the Great Lakes to the Gulf Coast, from the Rockies to the east coast, under cold weather warnings right now. The National Weather Service calls the temperatures life-threatening. It's record-breaking cold not seen in decades and another arctic storm is on the way. So, let's get right to ABC's Gio Benitez in Chicago. Good morning, Gio.

GIO BENITEZ, ABC NEWS CORRESPONDENT: Good morning to you, George. It is so cold here that so many people here are calling this "Chiberia." The snow just hammering us, now that wind, too, all morning long. And take a look, this behind me, it may look like a gorgeous skating rink, but this is actually a harbor. This is Lake Michigan. I want to show you some of these maps right now -- take a look at just how many cities are being affected by this dangerous cold. Warnings from Rapid City, to Minneapolis, to Buffalo...

STEPHANOPOULOS: So much of the country affected, Gio. And as the National Weather Service reminds us, these temperatures can be dangerous.

BENITEZ: That's right. You know, that frostbite is the biggest concern right now. So you've got to make sure you've got to cover those ears, cover those fingers and toes, because really, it can take just five minutes in those extreme sub-zero temperatures for frostbite to set in, George. It can be deadly.

STEPHANOPOULOS: Thank you, Gio.
And so on. I guess if you want coverage of a chemical spill, it better happen inside the bubble.
Before You Go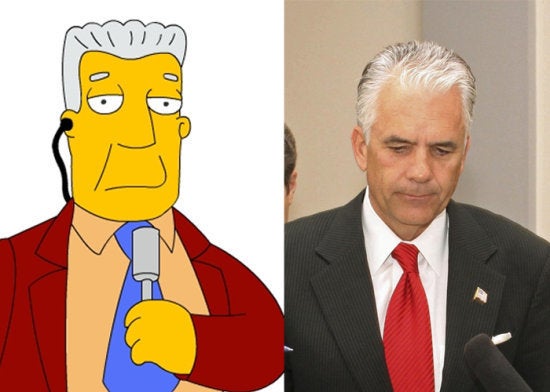 Political Look-Alikes
Popular in the Community