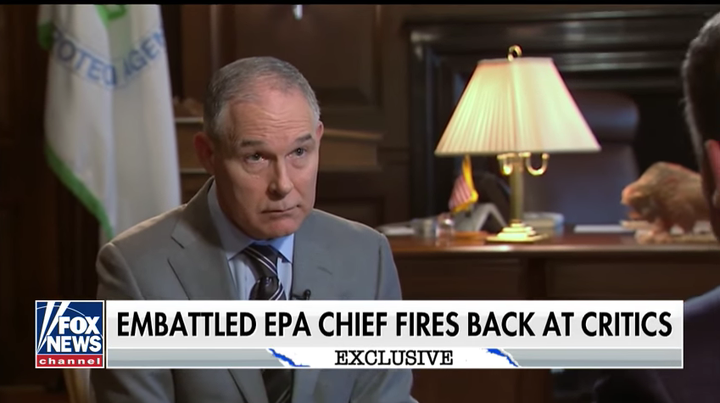 No scientists or climate journalists appeared on Sunday talk shows last year.
This Sunday was no different.
But their absence from the politically influential time slot this week served as a damning indictment of television coverage of the human-caused climate crisis. For days, a firehose of new scandals involving Environmental Protection Agency chief Scott Pruitt broke ― on an hourly basis, at times ― intensifying pressure on the embattled administrator to resign over accusations of corruption and taxpayer waste.
The brouhaha came the same week Pruitt, bucking his critics, announced the rollback of a landmark Obama-era rule to limit emission from vehicle tailpipes, a decision InsideClimate News called the Trump administration's "most climate-damaging move yet."
Yet, this Sunday, ABC News gave Sen. Lindsey Graham (R-S.C.) airtime on "This Week" to opine about new White House policy proposals. CNN invited National Economic Council Director Larry Kudlow on "State of the Union" to talk trade. NBC News' "Meet The Press" hosted a roundtable with political reporters, a National Review editor and Republican Sen. Mike Rounds (S.D.).
What little discussion they had about Pruitt focused on the ethics scandals. Rounds said much of the criticism of the EPA chief is "nitpicking."
"I don't know how much of it is overblown and how much of it is accurate, to be honest," Rounds said." "I'm not going to call it fake news. I'll say in some cases we'll overblow something, but in this particular case Mr. Pruitt has been doing a good job as the secretary of the EPA. He is moving forward exactly as this president said he would."
Graham conceded that the ethics controversy "doesn't look good" but that aside from that, Pruitt has "done a good job."
Sunday shows, like the networks that air them, have long neglected climate change. ABC, CBS, NBC and Fox aired a combined 260 minutes of climate change coverage last year, according to a February study released by liberal watchdog Media Matters for America. Of that, 205 minutes, or 79 percent, featured actions or statements by the Trump administration, most often President Donald Trump's decision to withdraw the United States from the Paris climate accord. Nearly all coverage of climate change on Sunday shows ― 94 of 95 minutes ― focused on the administration.
"It's a travesty, frankly," Michael Mann, a climatologist at Penn State University, told HuffPost of the lack of television coverage.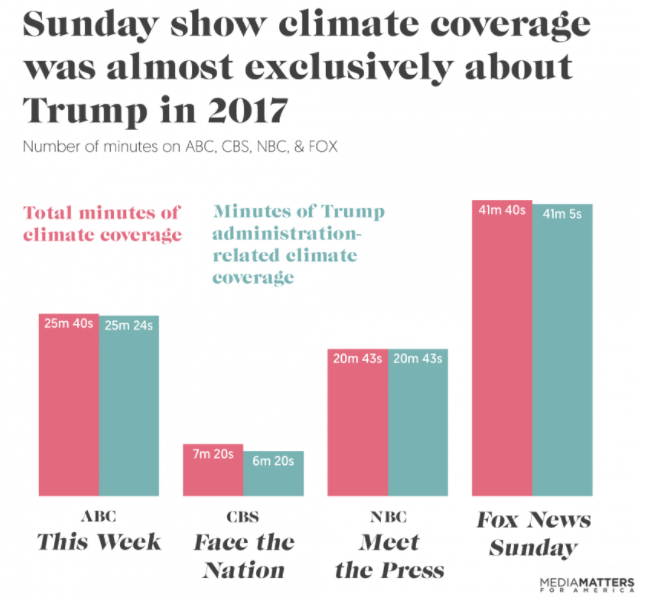 "The Sunday shows have consistently under-covered climate change and other environmental issues," Lisa Hymas, director of Media Matters' climate and energy program, told HuffPost by phone. "When they do cover them, they rarely include experts. They bring on political people, and that means this all gets discussed in a really superficial, political light."
Of the 31 guests appeared on the lineups to talk about climate change, only 9 were women, and just 4 were nonwhite, according to a follow-up Media Matters study. None were scientists or journalists who specialize in climate or environmental reporting.
Television has a long history of providing some of the worst coverage of climate change. Cable networks are more likely than newspapers and magazines to give as much time to industry-funded climate change denialists as they give to the 97 percent of peer-reviewed climate researchers who say rising global temperatures are caused primarily by fossil fuel emissions, according to John Cook, a research assistant professor at George Mason University's Center for Climate Change Communication.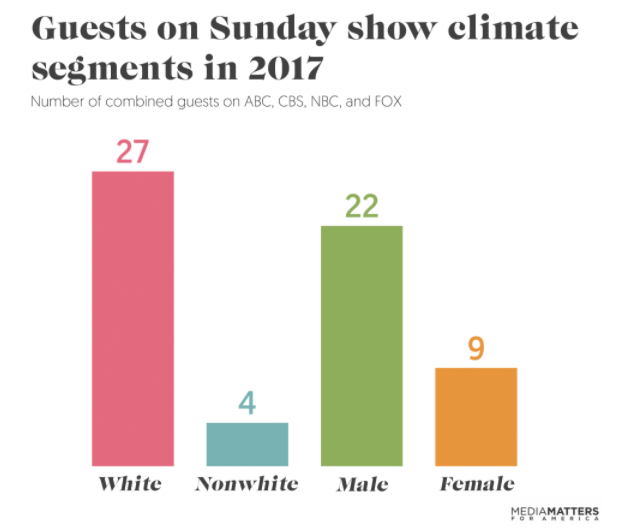 "It gets even worse when you look at partisan cable TV," Cook told HuffPost by email. "Outlets like Fox News are heavily slanted towards climate science denial and are a strong source of misinformation about climate change."
Pruitt appeared on Fox News 16 times during his first year in office, more than twice as often as all other major TV networks combined.
The administrator, whose 14-month tenure has been marked by an all-out assault on fossil fuel regulations and scientific research, retreated to right-wing media outlets over the past week. Criticism over a series of ethics scandals, including a sweetheart deal to rent a room in a condo owned by an energy lobbyist's wife for just $50 a night, has ballooned. As new reports detailing the arrangement emerged, Pruitt defended himself in interviews with The Washington Examiner, a conservative newspaper, and The Daily Signal, a news site run by the right-wing Heritage Foundation.
Inviting guests with expertise in climate policy could provide a critical counterbalance to the media tit-for-tat over the details of Pruitt's latest scandals, Hymas said.
"If the shows had knowledgeable journalists on they could talk not only about the splashy ethics scandals ― the sweetheart condo deal, the luxury travel ― but also about the scandals surrounding Pruitt doing favors for industry people," she said. "It's a much bigger story."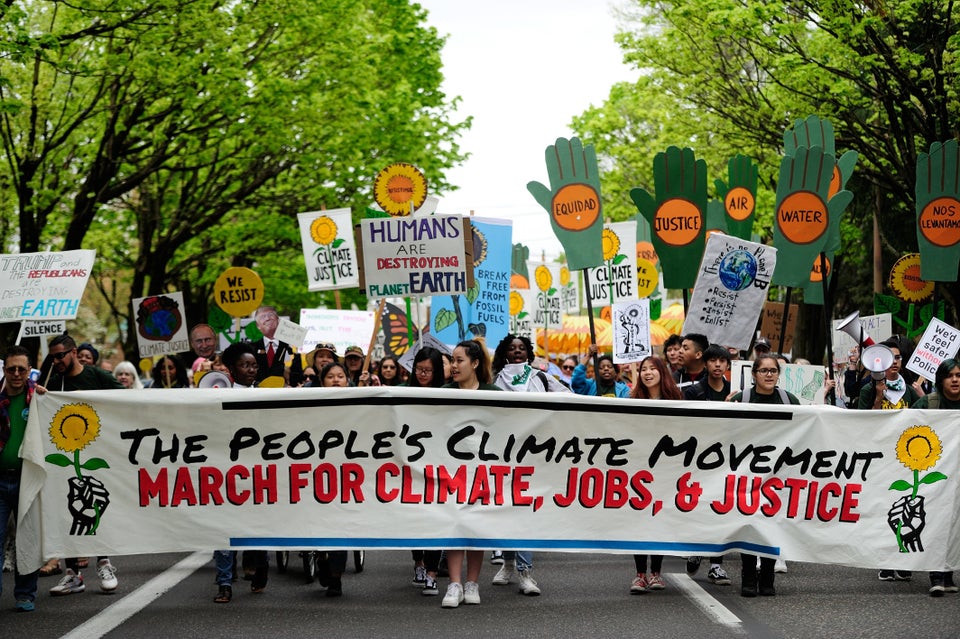 Climate Marches Across The U.S.
Popular in the Community