The racing season is about one-third over, so a quick survey of this weekend's major races, three signature events of world motor competition, seems in order.
THE 93rd INDIANAPOLIS 500, 2-1/2 mile oval, Speedway, Indiana
Whatever you do, don't get between Helio Castroneves and whatever he wants. You'll wind up with tire tracks on your chest. It's Helio's world and we're all just squirrels in it.
The "Dancing With the Stars" champion, now a three-time Indy 500 winner and the guy who, along with his sister and attorney just beat a severe federal rap for income tax evasion where prosecutors were asking for six-year jail terms, seems headed for a kind of crossover success not seen before in motor racing, at least not in this country.
Heck, this week alone he's appearing with the Rockettes at Radio City Music Hall, along with David Letterman and probably Regis and Whoever She Is during a NYC tour swing.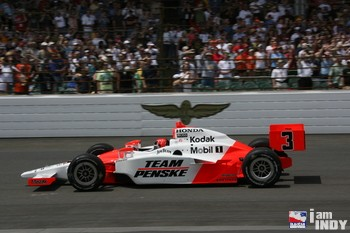 Helio Castroneves
Castroneves took home a record purse of $3,048,005 at the Indianapolis 500 awards banquet held Memorial Day evening.
That money does not include his paycheck from his team, Penske Racing, nor his income from advertising, marketing and promotional activities or personal appearances, of which there will be plenty in the next year.
Second-place finisher Dan Wheldon won $1,258,805 and Danica Patrick, highest-finishing woman in the history of the "Greatest Spectacle in Racing," brought $763,305 worth of Indiana bacon home for her coming third.
Patrick's third-place has also, finally, enshrined her in the pantheon of "serious racers" and not just "sexy oddity" among the cognoscenti. A third-place at Indy is no fluke, as many say her win at Motegi, Japan was, coming as a result of race strategy rather than true skill and the necessary killer instinct for any champion in any sport. A third at Indy is a win anywhere else; that's how tough it is.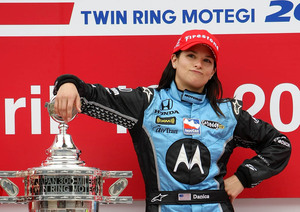 Danica Patrick won an IndyCar race at Motegi, Japan last year, the first woman ever to do so; her third at Indy this weekend proved she's no fluke of a race winner
Castroneves also gave Roger Penske his 15th Indy win as a team owner. Imagine - they've had 93 races and this one guy has won 15 of them. An amazing record, but one which cries out for serious competition. Surely there are others apart from Chip Ganassi and Michael Andretti who can challenge this billionaire's juggernaut, this race team owned by the world's biggest new car dealer.
There are still way too many bad early IRL-types in the race, drivers with heart but sometimes not enough skill and experience and often rotten, cheap and even unsafe equipment. There was a lousy start because 11 rows of three cars each for some reason can't be achieved by this crowd for even one full lap, and only 20 cars finished --- but there were no serious injuries (Vitor Meira's scary late-race wreck broke two vertebrae in his back but no surgery is necessary and he's moving all his limbs).
Also, too many empty seats in the grandstands, especially the pricey spots overlooking the pits, some of the best seats in the house.
Most telling moment about the track's management: Indy's infamously rude security people, standing in the middle of the main straightaway at the start/finish line, physically shoving Castroneves back into his car as he was trying to get out to do his now-traditional and crowd-thrilling "fence climb" after his victory. Castroneves would have none of it and forced his way out of his car, past the yellow-jacketed Killer Bee security and headed towards the main grandstand and its high catch fence. Just put yourself in Castroneves' shoes for a moment and imagine having to go through that crap, courtesy of Tony George's thugs ...
Castroneves is charming, emotional and the kind of authentic, natural "man's man" everyone seems to like; still, a win by Danica Patrick would have been the best thing to happen for American open-wheel racing in 20 years. But racing and race tracks have their karma, too, and Indy has built-up some bad mojo these past dozen-or-so years.
If her team owners, Michael Andretti and Kim Green, will finally give Patrick a car which can legitimately win a race like Indy ... well, as Chicago baseball fans well know, maybe next year.
FORMULA 1 GRAND PRIX OF MONACO, 2.075 mile street race course, Monte Carlo, Monaco
The craziness of Castroneves' life and Danica Patrick, et al, in IndyCar is strangely and unusually matched this year in Formula 1, the world's highest-technology, most-expensive and most-popular racing series.
As boring as Indy was this year, so was Monaco, but that dearth of excitement in the Grimaldi's little principality this past Sunday represented the continuation of a thrill for real race fans which started with the first race of this F1 season in Australia.
As at Indy, who was expected to win, won.
Brawn Mercedes Grand Prix, a team which didn't exist last year, swept Monaco, the team's lead driver Jenson Button winning the pole and the race and his teammate Rubens Barrichello placing second.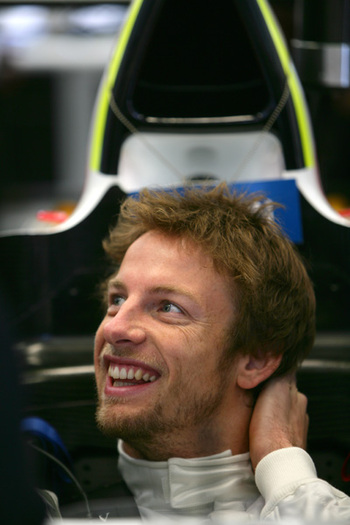 Brit Jenson Button's resurrected F1 career with a new team has seen him win 5 of the first 6 Grand Prix this F1 season
Button, 29, considered the past few seasons a washed-up F1 party boy whose yacht moored in Monaco took precedence over his career, has seen his life take a magical turn. After winning one F1 race during his long career bouncing among several teams, he's won five of this season's first six events; the one he didn't take was the Chinese race outside Shanghai, and that was another anomaly for the staid, traditional F1 circus: Sebastian Vettel, a German driving for the Red Bull Racing team using Renault engines, became the youngest driver to ever win an F1 Grand Prix. Vettel is 19 years old.
NASCAR SPRINT CUP COCA-COLA 600, Lowe's Motor Speedway, 1-1/2 mile oval, Charlotte, North Carolina
NASCAR proved again that its races are too long, too subject to the vagaries of weather yet are still able to provide some surprises.
Rained-out on Sunday, though officials waited until almost midnight local time to call it off, the race started Monday at noon, but intermittent rain brought out a series of yellow and red flags which stopped and started the temperamental race cars at irregular intervals.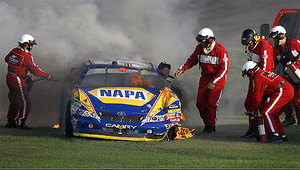 This has unfortunately been a somewhat typical finish for Michael Waltrip's NAPA/Toyota Camry Sprint Cup team the past two NASCAR seasons, but this weekend his driver David Reutimann got the first win for himself and the MWR team in the Coca-Cola 600
The longest oval race in the world, 600 miles, was called after 227 laps or about 340 miles and David Reutimann in a Toyota Camry, lucky enough to be leading when the final red flag came out, took the win. It was the first Sprint Cup win ever for the driver and his Michael Waltrip Racing team. It's almost the very definition of "fluke win."
Other surprises included Ryan Newman, driving for a first-year team, Stewart-Haas Racing, headed-up by two-time Sprint Cup champion Tony Stewart, placing second and Robby Gordon, a perennial NASCAR oval track also-ran from Orange, CA, best-known for exploits at Indy, in off-road racing and on NASCAR road courses, took third.
Jeff Gordon finished 14th and remains the series points leader.

REAL LIFE. REAL NEWS. REAL VOICES.
Help us tell more of the stories that matter from voices that too often remain unheard.