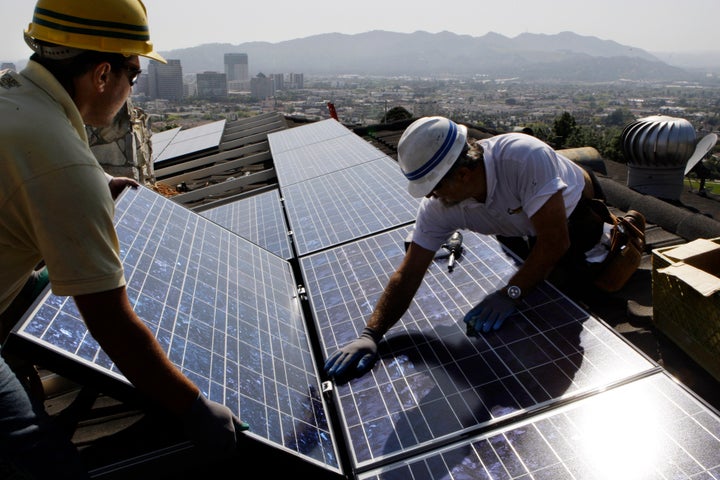 The deal gives Lowe's just under a 20 percent stake in Sungevity, according to a solar industry source, though neither company would discuss specific dollar figures.
Under the agreement, scheduled to launch in 30 Lowe's stores in California in July, customers will be able to access kiosks equipped with Sugevity's iQuote system, a Web-based application that allows homeowners to simply enter their address and receive a firm installation estimate within 24 hours, eliminating the expense of an on-site visit.
The system combines aerial and satellite image analysis with research by Sungevity engineers at the company's Oakland headquarters to assess the geometry of a home's rooftop, its disposition to the sun at different times of day and year and any potential occlusions presented by nearby vegetation or built objects.
In addition to an installation estimate, customers can also get a visual rendering of their home with solar panels installed. And if interested parties provide information on typical power usage, such as an account number or past electric bills, the iQuote system can estimate potential savings expected from using the equipment.
The iQuote system can already be used online, and the company's founder, Danny Kennedy, estimated that roughly 25,000 users had taken it for a test drive, though only about 1,500 of those had been converted to sales.
The deal with Lowe's, Kennedy said, could help Sungevity -- a petite player in the solar leasing market compared to bigger players like SolarCity of San Mateo, Calif., or San Francisco-based SunRun, which raised $200 million in financing earlier this month -- significantly expand its reach.
"This will help us to get in front of thousands more customers, in front of middle America," Kennedy told The Huffington Post. "We'll be taking it to the 'burbs, as it were."
Despite tough economic times and often uncertain economic incentives, a number of analyses predict a boom year for solar power in 2011.
A report published in December by IDC Energy Insights, a market research firm based in Framingham, Mass., estimated following a healthy 2010, the solar market in North America could well see two gigawatts of solar power installations this year.
Jay Holman, the report's lead analyst, told The Huffington Post that those numbers had been revised somewhat, but that 2011 was still expected to bring in 1.6 gigawatts of new solar installations, roughly double the 2010 total.
Part of the reason for America's interest in solar energy may be a decline in the robust incentives the once drew a deluge of equipment and installations to the European market, particularly countries like Germany, the Czech Republic and Italy, Holman said. Those countries have begun to scale back their subsidies, forcing companies to look to other markets.
Meanwhile, federal tax incentives, including a 30 percent tax cash grant extended through the end of 2011, have helped keep solar alive. Several states have healthy incentives in place as well, including the eight states where the Sungevity/Lowes deal will eventually be rolled out: Arizona, California, Colorado, Delaware, Maryland, Massachusetts, New Jersey and New York.
Holman also said solar leasing companies like Sungevity, SunRun and Solar City, which retain ownership of the equipment while reducing or, in many cases, eliminating the up-front installation costs, also help drive the expansion of solar power.
"Obviously, we're obsessed with being customer-focused," said Kennedy. "We hope that this deal will make going solar as easy as shopping for light bulbs."
Related
Popular in the Community