 "Some people believe football is a matter of life and death, I am very disappointed with that attitude. I can assure you it is much, much more important than that." -Bill Shankly
Off the Post sits down with U.S. Soccer Federation President and economics faculty member at Columbia University, Sunil Gulati, to talk about the U.S. Women's quest for Olympic gold, the road to World Cup 2014, FIFA, Wall Street regulation -- and whether he'll play on my Sunday league soccer team.
RM: Former U.S. Soccer President president and MLS founder Alan Rothenberg called you "the single most important person in the development of soccer in this country." How do you respond to such a lofty characterization?
Sunil Gulati: [Pauses] The sport has grown a lot over the last 25 years and there are many people who have played a role. I appreciate being a part of that group. It's been a very rewarding process.
RM: Let's talk Olympics: The Women's 4-3 semifinal victory over Canada on Monday was one of the highlights of the Olympic Games so far. I imagine as president of U.S. Soccer that must have been a pretty special experience for you?
Sunil Gulati: Yeah, it was terrific night in Manchester, playing in a historic stadium. It was a match-up of two rivals, which always makes things more interesting. Plus, it had all the elements of a great game: drama, passion, controversy, quality goals and a great ending. It was a terrific event and a great game.
RM: On Thursday, the women go for the gold medal against Japan, a team that beat the U.S. in the final of the 2011 Women's World Cup. What are your thoughts going in to the game?
Sunil Gulati: Well, I think the players have waited a long time for Thursday. I think if you had asked them before the tournament, off the record, they would have told you they wanted to play Japan again. I know the players think a little bit extra could have gotten us the title last year. It feels like there might be a little bit of destiny here.
RM: What would you say if I told you that I think Alex Morgan is actually Helen of Troy, reincarnated as a world-class soccer player?
Sunil Gulati: Even for those who believe in reincarnation, that's probably a bit of a stretch.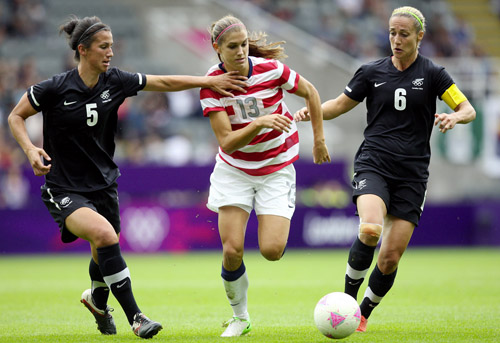 U.S. women's National Team forward Alex Morgan (center) (Photo: Getty Images)
RM: Fair enough. After we (hopefully) win the Gold on Thursday, the next major women's soccer tournament isn't until the 2015 World Cup. With no women's professional league currently in existence in the U.S., what can we assume will become of these women's professional careers?
Sunil Gulati: For many years, we've had a full time program for women on the National team level -- whether it's residency programs, extensive training or games. In the next month or two, we'll discuss what will happen with the nucleus of this group.
RM: Other than soccer, Sunil, what's your favorite Olympic sport?
Sunil Gulati: Track and field is very interesting. We were able to see Usain Bolt's gold medal performance, which was great. We were also able to see Michael Phelps's 20th medal. For me, those 2 are up there -- maybe gymnastics too. That's the thing about the Olympics: you have a great number of things you can watch.
RM: Right, but if you had to pick one?
Sunil Gulati: Probably swimming.
RM: In regards to the U.S. Men's team: What are your expectations between now and the end of the 2014 World Cup in Brazil?
Sunil Gulati: Well, the first expectation is to qualify and until that happens it's always a little premature to talk about the World Cup. You have to qualify, that's the first benchmark. After that, once you get to the tournament, you want to get out of the first round. And that's as true for us as for anyone else, really. Then, if you can get to the tournament and out of the group stages, it's a knock out competition where anything can happen. I don't want to speculate until we're farther along the way to qualifying.
RM: What's your assessment of the Klinsmann era so far?
Sunil Gulati: Jürgen is trying to do a number of things to make us more competitive, both with national team and with player development programs. With the national team, you don't have a lot of time, whereas with player development, you see results a little further down the road.
The assessment of success ultimately comes from winning, and Jürgen knows that, we've talked about it. With that being said, we don't give mid-term grades and right now, we're in the most critical part of the qualifying process. I'm pleased with the way that a number of things have gone, and I know we're anxious to get back into qualifying.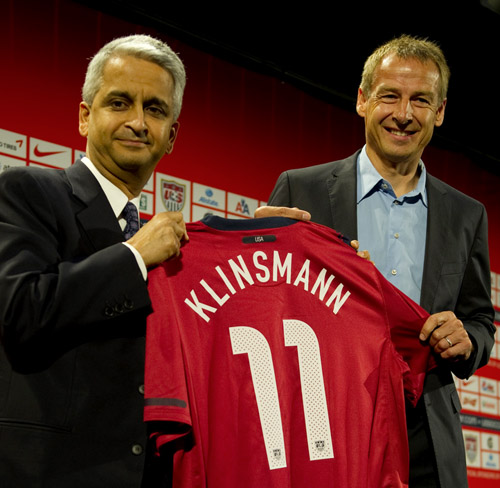 U.S. Soccer President Sunil Gulati (left) and U.S. men's National Team head coach Jürgen Klinsman (Photo: Getty Images)
RM: 2011 was a difficult year for world football. We saw allegations and in some cases, blatant instances of corruption within FIFA and within CONCACAF. We're now 14 months removed from Sepp Blatter's re-election as FIFA president (an election in which the USSF voted for Mr. Blatter). Have we seen the types of reforms that we were hoping for?
Sunil Gulati: Well, what has happened is, the first set of reforms have been put in to place. During the last FIFA congress, reforms were approved with a large majority of votes. Now we're on to Phase Two, which addresses a number of institutional and governance issues. Clearly, the process isn't done. There is much more to do. The first round of reforms were implemented on a very fast timetable and we're still trying to get some additional pieces enacted.
RM: As Federation president, to what extent are you accountable to effectuate change within both CONCACAF and FIFA?
Sunil Gulati: We're one of 208 members in FIFA, 1 of 40 in CONCACAF -- and I'm on various FIFA committees. We all have a responsibility as leaders to try to get these reforms executed. As a member of the CONCACAF Executive Committee, the responsibility is even greater.
RM: Let's pivot to economics: Manchester United's American owners, the Glazer family, have put up 10% of the club as an IPO on the NYSE in an attempt to raise approximately 300 million dollars. Is this stock a bad buy for potential investors?
Sunil Gulati: I'm not going to comment -- the Glazers have been very successful in the business. The one thing I don't do at Columbia is give people stock advice!
RM: As an economics professor, what are your thoughts regarding the repeal of the Glass-Steagall Act?
Sunil Gulati: There were many reasons Glass-Steagall was put in place. Some of the appeal of its repeal was to allow American banks to be more competitive with their international counterparts. Subsequently, the regulatory rules that were eliminated or revised allowed for banks to take excessive risks without necessary safeguards -- which clearly hasn't been healthy for the economy.
RM: Back to sports: Could a league system where teams are promoted and relegated ever work in the United States?
Sunil Gulati: You know, it's something that is discussed a lot. However, in the short term I don't think it's in the cards and it's certainly not right around the corner.
RM: OK, so no relegation. Hypothetically though, if you were going to point to one mainstream sports team in the United States that should probably be relegated, who would it be?
Sunil Gulati: My job is about promotion -- promotion of the sport. I'll let someone else worry about relegation!
RM: Are you sure? I think I could make a pretty strong case that the Milwaukee Bucks need to be relegated to the D-League.
Sunil Gulati: Well a D is still a passing grade, right?
Sunil Gulati: I saw Maradona dominate the 1986 World Cup but there's only one Pele. I guess in my team, I'd create a new formation and play with two #10s.
Sunil Gulati: That's much easier than the Pele/Maradona choice -- Keynes.
Sunil Gulati: Are they members of the Eagles? If not, neither.
RM: On a scale of 1-10, how good are you, personally, at soccer?
Sunil Gulati: 10 is the highest?
Sunil Gulati: Is the scale adjusted for age?
Sunil Gulati: Wait, no. I'm somewhere between seven and 14. I'm better than my 7-year-old daughter, but not my 14-year-old son.
RM: [Laughs] I only ask because my Sunday league co-ed team is looking for players. Wanna join?
Sunil Gulati: No. My Sundays are spent either watching my kids or watching a game somewhere.
RM: Final question, Sunil: what's your favorite color?
RM: Are you sure it's not gold?
Sunil Gulati: [Laughs] I want to change my answer to gold.
Don't forget to catch the U.S. Women's team go for the gold Thursday August 9 @ 2:45 p.m. EST -- live from Wembley Stadium!
REAL LIFE. REAL NEWS. REAL VOICES.
Help us tell more of the stories that matter from voices that too often remain unheard.