"The View" co-host Sunny Hostin has shared her take on former colleague Meghan McCain's biting column aimed at the popular talk show.
Hostin appeared Thursday on Andy Cohen's "Watch What Happens Live," where she was asked for her opinion on McCain's Daily Mail piece, published last week. The conservative commentator, who left "The View" in 2021, characterized her departure as a "very public, very nasty breakup" and said there was "nothing on God's green earth" that could convince her to go back.
"Oh, let me take a drink," Hostin told Cohen, sipping a martini before revealing that she had not read the column, though she had "heard about it."
Asserting that "our show is a wonderful place," Hostin then addressed her current thoughts on McCain.
"I know her husband likes to mean-tweet about me, which is shocking, but Meg and I have always been friendly," said Hostin, referring to Ben Domenech, a co-founder of conservative news outlet The Federalist.
"We are still friends," she added, before going on to suggest a possible career path for McCain.
"I don't think she's doing television anymore. I think you should hire her for one of the 'Housewives' franchise," Hostin told Cohen, who is an executive producer for the reality TV mainstay. "She'd be great on [the series] 'Potomac' or any of them."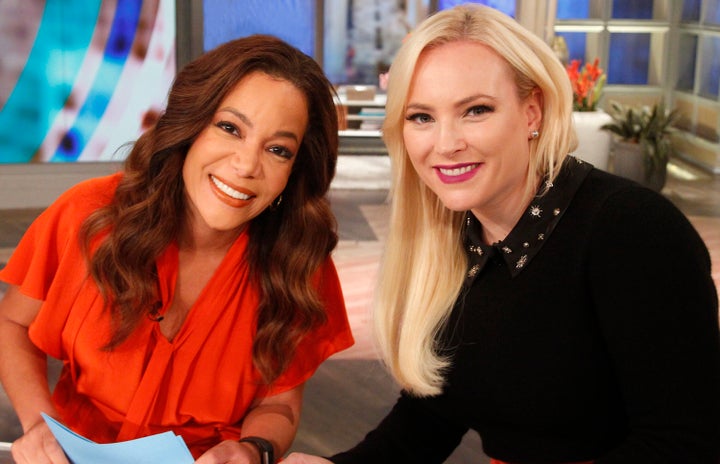 In her column, McCain ― who often clashed with the more liberal personalities on "The View" ― said that certain hot-button political topics were off the table due to the personal histories of the program's co-hosts.
Specifically, she claimed she was barred from talking about then-Virginia Gov. Ralph Northam's 2019 blackface scandal because of Joy Behar's own past incident of darkening her skin for a Halloween costume, as well as Whoopi Goldberg's ex Ted Danson infamously donning blackface at a 1993 roast of his then-girlfriend.
Though "The View" did not respond publicly to McCain's allegations, Entertainment Weekly recently said it could confirm that co-hosts and producers decide on show topics as a group.
Popular in the Community