Close to the Mutianyu Great Wall with views of the Yanshan Mountains, the Sunrise Kempinski Hotel, Beijing (its roughly 37 miles north of the city's center) is located on the shore of Yanqi Lake, whose name translates to "Swans Dwell on the Lake," according to the hotel's website.
The hotel officially opens Nov. 17, but it's already garnering some major hype... probably because it's shaped like the sun.

The compound includes 14 restaurants and bars, a private island and a Kempinski Kids Club, where kids can do face-painting and take cooking classes. The project's latest phase took 24 months to complete, aided by 9,300 construction workers.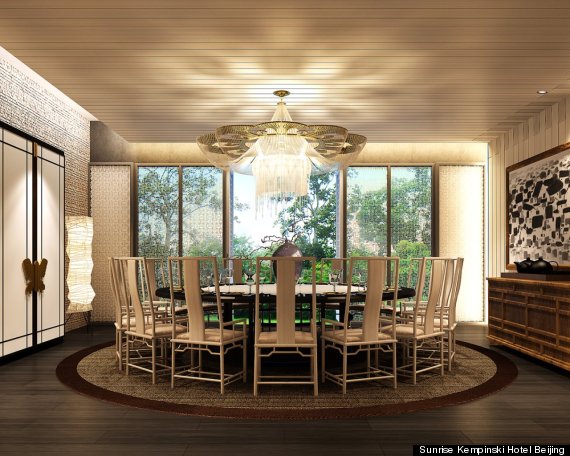 It's easy to see how it took so long to finish: As CNN notes, the hotel chain's design team integrated "a number of classic Chinese elements" into its infrastructure. The front of the Sunrise Kempinski Hotel is shaped to look like a rising sun, which designers say symbolizes China's economy. The side of the hotel is shaped like a scallop as a symbol of fortune.
Aside from the remarkable interior, the all-glass exterior is what really gives the hotel its incredible "wow" factor. Ten thousand glass panels cover the outside of the hotel and reflect the nearby surroundings. The hotel even lights up at night with the help of LED lights.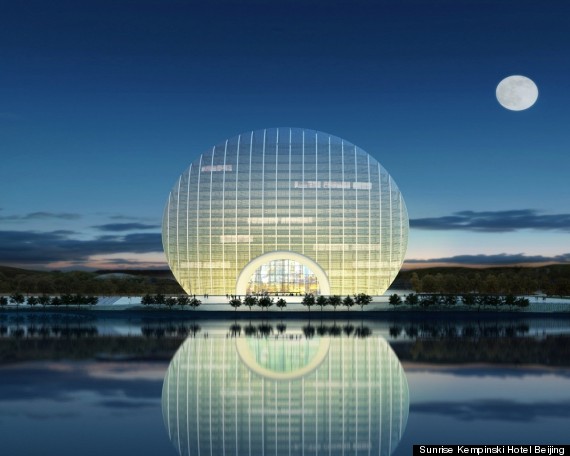 We'd recommend booking one of the aptly-named Panorama Suites to take in a truly incredible view of the mountains or lake, or the Presidential Suite (pictured below) to see what it feels like to be the most important person in the world (or at least in the hotel!).