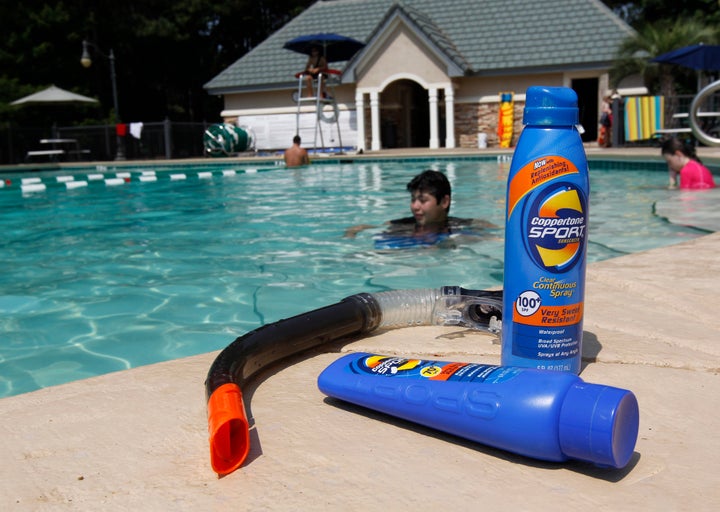 With summer already upon us, we have been happily exposed to more sunlight. Which, let's face it, is a good thing, especially after a long winter where our vitamin D level and mood could likely benefit from this increasing sun exposure.
While the extended daylight hours afford us more time to be outdoors and active, we still need to keep in mind that sun exposure can be deleterious to our skin health. With the FDA's recent regulation update on sunscreen labeling, skin health is clearly on the forefront of our minds this summer. And with increasing concerns about ultraviolet (UV) index and skin cancers, more and more regulations and studies are rightfully being set forth to help us stay healthy -- not just during the summer months, but all year round.
While there are various types of skin cancers, such as basal cell or squamous cell carcinoma, melanoma is the deadliest form. We also know that UV exposure has a causal link to melanoma. So, despite all the tremendous health benefits of regular sun exposure, it behooves us all to remember that we should still keep in mind the importance of sunscreen protection.
For some time, it was unclear as to whether sunscreen really helped to prevent melanoma or not. However, several recent studies suggest that it would be a good idea for us all to apply sunscreen regularly while we are exposed to sunlight because sunscreen does in fact seem to be protective in preventing melanoma and other skin cancers (1). Along with this growing understanding of the importance of sunscreen protection for skin cancers, the FDA released new labeling guidelines on June 14, 2011, to ensure a more stringent level of sunscreen labeling and product quality.
With the new labeling regulations, consumers should be aware that over the next two years, manufacturers of sunscreen will not be labeling products above SPF 50 anymore because there is a lack of evidence that any product with greater than SPF 50 offers additional significant protection. Furthermore, due to FDA's concern that certain words overstate the effectiveness of the products and provide consumers with a false impression of what sunscreens are truly capable of doing, sunscreens can no longer be labeled with the words such as "waterproof," "sweatproof" or "sunblock."
However, manufacturers can still use the words "water resistant" if the product passes standard testing requirements. But a product that is "water resistant" must indicate on its label whether it is effective for 40 minutes or 80 minutes while swimming or sweating, based on standard testing. And if it is not water resistant, then it must warn consumers to use one that is water resistant if the consumer will be sweating or in water.
Some of my patients have thought that all of this extra attention about sunscreens is excessive and unnecessary. However, some studies are showing us that skin cancers may not just be linked to sun exposure. That certain populations with various co-morbidities or chronic diseases may in fact be at higher risk for melanoma and skin cancers, even taking out the factor of increased sun exposure. So, for these people who are at higher risk for skin cancers even if they are not "sun-worshipers," the FDA's meticulousness at helping consumers pick out the right products for skin protection may indeed be highly necessary and very much appreciated.
For example, a recent article in the medical journal of Neurology suggests that those with Parkinson's disease (PD) need to be extra careful about overall sun exposure (3). This epidemiological study is a great example of how certain diseases we may not naturally think could be linked to skin cancer risks, could in fact have an association.
Parkinson's disease is a neurological disease that affects 0.5 to 1 percent of people aged 65 to 69 and the prevalence rises to 1 to 3 percent in those aged 80 and above. It is the second most common neurodegenerative disease, after Alzheimer's disease (2). So, to the impressive numbers affected by Parkinson's disease, the study in the journal of Neurology would be important for them to know.
In the June 7, 2011, issue of Neurology, the authors of the article titled, Meta-Analysis of the Relationship between Parkinson Disease and Melanoma, found that there is epidemiological evidence that those with PD may have a higher incidence of melanoma (3). This relationship between PD and melanoma, based on this meta-analysis, seems to be stronger in men than women.
They looked at 12 studies on melanoma and Parkinson's disease. 8 had fewer than 10 cases of PD and melanoma and 7 provided gender-specific results. Analysis of the temporal relationship between PD and melanoma showed that the occurrence of melanoma was significantly higher after the diagnosis of PD; and was more so with men than with women.
This report only provides information that there is a potential association between melanoma and PD, but it does not establish a causal relationship. Further research will have to be performed to determine the causation behind this potential association. However, the take home message of this study is that those with PD should be extra conscious of the need for skin protection. And so those with PD would be one example of many that would likely find FDA's meticulousness about sunscreen labeling very beneficial.
So, when we are all enjoying the increasing daylight hours of this summer, the important points to keep in mind are that we should indeed enjoy and reap the multitude of health benefits from the sun. But, we should also keep in mind that there is usually a level of bad that comes with the good from sun exposure.
In order to make sure that we and our loved ones -- who may have other health issues that put them at higher risk for skin cancers -- are fully protected from the potential harmful effects of sun, we should all make the FDA proud by making a conscious effort to meticulously read sunscreen labels and to re-apply sunscreen regularly to keep our skin healthy and vibrant to continue to enjoy all the future summers to come.
References:
1.Klug, H.L.P et al. 'Sunscreen prevention of melanoma in man and mouse', Pigment Cell & Melanoma Research 2010. 23(6):835-837.
2.Robert L. Nussbaum, M.D., and Christopher E. Ellis, Ph.D. 'Alzheimer's Disease and Parkinsons Disease.' N Engl J Med 2003; 348:1356-1364.
3.Rui Liu, Xiang Gao, Yi Lu, Honglei Chen. 'Meta-analysis of the relationship between Parkinson disease and melanoma.' Neurology, 2011; 76: 2002-2009