 Before I begin to discuss Drury Lane's disappointingly dreary production of Sunset Boulevard, let me set the stage.
Sunset Boulevard, the Andrew Lloyd Webber megamusical based on the groundbreaking 1950 Billy Wilder film about a faded silent film star, Norma Desmond, who latches onto a struggling screenwriter to make her ill-fated return to the screen, was my ultimate fanboy show. In fact, the first time I ever dialed onto the internet 17 years ago, the search term I typed into Webcrawler (remember that?) was "Sunset Boulevard." I found a chat forum and became a frequent poster under the handle "With1Look16" or some such.
Frankly, the show was my breakfast, lunch and dinner for most of my late teens. I have all the cast recordings, including both German versions and the sampler CDs from when various actresses essayed the role of Norma Desmond (including first national tour Norma Linda Balgord, who's starring in Marriott's tribute to Andrew Lloyd Webber).
What was it about Sunset that drew me in so? Was it the heightened reality of old-school Hollywood mixed with murder and desperation? Was it the larger-than-life female lead who's required to take on massive belting and emoting before falling apart in a grandly grotesque nervous breakdown? Was it the opulent set design that featured a mansion that descended from the flies like a rococo UFO? Was it ALW's intoxicatingly sumptuous score?
I was lucky enough to see the original Canadian cast (front row!) starring a regal Diahann Carroll and was a little less fortunate to see a wobbly tour starring '60s pop icon Petula Clark. And, thanks to YouTube, I've gotten a taste of other productions and performances around the world (my favorite YouTube Norma is Helen Schneider from the original German cast -- just watch).
So, it's difficult for me to remain objective when it comes to talking about Sunset. Yes, I'm aware the show has its problems, most notably that it tends to take itself too seriously, where Wilder's film had a knowing, sly wink and a thrilling sense of urgency and danger. But I willingly turn a blind eye to all that.
That said, when I heard Drury Lane was concluding its 2012-2013 season with Sunset, I transformed into a giddy 17-year-old theatre geek. I fantasized who might play Norma. Hollis Resnik, local Chicago theatre diva, was the obvious choice, but she's touring as Mother Superior in Sister Act the Musical. So when it was announced Christine Sherrill would play the reclusive silent film siren, I was pleasantly surprised. Sherrill, a much-respected local actress, had a growing track record for stealing the show, including a recent stint at Miss Hannigan in Paramout Theater's Annie. I applauded Drury Lane for casting local. I also had mild concerns she was too young for Norma, who's around 50. I've no clue as to Sherrill's actual age, but she recently played Elvis Presley's blonde sexpot girlfriend in Million Dollar Quartet, so, yeah.
Upon Sherrill's (limply staged) entrance in Drury Lane's production, these concerns quickly vanished. Sherrill is fantastic. She's sexy, manipulative, wounded, regal, and most importantly: human. Plus, she has a knock-out voice that can sore into her soprano range and quickly dip into a deep, steely belt. Her Joe Gillis, Will Ray, is rather ideal as well. Sounding a lot like Alan Campbell from the original Broadway production, Ray's unlocked the tricky task of making us care for this smarmy antihero.
No, the problem (for the most part) isn't the casting of the leads -- it's the direction. While Trevor Nunn's original staging relied heavily on a floating mansion, it was also highly cinematic. The same approach could work very well for a smaller scale production, such as Drury Lane's. Unfortunately, William Osetek stages the show using an ugly metal walkway (designed by Scott Davis) that frames the action and chops up Drury Lane's limited stage space into cramped corners. As a result entire songs and scenes take place way above the audience's line of sight, distancing us from the action as well as any sense of urgency.
Perhaps Osetek's most controversial direction are the final scenes, which are among the most powerful in musical theatre. Osetek has moved a large chunk of Norma's breakdown to follow directly after she (spoiler!) shoots Joe, rather than including it in the following and final scene taking place the next morning. In Drury Lane's production, those final moments begin with the reporters storming into Norma's mansion to find Max (Don Richard, who, up to this point, gives a mannered, nearly cartoonish, performance) protecting Norma from the onslaught. He then directs her in her final "Salome" scene, much to the horror of the crowd.
Now this I liked. It makes dramatic sense that Norma would begin to lose it directly after shooting Joe, and it's a chilling reminder of Max and Norma's sickly co-dependent relationship. Also, for this final scene, Osetek reveals a grand staircase for Norma to make her ultimate descent. It's an unexpected visual that packs a punch.
But then, Osetek has tossed out the final moment of the show, where Norma belts out the final closing phrase of the powerballed "With One Look," and replaced it with Sherrill coming center stage and striking a final pose, leading to a quiet and subtle fade-out -- much like the ending of the orignal London production before ALW changed it to match the ending of the L.A. production (those of you who know your Sunset trivia will get what I'm saying here).
I'm just going to say it: Sunset Boulevard is many things, but it ain't subtle. Sure, Norma may have dissolved into a tragic figure by blackout, but she should also be grotesque. Norma has escaped into the movie in her mind, and it's harrowing, haunting stuff. Here, Sherrill merely looks like a woman who's had a rough night. I'm not expecting crazy Salome headdresses and smeared lipstick, but we need some sort of indication that she's gone completely off the rails. It just didn't go far enough for me -- and I think Osetek and company could have gone for the grotesque without sacrificing the truth of the story. In other words, shocking doesn't have to be campy.
And I guess that's my overall hangup with this production. It doesn't feel dangerous enough. Instead, it just feels dreary.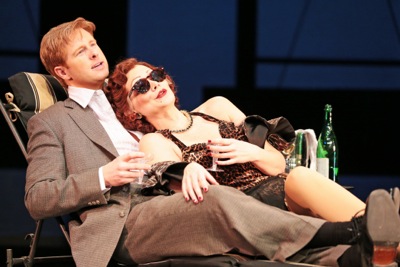 Will Ray and Christine Sherrill in Drury Lane's "Sunset Boulevard"

"Sunset Boulevard" plays through March 24, 2013 at Drury Lane Theatre in Oakbrook Terrace. More info here.
Related
Popular in the Community