West Hollywood's Sunset Marquis has served as a hideaway for "the famous, the infamous (and, occasionally, the indicted)" since 1963. I recently caught up with one of L.A.'s top hotel general managers, Rod Gruendyke, who has been at the luxury hotel for more than 20 years.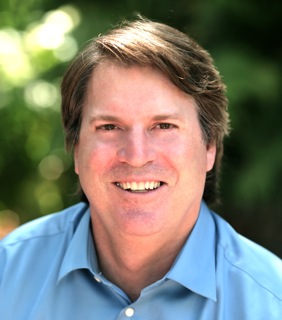 What are some of your favorite celebrity memories throughout the years?
Meeting Bono when I first started working at the hotel and he telling me not to change anything because to him it was home. I was at the hotel when Billy Bob Thornton proposed to Angelina Jolie and he told me that they were leaving and driving to Vegas to get married. She asked me if she could buy him the North Villa as a wedding gift. And Stevie Wonder's performance at our Gibson opening party in celebration of Sunset Marquis' $30 million dollar redesign by Olivia Villaluz and five-acre expansion.
Didn't you have something to do with the hotel's famed recording studio?
When Bar 1200 was being built, there was a hole in floor for plumbing purposes. I looked down during an inspection to see Jeff Beck playing the "Star Spangled Banner" on guitar while seated on a milk crate. He liked the acoustics of the garage (although our guests did not) so I suggested he build an enclosed space down there to play inside. What was once no more than a small room is now the multimillion dollar on-site recording studio.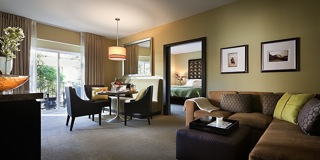 Why has the Sunset Marquis resonated so much with the rock and roll set?
We protect them. For years we accommodated them when no one else wanted them. We also got our point across to them that this is their oasis -- I won't let people take photos on property, it's a safe zone. Privacy is key.
What sets the property apart from others in the area?

Our five acres of incredibly lush landscaping, two swimming pools, on-site recording studio, photography studio, fine art gallery that just opened January 2011, and so much more. Most importantly our unmatched staff.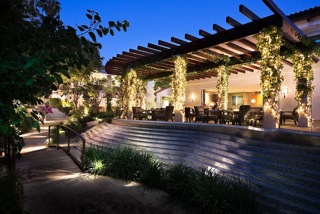 The hotel recently had a big revamp. What are some of your favorite updates to the property?

The RESTAURANT - not only is it the best patio dining in Los Angeles, set upon a waterfall and canopied with vines, but RESTAURANT's Chef Guillaume Burlion has been inducted as a member of the exclusive "Confrérie de la Chaîne des Rôtisseurs," which happens to a chef once in his lifetime, and was voted by the New York Times as one of the "Best Chefs in America." The food is outstanding. Also the SPA. Nicole is a guest favorite because her manicures and pedicures last for a month.
As the general manager of 20 years what are some of the challenges of running a hotel?
Maintaining a great staff. Our Executive Housekeeper, Porfiria, has been here for 32 years, and Director of Sales, Klaus, 20 years, for example. Juggling the egos of guests and making sure that every VIP understands that they are among many not among few here, and now with Twitter and Facebook, I also must continue to maintain the privacy from making sure no one is snapping photos at the pools via cameras or on cell phones.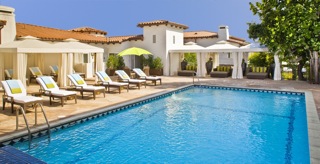 What's the key to your success and the ongoing popularity of the Sunset Marquis?

The ownership of the hotel and I share the same vision and that is not to overbuild the hotel but to keep it as it was at inception. The hotel began with the owners wishing to create this park-like setting in the middle of West Hollywood (inspired by Garden of Allah), and I honor their dream by maintaining it and making it such a special place since its inception. The key to my success is always the employees. I hear it time and time again how they have made a guests stay extra special. Billy Bob Thornton sent 125 signed Christmas cards to the staff one year, for example. We are in the service and hospitality business, hence my staff nor I cease to work without this sentiment at the forefront of our professional ethics.

Photos courtesy of the Sunset Marquis
Calling all HuffPost superfans!
Sign up for membership to become a founding member and help shape HuffPost's next chapter