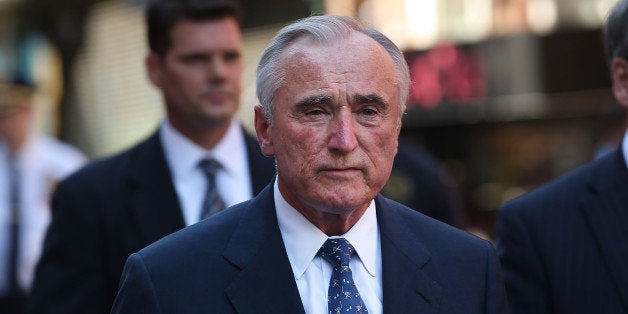 At the end of last Wednesday's town hall meeting in Sunset Park, NYPD Chief Phillip Banks and his entourage of NYPD head honchos had just about had enough. Dennis Flores, the founder of El Grito de Sunset Park, which organized the meeting, finished the night by demanding 72nd precinct commander Captain Thomas Ng, wide-eyed at the same table as Banks, be fired. Ng's job, as well as that of NYPD commissioner Bill Bratton were two of four demands El Grito made during the meeting.
In a night where dramatic speeches by Iris Baez, Margarita Rosario, Juanita Young and Nicholas Heyward Sr., parents of people killed by New York City cops, fired up the packed house at the Sunset Park recreational center; police brutality videos were played for a crowd that booed loudly and often at the NYPD. Men yelled out at the table of police officials facing the audience. A woman waited in line to tell the NYPD that immigrant women from the neighborhood were afraid of them. Banks, the department's No. 3 cop, took the community's heat instead of Bratton, who declined to attend. It was, for Bratton, probably the best move. The last time he attended a town hall on police abuse almost twenty years ago he called some of those same angry parents "a bunch of fools." Rosario was one of those parents. She recalled how her son was shot multiple times in the back by cops from the 1st Bratton era in 1995.
No, Bratton and Mayor Bill de Blasio, though invited, chose some high-profile shmoozing that night instead: Bratton at the politically-clutch Al Smith memorial dinner over at the Waldorf-Astoria; de Blasio at Al Sharpton's birthday party at the swanky Four Seasons. Sharpton's party, sponsored by corporate and real-estate heavyweights like Wal-Mart and ForestCityRatner, is the backdrop of a recent (and developing) accusation that Sanford Rubinstein, Sharpton's legal eagle, allegedly raped a Sharpton executive. Rubinstein, who as of this writing still represents the pregnant Sunset Park woman, Sandra Amezquita, at the center of the community's most recent outrage towards police, is now the focus of a media circus himself.
But the story of the police brutality fight brewing in Sunset Park is playing out far away from fancy hotels on the streets of the Brooklyn -- and it's flying somewhat under the radar.
First off, a power struggle between grassroots groups and the local political establishment continues. Local councilmember Carlos Menchaca, who has refused to support any of El Grito's demands even as he attended and spoke at the town hall, and congresswoman Nydia Velazquez, who at the meeting wagged her finger at the NYPD that they're "on notice," continue to drag their feet, according to Flores. Menchaca, who verbally committed to issuing a public apology to the community for giving an award to a known abusive cop featured in several of El Grito's copwatch videos, now insists a formal CCRB complaint be filed first. Most policing activists will tell you that that the CCRB is a joke. Its new head is one of Bratton's longtime friends who has a son in the NYPD. Moreover, a recently-fired executive director is alleging the agency is colluding with police.
Recently, Menchaca and a handful of people stood together for a candlelight "vigil for change" organized by Reverend Samuel Cruz of Trinity Lutheran Church. Neither EL Grito nor the families of victims of recent police brutality were contacted. Flores believes Menchaca and Cruz, along with other neighborhood political movers and shakers, were trying to co-opt and pacify the intense conversation his group has spearheaded.
"Beware of people using recent attention from the mass media on El Grito de Sunset Park and copwatching to pose as activists or organizers, claiming to do work to help the Sunset Park community.

These include efforts lead by Congresswoman Nydia Velasquez and City Council Member Carlos Menchaca in collaboration with churches and other collectives. These politicians were made aware of these abuses months ago, and neglected the issue. These churches were approached before but neglected support out of their alliance to NYPD and politicians.

... These opportunists use the pain and plight of our community to advance their own careers and agendas, to make backroom deals with politicians and the corrupted elements within the NYPD. Their efforts focus on pacifying those affected and creating a positive image for themselves, rather than getting concrete actions for justice."
That elected officials would be wary of straining their tight relationship with the police department, is perhaps to be expected. Councilmember Antonio Reynoso, appearing alongside Flores on ABC 7's Tiempo on Sunday, clamored on about his campaign for more latinos in positions of leadership in the NYPD -- but balked at replacing Bratton. In Sunset Park, Flores believes his electeds not only draw the line at Bratton but are trying to undermine his efforts there by luring outside help: Sharpton. He believes Sharpton's camp has been trying to wedge its way into the community ever since Rubinstein somehow found the address of the pregnant woman, Sandra Amezquita, and talked her and her family into hiring him.
It's unlikely that Sharpton, if he was ever in contact with other neighborhood politicos, or Rubinstein will figure much into the community's plans from here on out. Bratton, who less than 24 hours after the town hall proclaimed that he would rid the NYPD of "racist" and "corrupt" bad apple cops, seemed to react to the rising anger towards him by pointing at his street soldiers. The two of them, all smiles at NAN headquarters when Sharpton rolled out the red carpet for Bratton, now have their hands full dealing with the messes in their organizations.
The story in Sunset Park, meanwhile, continues. A seemingly never-ending influx of police brutality videos underscore the strong demands El Grito laid out in that gym Wednesday night.