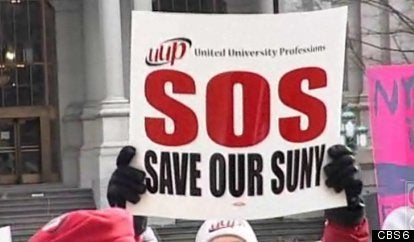 At the State University of New York at Albany, budget cuts mean saying goodbye to French, Italian, Russian, classics and theater.
In town hall meeting Friday, the university's president, George M. Philip, announced that the five departments will be phased out in the next two years due to more than $32 million in cuts from state funding the school has faced in the past three years (along with another $12 million decline anticipated this year). Students who are currently majoring in these areas will be permitted to complete their degrees.
His speech detailed a pressing need to "rethink, balance and reallocate resources." Practically, this means that by the end of 2012, an additional 160 positions will have to be eliminated, making a total of 360 position cuts since 2008.
In an email to student and faculty obtained by CBS 6, Philip wrote that the decision to eliminate the five programs "...was based on an extensive consultative process with faculty, and in recognition that there are comparatively fewer students enrolled in these degree programs," adding that the programs' quality -- in terms of curriculum and staff -- had nothing to do with them being cut.
Although Philips cites the aid of a consultative process in making the difficult call, affected faculty members are skeptical. Chair of the Department of Languages Jean-François Brière said to Inside Higher Ed that "we were told [of the eliminations] without any hint," that extermination of these programs was imminent, and leaders of the faculty union said that they were not aware of any type of consultation.
CBS 6 notes that other casualties of the decline in state funding include Project Renaissance, a program for freshmen designed to help them take advantage of educational opportunities at SUNY Albany, some scholarships and levels of university policing.
Let us know what you think about SUNY's cuts in the comments section.
WATCH: Union members protest at capitol: