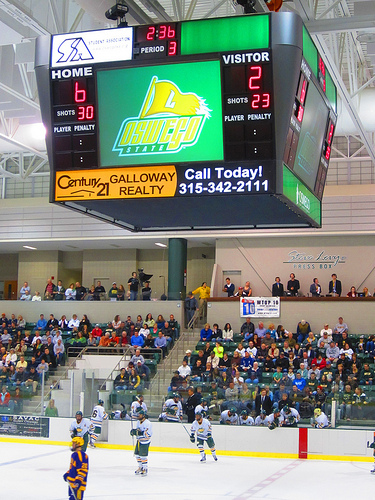 Like any journalism major worth his or her notepad, Alex Myers, an Australian exchange student studying at the State University of New York College at Oswego (SUNY Oswego), was just trying to get a few good quotes. Writing a feature on SUNY Oswego men's hockey coach Ed Gosek for a class assignment last month, Myers wanted to find out what other coaches thought about Gosek's style on and off the ice. But thanks to a shocking overreaction from SUNY Oswego administrators, Myers found himself suspended -- all for asking hockey coaches a few questions.
If that sounds crazy to you, that's because it is crazy.
Myers, who studies sports journalism back in his native Australia, is enrolled in an advanced journalism class at SUNY Oswego this fall. Assigned to write about a public figure, Myers selected Gosek, whose Lakers are currently undefeated. At hockey-crazy Oswego, this was a natural choice.
On October 17, Myers wrote Gosek's counterparts at Cornell University, Canisius College, and SUNY Cortland, asking each coach a few questions about Gosek's demeanor and coaching. Here's the letter Myers sent:
My name is Alex Myers, I work for the Office of Public Affairs at SUNY Oswego.

I am currently writing a profile on Oswego State Hockey head coach Ed Gosek and was hoping to get a rival coaches view on Mr. Gosek.

If you have time would you mind answering the following questions.

1. How do you find Mr. Gosek to coach against?

2. Have you had any interactions with Mr. Gosek off the ice? If so how did you find him?

3. What is your rivalry like between your school and Oswego State?

Be as forthcoming as you like, what you say about Mr. Gosek does not have to be positive.
Pretty standard stuff, right? But somehow, Cornell coach Michael Schafer took Myers' inquiries entirely the wrong way. A seemingly angry Schafer wrote back that same day: "[Gosek] is one of the best guys in college hockey. Your last line of saying your comments don't need to be positive is offensive." Myers wrote back quickly to apologize and to clarify that he was "simply letting you know that this piece I am writing is not a 'puff' piece about Mr. Gosek."
That should have been the end of the story, but this is where Myers' ordeal gets more than a little nuts.
Just 24 hours later, on the evening of October 18, Myers was informed in a hand-delivered letter (PDF) from SUNY Oswego President Deborah Stanley that he was being placed on interim suspension, beginning at 6:00 p.m. the next day. As a consequence, he'd have to vacate his dorm room, taking all of his belongings, and he would be banned from setting foot on campus. In fact, Myers was told that if he was seen on campus without first obtaining permission from Oswego administrators, he'd be subject to arrest.
At this point, you may be asking yourself what more there is to this case. Surely, Myers had done something else -- something pretty bad indeed -- to warrant such swift punishment from SUNY Oswego... right?
Wrong. Here's the statement of charges (PDF) against Myers, making clear that the alleged violations of SUNY Oswego's student code were due entirely to his email to the coaches.
So, unbelievably, Myers suddenly found himself facing two charges.
The first was a charge of "dishonesty," because Myers mentioned in his email that he worked for the Office of Public Affairs (OPA) without clarifying that the assignment was for class. Myers admits this was a mistake, albeit an inadvertent one; he did work for OPA and had been in the habit of writing OPA-related emails and introducing himself in each. At any rate, he had already apologized to OPA on October 18 for his error. (After the charges were filed, however, OPA terminated his internship.) So the charge seems more than a little harsh, given that SUNY Oswego's definition of dishonesty includes "academic dishonesty," "knowingly furnishing false information to the College," and "forgery or alteration or use of documents with intent to defraud." In other words, this charge is meant for cheating or the kind of malicious, reckless lying one might associate with Bernie Madoff, not to a journalism student who made a simple mistake over email and quickly owned up to it.
The second charge was far more serious -- and all the more shocking. Myers was charged with "disruptive behavior," which at SUNY Oswego includes:
1) harassment or creating a hostile environment through discrimination, intimidation, ridicule, or insult toward any person;

2) acts of prejudice or bias targeted toward a person or group;

3) physical abuse, assault and/or battery;

4) threats toward or intimidation of any person, or intentionally or recklessly causing harm or reasonable apprehension of harm;

5) creation of a condition or situation that endangers mental or physical health;

6) conduct which inhibits the peace or safety of members of the College community*;

7) conduct related to the use, possession, or distribution of alcohol or other drugs are unacceptable and subject to disciplinary action.
Does any entry on that list of prohibited conduct sound remotely applicable to Myers' email? Of course not.
But the charge letter specified that Myers' email exchange qualified as "disruptive behavior" because "Campus network resources may not be used to defame, harass, intimidate, or threaten another individual or group." Again: Do any of those serious charges sound anywhere near appropriate for this situation? And again: Of course not.
Here's the thing: I'm a First Amendment attorney, so when I hear terms like "defamation," "harassment," "intimidation," and "threats," I know that each of these has a specific, well-established legal definition. But many public college administrators don't know these definitions, and as a result, they end up treating harmless, protected speech like Alex Myers' email as one of these narrow exceptions to the First Amendment. This kind of mischaracterization happens on campus again and again and again, student and faculty First Amendment rights be damned. That's why my organization, the Foundation for Individual Rights in Education (FIRE), published an updated edition of our Guide to Free Speech on Campus this past summer. We want to educate students, faculty, and administrators alike about what speech is protected by the First Amendment, and what speech actually constitutes defamation, harassment, intimidation, and true threats.
Back to Myers' case. After receiving the charge letter, Myers contacted us at FIRE. Once we learned the facts, we couldn't believe what Oswego was doing to him. So we sent a letter (PDF) to SUNY Oswego President Deborah Stanley on October 26, letting her know that Oswego's punishment of Myers was a pretty clear violation of the First Amendment. We explained exactly why Myers' speech didn't qualify as defamation, harassment, intimidation, or a true threat. I'm tempted to quote from the letter at length, but I'll let you check out our explanation for yourself.
Judged against the backdrop of binding legal precedent, SUNY Oswego's decision to punish Myers for his email looks even worse. And that's without considering the terrible signal Myers' punishment sends to other students. As my colleague Peter Bonilla astutely observed:
Alleging that Myers' emails could possibly have constituted any of these not only violates the First Amendment, it sends a deeply chilling message to students. How safe can student speech at SUNY Oswego possibly be if any criticisms of faculty, staff, or fellow students find their way to the wrong administrator? What if you're an enterprising student on assignment for the college's newspaper, The Oswegonian, asking probing questions in pursuit of a story?
Happily, our letter had the desired effect. SUNY Oswego recognized their gross error, dropping the "disruptive behavior" charge by the time Myers' hearing rolled around on October 29. (The school had also scrapped the suspension earlier, allowing Myers to remain in his dorm room and continue attending classes while awaiting his hearing, albeit with limited access to campus facilities.) So that's the good news.
Unfortunately, Myers was found guilty of the dishonesty charge and was issued a "warning" (PDF). He's also being forced to write an apology letter to Gosek and the three coaches he contacted. It seems more than a little ridiculous to me that Myers should have to apologize whatsoever; after all, he's the one who was suspended for an innocent email. But those grizzled hockey coaches had apparently been sufficiently offended by Myers' email to require an apology. Myers, who by now understandably wants the whole mess in his rear view mirror, is complying.
To my mind, the bottom line here is that while this could have been worse, it's still plenty bad. It's shocking to realize just how readily SUNY Oswego, a public university both legally and morally bound by the First Amendment, threw the book at a journalism student simply for asking a few straightforward questions in an email.
Since FIRE took the details of Myers' treatment public last Friday, the story has rocketed around the web. Gawker picked it up on Saturday, generating over 150 comments and 55,000 page visits. As is so often the case when it comes to the punishment of protected speech, the spotlight has been harsh. Indeed, President Stanley issued a statement yesterday, as The Post-Standard in Syracuse reported, acknowledging that her school is "open to criticism with the goal of increasing our understanding and assuring that we apply our policies in a manner consistent with our beliefs and values, especially with regard to free speech and free expression." Hopefully, SUNY Oswego has now learned its lesson -- and of course, FIRE will be watching.
As a last note, I want to point out that cases like this aren't isolated incidents. Check out my colleague Greg Lukianoff's new book Unlearning Liberty for many, many more examples of this kind of heavy-handed censorship on campus.
Related
Popular in the Community