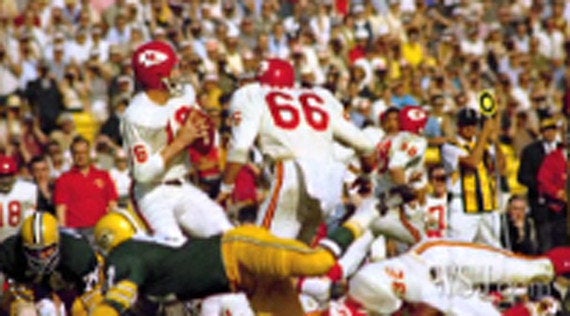 Now that Super Bowl 45 is finally here, it's time to take a look back at the first Super Bowl between the Green Bay Packers and Kansas City Chiefs on Jan. 15, 1967. The Packers won 35-10, but unless you were watched it live or were in attendance, nobody since then has ever seen the game.
In a bizarre confluence of events, neither network preserved a tape. All that survived of this broadcast is sideline footage shot by NFL Films and roughly 30 seconds of footage CBS included in a pre-game show for Super Bowl XXV. Somehow, an historic football game that was seen by 26.8 million people had, for all intents and purposes, vanished.
Well, The Paley Center for Media in New York believes they have found a copy of the CBS broadcast.
According to the Paley Center, the tape was originally recorded on a "bulky two-inch video and had been stored in an attic in Pennsylvania for nearly 38 years."
Scroll down to watch the video from the Wall Street Journal's Lee Hawkins.