Looking back, the actual football played on Super Bowl Sunday this year was pretty underwhelming. There were no Hail Mary passes or last-minute comebacks, there were no Cam Newton heroics or vintage Peyton Manning sightings.
But while the game itself was subpar, the moments surrounding the on-field action made Super Bowl 50 worth watching. There were accidental endorsements, awkward kisses and, you know, Betty White embracing the dab culture. So, from 12-hour hindsight, here are funniest moments from Sunday night.
1. Tom Brady's Patriots didn't even earn a berth in the Super Bowl this year, yet he was still mercilessly booed by the fans in Levi's Stadium.
2. BETTY WHITE DABBING.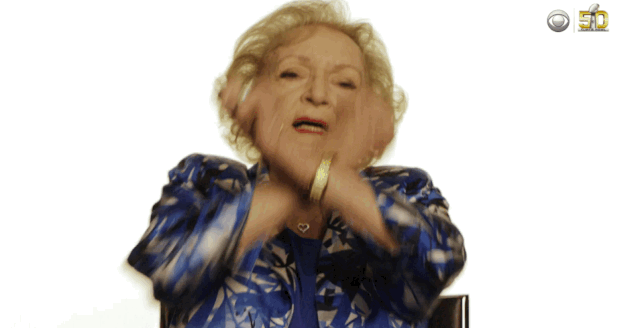 3. Jonathan Stewart celebrated his high-flying, sky-skimming touchdown with this epic "Grease" hand jive. 
Chang chang changity chang shoo-bop. We'll always be like one, wa wa wa ONE!

 
4. People were afraid of whatever this ad was supposed to be … 
5. And then there was #PuppyMonkeyBaby.
6. For perhaps the first time ever, we agreed with GOP presidential candidate Donald Trump.
7. Someone thought it was a good idea to have Coldplay share the halftime stage with Beyoncé, so obviously the Internet went wild with it.
8. Taraji P. Henson had no idea who was playing the halftime show, but was lovin' it anyways. 
9. Speaking of the halftime show, this guy wanted everyone to know that he, like Bruno Mars, has some serious uptown funk.
More "Formation," less of Chris Martin's shoes, please.
10. This Doritos ad somehow equated an unborn child with a big ol' bag of quasi-spicy chips.
11. Peyton Manning celebrated his big Super Bowl win with a kiss not from his wife, but from … the Papa John?
Welcome to corporate America, friends.
12. Speaking of shameless consumerism, Manning said "Budweiser" a ton in the moments after the final whistle blew.
13. Stephen Curry
spoke

tweeted for all Carolina fans, when he co-opted the infamous MJ crying face following his team's tough loss.
14. Denver Broncos cornerback Aqib Talib was so giddy after the win that he finished off Super Bowl Sunday with some serious slippage on primetime TV. 
PHOTO GALLERY
Super Bowl 2016 Commercials
REAL LIFE. REAL NEWS. REAL VOICES.
Help us tell more of the stories that matter from voices that too often remain unheard.