In the lead-up to Super Bowl Sunday, it has sometimes felt like every single story revolves around one of two people: Cam Newton and Peyton Manning. 
What should we really think of Newton dabbing? Will Manning actually retire? Will the old- or new-school style of play win out when these two signal callers face off in Santa Clara, California?
While the franchises' two leading men surely deserve much of the attention, the dozens of other players that make up the teams' rosters have their own histories and hardships, setbacks and successes, which also deserve to be told this week. So to share the love before the first down is played on Sunday, here are three of the coolest Super Bowl 50 storylines that have nothing to do with the two quarterbacks.
1. Michael Oher Of "The Blind Side" Fame Is Back And Ready To Prove Himself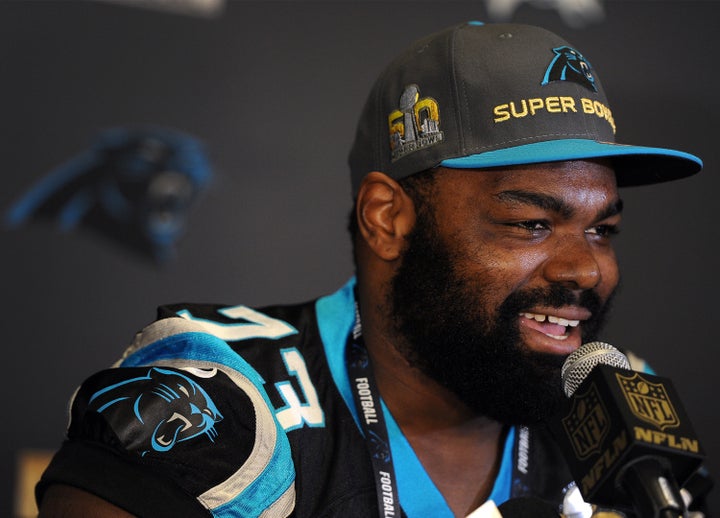 You know him as Big Mike: the football standout whose trials, stints of homelessness and eventual adoption provided the plot for the 2009 Academy Award-winning film, "The Blind Side."
But now, more than half a decade after the film's release, Oher wants to shed the Hollywood-prescribed identity and become known for his feats on the football field instead. As he told SB Nation: "There was a time in my life early in my NFL career where the movie just seemed to take away from me. It made it seem like the movie was responsible for my NFL career, not my play, not my hard work … I don't want the movie to overshadow my work as a hardworking football player." 
So now, as the guy in charge of protecting superstar Cam Newton on the biggest stage of them all, he finally has the chance to create and disseminate the identity that he sees for himself. One block at a time.
2. Demaryius Thomas And His Mother Will Get To Share Another Special Moment
Of the tens of thousands who'll walk into Levi's Stadium this Sunday, there'll be one woman donning Broncos orange who'll likely savor the moment more than anyone else. That woman will be Demaryius Thomas' mother, Katrina Stuckey Smith, who saw her son play in the NFL for the first time ever last month after spending much of his life serving a 20-year sentence for drug trafficking.
President Barack Obama pardoned Smith for her nonviolent crime back in July, enabling her to leave the halfway home where she was located and, eventually, deck herself out in a Thomas jersey and head to her son's postseason game a few weeks ago.
On Sunday, she'll be able to watch her son in person again -- this time at the biggest game of the wide receiver's life, when he helps lead the Denver offense in its fight against Carolina.
"It means a lot ... It kind of means the world," Thomas told reporters this week. "[I'm lost for] words because I never thought I'd be in this situation where my mom would be able to come out and see me play. Now that she can, she's just as excited."
3. The Broncos Defense Is At Its Peak And Is Revving To Go
If you watched the Broncos take on the Patriots in the AFC Championship two weeks ago, you saw New England quarterback Tom Brady appear desperate, defeated, even, yes, deflated, as he looked every which way to avoid the high-pressure Denver defense. It wasn't a fluke -- behind leaders DeMarcus Ware and Von Miller, the Broncos' defense has made even machine-like offenses like New England's look amateurish.
How good is this defense? Just take that AFC title game. The Broncos were able to take Brady down 20 times in those 60 minutes. Per Bill Barnwell, Brady was knocked down just 18 times "during the entire 2014 postseason, and just once during the 27-20 divisional-round win over the Chiefs." That performance also marked the most hits any quarterback has taken in a single game this year. Impressive, to say the least.
This defense is aggressive, energized and more than ready to take on the challenge of stopping the dynamic, protean Panthers offense this Sunday. 
"[We're] 'pressure' guys. We seem to thrive in it. I love the moment and try to take advantage of it," Miller said. "If it's on us, it's already over with. If we're on point, then our odds of winning are really good -- and, you know, we've been on point late in the season. I'm not worried about us coming to play. We're going to be ready to go."
PHOTO GALLERY
Katy Perry's Super Bowl Halftime Show

Calling all HuffPost superfans!
Sign up for membership to become a founding member and help shape HuffPost's next chapter