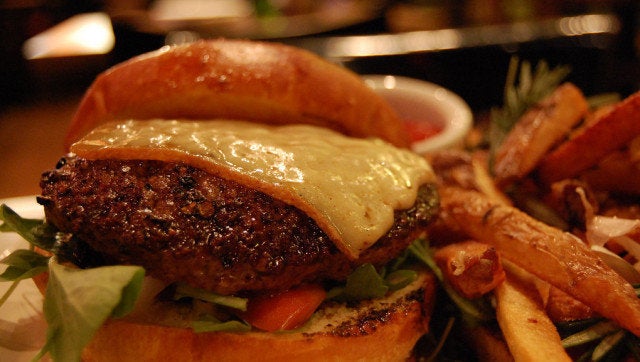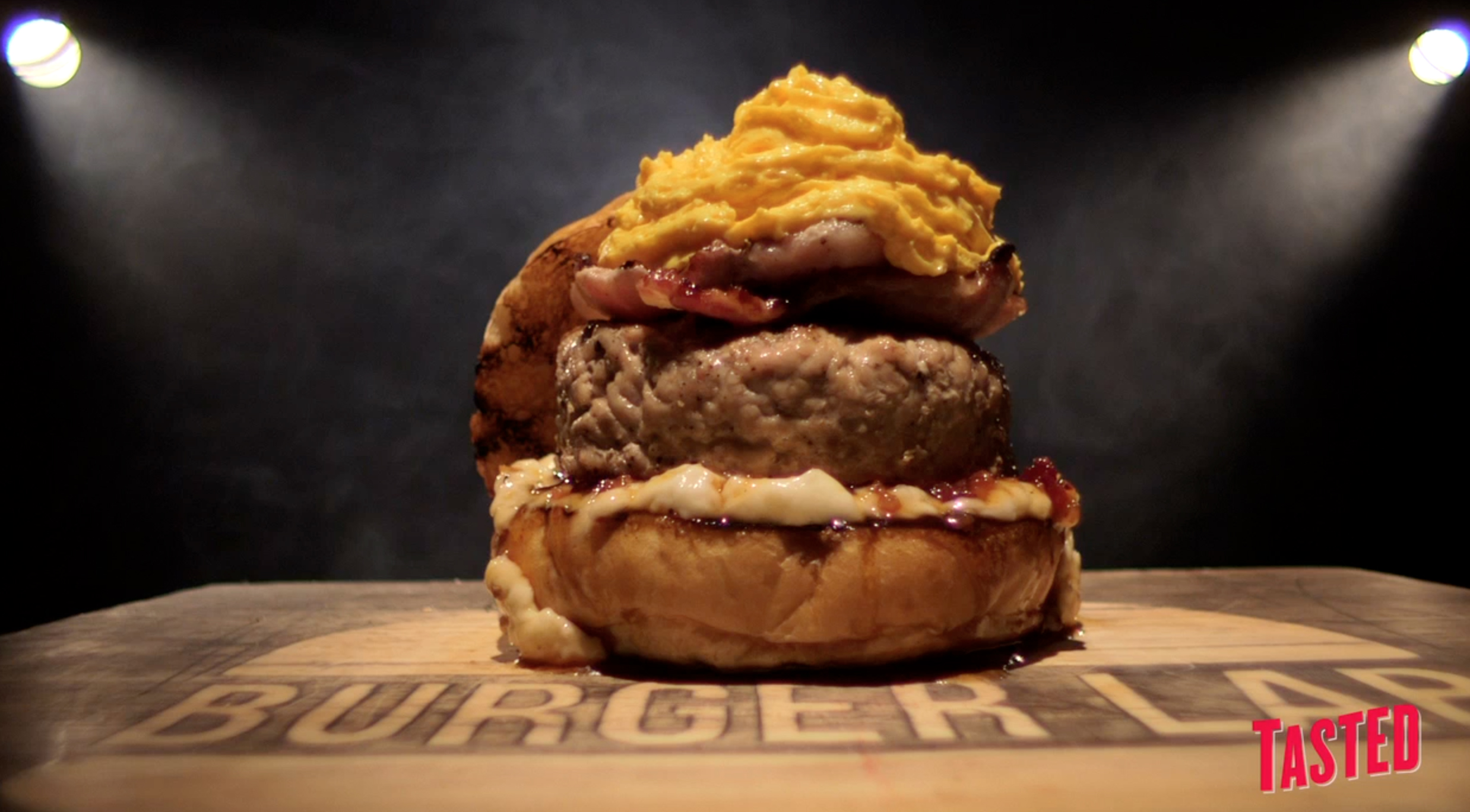 Foolhardy grill masters can shovel the snow off the grill for their Super Bowl parties, but Top Chef alum Richard Blais does just fine with his handy cast-iron grill. And if he can produce a football-inspired beaut like the Pigskin Burger from inside the Burger Lab, the type of grill used becomes less important than employing top quality ingredients and dreaming up luscious add-ons.
When the Sklar Brothers, our favorite comedians/sports fanatics/foodies, ask for a pork explosion burger to celebrate the Super Bowl with, Blais delivers. He uses ground pork shoulder to get the perfect ratio of meat and fat for supreme juiciness, forming a "hockey puck" patty using a metal rim. In seasoning the patty, he recommends using salt liberally to draw out the moisture which allows a nice crust to form as it cooks.
The pork-gasm continues with a rich bacon marmalade easily made by slowly caramelizing bacon along with a palm-full of sugar. The smokiness of the bacon goes nicely with a shocking new condiment never seen before: Srirancha! Just mix some ranch dressing with every chef's favorite hot sauce, Sriracha. Like Blais says, condiments can really make or break a burger, so he takes it up a notch with... wait for it... cheese foam. If you can get your hands on a whip cream dispenser (about $25-30), merely melt some cheese in a saucepan over the stove and pour it into the dispenser for homemade Easy Cheese!
To recap, we've got the pork patties, bacon marmalade, Srirancha sauce and cheese foam. There's still plenty of room to stack right? At the Sklars' request, Blais tosses out the veggies in favor of thinly sliced, grilled pork belly and, for that needed crunch, he sprinkles on the eponymous pigskin: chicharrones. Watch the episode of Burger Lab below learn more tips and tricks and to live vicariously through the Sklar brothers who are lucky enough to taste the Pigskin Burger.
Popular in the Community