It's Super Bowl Week! Here's the Game Plan:
Throw a Super Bowl party to remember with these easy recipes and tips for a winning weekend.
Kickoff is at 6:30 p.m. (EST), but get your festivities started on the early side. Cover your basics with chilled beer and wine (I stock Simi's Sauvignon Blanc), and make your cocktails touch down worthy by whipping up a special batch for each team, now that's the spirit!
Seahawk Swizzle
Just how loud can it get when it's freezing?
Serves 4
8 oz. New Amsterdam Citron vodka
8 oz. peach schnapps
4 oz. blue curacao
2 oz. pineapple juice
splash sour mix
Mix all ingredients in a pitcher filled with ice. Blend until frothy and cold. Pour into ice filled rocks glasses, or strain into cocktail glasses, and serve.
Bronco's "Omaha"
Peyton's favorite pre-snap call, lets sip every time he shouts it, game on!
Serves 4
8 oz. Sauza silver tequila
4 oz. Apricot Brandy
8 oz. orange juice
2 oz. freshly squeezed lime juice
2 oz. grenadine
In a pitcher filled with ice, mix all of the ingredients. Pour into ice filled glasses and serve.
Game Day Nachos
Large bag tortilla chips
1 can black beans
2 jars Trader Joes Roasted Tomato Salsa
1 small jar diced jalapenos, drained
1 cup sour cream
2 cups shredded Mexican mix cheese
What I like to do is sauté black beans (rinsed and drained) with 1/2 cup of salsa. Mix the salsa and beans, slightly crushing the beans as they get soft.
In an oven-proof casserole dish, pour chips to create a large mound. Scoop black bean mixture jalapenos, sour cream, and cheese on top. Place a few dollops of salsa on top as well. Bake at 375 degrees for 20 minutes or until cheese is bubbling. Serve immediately.
Other fan favorites
Soft pretzels, spicy chicken wings with blue cheese dip, jalapeno poppers, Mini Tacos, meatballs, and barbeque pork sliders with slaw on the side.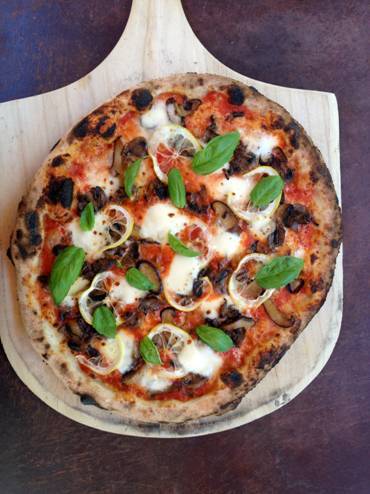 Homemade pizzas are perfect for game day, one of my all-time favorites is SIMI winery's executive Chef Kolin Vazzoler's Roasted Mushroom, Lemon and Basil Pizza. Warm and filling, yet zesty and flavorful. To save time, I pick up prepared dough at my local pizza place and use my go to jarred sauce. ( Don't tell Kolin)
Pizza Toppings
• ½ pound Crimini Mushrooms
• ½ pound Oyster Mushrooms½ pound Shitake Mushrooms
• 2 garlic cloves, minced
• 4 tablespoons minced parsley
• Lemon
• 1/2 pieces buffalo mozzarella
• Grated parmesan
• 1/2 clove garlic, sliced thin
• Olive oil
• Basil
Pizza Sauce
• 1-28 oz can San Marzano whole tomato with juice
• Basil
• Salt
Pizza Dough
• 1000g "00" pizza flour
• 650 g lukewarm water
• 100g starter
• 20g salt

Directions
The evening before making the dough, mix yeast with flour and add water. Mix thoroughly and let sit overnight.

For the roasted mushrooms, begin by rinsing the Crimini Mushrooms. Slice thin. De-stem the Oyster Mushrooms and slice into thin strips. De-stem the Shitake Mushrooms and slice thin as well. Start with a hot pan and add a little olive oil and add Crimini Mushrooms. Cook till tender.
Season with salt. Remove to a colander to drain off liquid into a container. Repeat process with all other mushrooms. Once all mushrooms are cooked, add garlic. Start to simmer for approximately 5 minutes. Then add mushrooms and reduce liquid till dry.
For the lemon topping, slice lemon in half and remove the seeds. Slice very thin to keep the circle intact. Store in salted water till needed.
To prepare the pizza sauce, mix all sauce ingredients and pass through food mill.

To prepare the pizza dough, put flour in a KitchenAid with dough hook, add flour and water. Knead for 12 minutes. Let yeast sit for 20 minutes. Add starter and salt. Knead for 8 minutes.

Take dough out of KitchenAid and place into a bowl with a little olive oil to keep from sticking. Cover and let rest and proof for 2 hrs. Punch down and roll into 300 gram balls. Place balls on flour dusted sheet tray and cover. Let rest for another two hours.

Place a pizza stone on the bottom rack of your oven. Preheat to 500 degrees. Roll out one pizza ball and place onto a pizza peel dusted with flour to help keep it from sticking.
Distribute tomato sauce over pizza dough. Sprinkle sliced garlic around pizza. Evenly distribute some mozzarella and grated parmesan. Arrange mushrooms and lemon slices evenly around top. Place into the preheated oven. Once the crust is golden brown, remove from the oven.
Drizzle olive oil around top. Rip pieces of basil and distribute. Cut into wedges. Repeat with the remaining pizza dough.