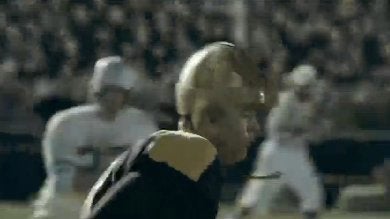 In recent years, player safety has been a hot button issue in the NFL, with commissioner Roger Goodell making a point to levy serious fines for hits deemed unsafe. Recently several former NFL players have banded against the league in a lawsuit that alleges that they suffered brain trauma during their playing days.
In an apparent attempt to generate positive public relations, the league released an advertisement explaining its long history of promoting player safety on Super Bowl Sunday. The spot, which shows a player running down the field while his setting evolves around him, has drawn some harsh reviews from critics as, ironically, it features several maneuvers that are illegal. "Only the most devoted fan would recognize all the references. The flying wedge, a blocking technique that is believed to have made its debut in 1892 but was banned soon after, is shown briefly in the opening seconds," Judy Battista wrote for the New York Times. "Near the end, a horse-collar tackle, only recently forbidden, is featured." For an ad promoting safety, these dangerous rule infractions are a pretty embarrassing oversight by the league.
CLICK HERE to see the rest of the 2012 Super Bowl commercials as well as all of the best, worst and most memorable from years past.
For years, viewers have tuned into the NFL's Super Bowl as much to see what the advertisers roll out as how the two teams vying for the sport's top prize perform. This year was no different. Each time that NBC cut away from Super Bowl XLVI between the New York Giants and New England Patriots a hush came over most Super Bowl parties as everyone -- and not just the diehard sports fans with a rooting (or betting) interest -- focused entirely on the ads.
How does this Super Bowl ad stack up?
Related
Popular in the Community