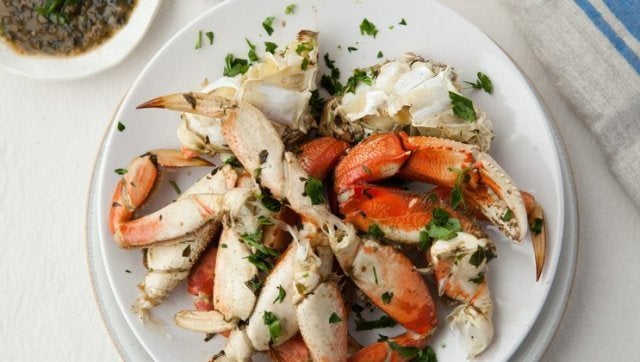 We know you're in the thick of planning your Super Bowl 2013 feast -- we certainly are. One of our favorite things about this annual food extravaganza of all things over-the-top (and dare we say trashy?) is getting to explore the regional food favorites of whichever teams are playing against each other. This year we've got the Baltimore Ravens vs. the San Francisco 49ers -- can you even imagine our glee that we get to pit dueling crab towns against each other this year?
While Baltimore and San Francisco both love crabs with unquestionably equal fervor, they love different kinds and they love them in different ways. For San Francisco, it's the big, meaty Dungeness crab -- usually either steamed and served with drawn butter, or cooked down into cioppino -- the ubiquitous seafood stew. In Baltimore, the sweet and juicy blue crab is king. If you try to cook up a Baltimore-style blue crab without a generous coating of Old Bay, we're pretty sure the crab police will come after you. Maryland is of course also famous for its crab cakes, packed with as little filler as humanly possible.
Since we can't decide which crab town has won our hearts, we'll be making crab dishes from both contending cities on the big day. What do you think?