Who's to say who will win Super Bowl XLIX this Sunday? When trying to predict the victor, should we consider the skills of the quarterbacks or the strength of the defense? Maybe it'll all just depend on the weather in Phoenix, or the size of the footballs.
Here's one interesting way to compare the New England Patriots and the Seattle Seahawks: energy. And we don't mean fan enthusiasm.
Opower, a software company that helps utilities improve the customer experience, analyzed how the two teams' home cities compare in terms of energy efficiency and innovation.
In a matchup that Opower calls the Efficiency Bowl, the company examined the two regions across 11 diverse categories, with a focus on technology, utility customer engagement, clean energy and transportation. It then determined which team was the top performer.
See how they stack up in the infographic below:

From the data, it's clear that both regions are leaders in efficiency and energy innovation. In fact, Boston and Massachusetts are ranked as the most energy efficient city and state, respectively, by the American Council for an Energy-Efficient Economy, while Seattle is the country's fifth most efficient city.
Each home stadium also has significant energy-efficient elements. Seattle's CenturyLink Field receives 30 percent of its energy from solar power, and the state of Washington boasts 2,808 megawatts of wind power compared to Massachusetts' 107 megawatts. Additionally, Washington is ranked No. 4 for investment in nationally certified energy-efficient buildings.
But New England far outshines Washington when it comes to granting patents related to clean energy. Perhaps it helps that Massachusetts is home to some of the country's top research universities.
So how did Opower decide who's on top? The researchers chose to weight energy efficiency heavily in their analysis, reasoning that efficiency is the "cheapest and cleanest energy resource," as they told The Huffington Post in an email.
With this in mind, New England won categories 1, 2, 3, 5, 7 and 10, thereby achieving a 6-5 victory over the reigning Super Bowl champions, Seattle.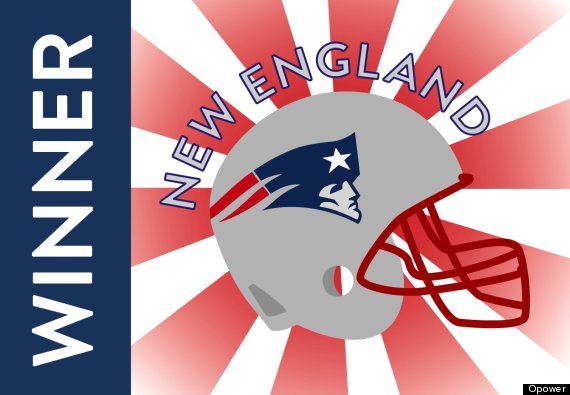 If you're planning to bet on the game, then you're probably wondering whose predictions are most accurate. Should you go with Opower's assessment, or should you follow Teddy Bear the Porcupine, who chose Seattle instead?
But Opower isn't showing favoritism when it comes to Sunday's game.
"We're cheering for the continued success of our innovative utility partners in both Massachusetts and Washington who are working to put customers in control of their energy use," Opower senior writer Aaron Tinjum told HuffPost via email.
And if you're feeling at all guilty about spending Super Bowl Sunday staring at a television screen, Tinjum pointed out that the big game usually results in a major overall reduction of electricity consumption. In 2013, Opower reported that home power usage during the game falls about 5 percent below the normal levels seen on a typical winter Sunday.
That fall-off happens because so many people are clustered around communal TV screens and limiting their use of other energy-consuming appliances -- though that might be offset by the energy consumption involved in commuting to a friend's place or a bar, not to mention all those wings you'll be ordering.
For more analysis on the Efficiency Bowl, visit the Opower blog.
Calling all HuffPost superfans!
Sign up for membership to become a founding member and help shape HuffPost's next chapter
BEFORE YOU GO
PHOTO GALLERY
Greenest Cities