On the Sunday before the Super Bowl, the participating teams arrive in the host city and the two head coaches, along with select players, are made available to the media. The head coaches step to the podium again Monday through Friday to answer all the brilliant, thoroughly researched questions from reporters. On Monday, six players from each team do the same. On Wednesday and Thursday, full teams and coaching staffs sit patiently while pondering how to respond to "talk about what it takes to get here."
While all of those days are technically media days, there's only one Media Day. It's the day when Halloween costumes appear in January and nightclub outfits appear at noon, all in the name of reporting. However, since it's not the reporting that the "serious journalists" are employed to do, it's mocked and derided. Why? Because the host from Nickelodeon isn't asking about blitz schemes? Well, that's not his audience. If it's such a setback to the profession, why snap and post blurry photos of Waldo and Mexican TV hosts instead of spending more time with the offensive line coach in the stands.
I understand that the Super Bowl is a stressful week for everyone involved. No one wants to miss the quote and everyone has stories to put together, which is the point. Everyone, from Leno's Ross the Intern to Letterman's Biff Henderson has work to do, and given the access available all week, we all have a fair chance to make sure our bosses are happy.
Why find reasons to complain about Media Day when there are $3.50 slices of cheese pizza waiting to be ridiculed?
A career in sports has given me the opportunity to travel the country to do play-by-play for games in Reading, Pa. to Olean, N.Y. and report from Super Bowls, Final Fours, World Series, NBA Finals and Stanley Cups. In order to make the most of those experiences, I enjoy getting to taste the local flavors, so I'll end each post with a food recommendation and please pass yours along to me as well.
City: Philadelphia
Event: Division II Basketball Game of the Week, CBS Sports Network - Dec. 14, 2013
Restaurant: Dinic's at Reading Terminal Market
Plate: Roast pork sandwich, sharp provolone, broccoli rabe, hot and roasted peppers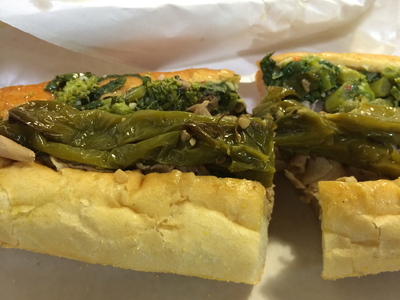 Philadelphia isn't just home to the country's best cheesesteaks, soft pretzels and water ice. According to Travel Channel's Adam Richman, Dinic's roast pork sandwich is the best sandwich in America.
The brilliance is made of thinly sliced Italian roast pork, sharp provolone on the Sarcone's roll so that it melts into the bread and meat, chopped broccoli rabe that provides more crunch than bitterness, and a few fresh hot and roasted peppers all topped with the stock that soaked the pork. Despite everything on the roll, each individual component stands out, especially in a simple combo bite of pork and sharp provolone. With all the juice on the sandwich, it's important to not wander looking for a seat with the rest of your group, but rather split up and eat it solo. The line is longer for this delicacy than for Cardinals tickets at Busch Stadium, but the Philly sense of urgency moves it along faster than Jonathan Papelbon blows a save.
Calling all HuffPost superfans!
Sign up for membership to become a founding member and help shape HuffPost's next chapter