 The Super Bowl officially got boring after Bruno Mars and the Red Hot Chili Peppers performed.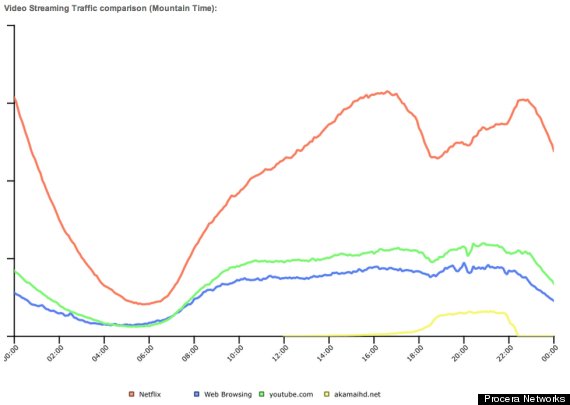 The dip just after 18:00 corresponds to the halftime show.
According to data from Procera networks, a company that monitors Web activity, Netflix traffic fell a full 20 percent during the first half of the game. It reached its lowest point during the halftime show, but then began to climb again at 8:20 p.m. Eastern Standard Time, explained Cam Cullen, the vice president of global marketing at Procera. Cullen said the dip was consistent across the nine networks in the U.S. it monitored.
If you recall, 8:20 p.m. was just before the game's second half started, and just before Percy Harvin returned the opening kickoff for a touchdown, bringing the Seahawks to lead the Broncos 29-0. Then it was, well, game over.
Netflix had no comment on the data, but Cullen said that a drop in Netflix activity is typical during the Super Bowl and it "wasn't significantly different than what we've seen in past years."
Related
Popular in the Community