This year, we'll be just as inclined to snack, but that doesn't mean we have to overindulge: We decided to ask some experts for their tips on avoiding the countless treats on offer between the couch and the big screen. We called up some of the most trusted nutritionists to ask what they'll serve at their Super Bowl parties.
Luckily, what these dishes lack in saturated fat and empty calories, they make up for in flavor: Think twists on classic Super Bowl favorites (dips, redefined), along with a few new traditions (like lamb and guacamole sliders) to add to the mix.
Here, their tips for making many more delicious, healthfully revamped Super Bowl snacks below. Scroll down for full recipes -- then tell us in the comments: how will you improve your spread?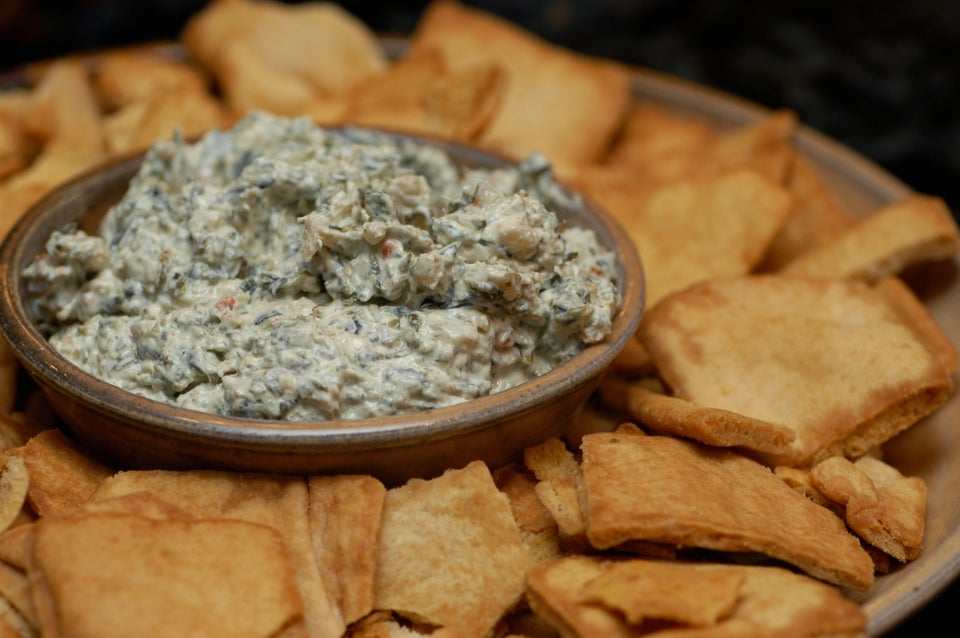 What Nutritionists Serve At Their Super Bowl Parties
Hungry? HuffPost Healthy Living blogger Dawn Jackson Blatner, R.D. created an entire menu, her "Healthy Super Bowl Spread" just for us. We won't be surprised if you decide to recreate the entire thing -- we're planning on it:
New Orleans Hurricane Cocktail
Makes 1 serving (1 cup each)

Ingredients:

1/4 cup 100% pineapple juice
1 peeled orange
6 frozen unsweetened cherries

Instructions:

Blend ingredients until smooth. Add ice for a thicker consistency.

Nutrition Info (1 cup):
120 calories, 0g total fat, 0g saturated fat, 0g trans fat, 0mg cholesterol, 0mg sodium, 30g carbohydrate, 4g fiber, 25g sugar, 2g protein, vitamin A 6%, vitamin C 130%, calcium 6%, iron 2%
Buffalo Hummus
Makes 3 cups

Ingredients:

2 cans (15.5 ounces each) garbanzo beans, rinsed and drained
1/4 cup tahini (sesame seed paste)
1/4 cup fresh lemon juice
1/4 cup water
1 Tablespoon olive oil
1 Tablespoon FranksÔ RedHot cayenne pepper sauce
1 clove garlic, minced
1/2 teaspoon sea salt

Instructions:

Blend ingredients until smooth. Serve with bean chips (like Beanito) and carrots & celery sticks.

Nutrition Info (2 Tablespoons):
50 calories, 2g total fat, 0g saturated fat, 0g trans fat, 0mg cholesterol, 75mg sodium, 7g carbohydrate, 1g fiber, 0g sugar, 2g protein, vitamin A 0%, vitamin C 2%, calcium 2%, iron 2%
BBQ Chicken Pita Pizzas
Makes 6 servings (1 whole pita w/ toppings each)

Ingredients:

2 cups shredded baked/grilled chicken
3/4 cup natural BBQ sauce
6 whole grain pitas
1/2 cup sliced green onions
1/2 cup thinly sliced red onions
2 cups shredded part-skim mozzarella cheese
3/4 cup chopped fresh cilantro

Instructions:

Preheat oven to 450 degrees F. Toss chicken in BBQ sauce. Place pitas on a baking sheet. Place BBQ chicken, green onion, red onion and mozzarella evenly on pitas. Bake 10 minutes, until cheese is bubbling and pitas are crisp. Sprinkle with fresh cilantro.

Nutrition Info (1 pita w/toppings):
310 calories, 10g total fat, 4.5g saturated fat, 0g trans fat, 60mg cholesterol, 630mg sodium, 26g carbohydrate, 2g fiber, 7g sugar, 28g protein, vitamin A 8%, vitamin C 8%, calcium 30%, iron 10%
Peanut Butter & Chocolate Popcorn
Makes 6 servings (1 cup each)

Ingredients:

6 cups air-popped popcorn
4 Tablespoons dark chocolate chips, melted
2 Tablespoons natural peanut butter, warmed

Instructions:

Place popcorn on baking sheet. Drizzle with chocolate and peanut butter. Let set in fridge for 10 minutes. Enjoy.

Nutrition Info (1 cup):
100 calories, 5g total fat, 1.5g saturated fat, 0g trans fat, 0mg cholesterol, 20mg sodium, 12g carbohydrate, 2g fiber, 4g sugar, 2g protein, vitamin A 0%, vitamin C 0%, calcium 0%, iron 2%
Cheryl Forberg, R.D., also shared her lightened-up version of some Super Bowl classics. Find her recipe for french onion dip and arugula pesto stuffed mushrooms below:
French Onion Dip

Forberg says, "It takes a little time to simmer the onions, but the result is so worth waiting for. This tastes just like "the real thing" with a fraction of the calories and fat."

Makes about 3 cups or twelve 1/4 cup servings)

Ingredients:

2 1/4 pounds yellow onions, peeled
2 tablespoons olive oil
1 teaspoon salt
1 teaspoon onion powder
4 ounces low fat cream cheese, room temperature
1/2 cup plain nonfat Greek-style yogurt

Instructions:

Cut the onions in half vertically, and then slice them horizontally into 1/8-inch thick half-rounds.
Heat olive oil a large sauté pan or Dutch oven over medium heat. Add the onions and salt. Stir well and sauté for 2 to 3 minutes. Continue to simmer stirring regularly for about 20 to 30 minutes, scraping up any browned bits with a wooden spoon. The onions will be light to medium golden (not dark) browned and caramelized. Cool onions completely.

Place onions in bowl of a food processor. Pulses a few times until onion are slightly chopped. Remove half of the onions and transfer them to a mixing bowl. Return the remaining onions to the food processor. Add the onion powder and process until completely pureed. Add the cream cheese, and yogurt and process just until smooth. Add to the chopped onion mixture . Stir well.
Taste for seasonings. Chill completely. Transfer to serving bowl. Garnish with Italian parsley leaves. Serve with your favorite baked chips.
Arugula Pesto Stuffed Mushrooms

Forberg says: "If you're a mushroom-lover, you'll adore this recipe. Try substituting different dried or fresh mushrooms in the filling. Recipe can be prepared in advance for easy entertaining."

Makes 12 stuffed mushrooms

Ingredients:

12 shiitake mushrooms, approx 1-1/2 inches in diameter
1 (1/2 oz. pkg.) dried shiitake mushrooms (or one 1/2 oz pkg. of other dried mushroom)
1 cup roughly chopped fresh brown cremini mushrooms (or other fresh mushroom)
2 ounces (2 bunches) fresh arugula, quickly blanched, cooled and roughly chopped
2 tablespoons walnuts, lightly toasted
1 tablespoon chopped garlic
2 tablespoons olive oil
3 tablespoons freshly grated Romano cheese, divided
Salt & freshly ground black pepper

Instructions:

Trim and discard the stem of each shiitake mushroom. Set caps aside.
Place the dried mushrooms in bowl of warm water; press to submerge.
Let stand until the mushrooms are tender, about 20 minutes.

Lift mushrooms from water, being carefully not to stir any sediment that may have sunken to the bottom. Lightly squeeze excess water from mushrooms and roughly chop. Strain mushroom water and reserve for another use.

Combine the dried mushrooms, fresh mushrooms, walnuts, garlic, and arugula in a food processor and pulse a few times until coarsely chopped.

Add oil and 2 tablespoons of the cheese. Pulse just to combine. Transfer to mixing bowl. Season with salt and pepper, to taste. There will be about 1 1/2 cups of filling. It should be just moist enough to stick together but not wet. If not using filling right away, cover tightly with plastic wrap to prevent discoloration. At this point: the recipe can be prepared a day ahead of time and refrigerated up until baking time.

Preheat oven to 350 degrees F. Mound 1 tablespoon of filling into each shiitake cap with a spoon, pressing firmly with the inside of the spoon to form a smooth mound. Place stuffed mushroom caps on a baking sheet and sprinkle with remaining tablespoon of cheese. Bake at 350 degrees F for 10 minutes until lightly browned. Serve hot or at room temperature.
Popular in the Community