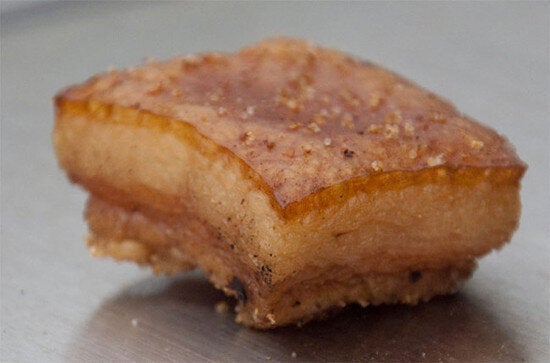 My recipe is a vast improvement over storebought or any home made cracklins recipe you'll find. It is not traditional. Just better. And here's why. They are not deep fried and they won't break your teeth. They take longer, but they are worth the wait.
Mark Singleton is VP of Sales & Marketing for
, the largest producer of cracklins and rinds in the world. His company bought 120 million pounds of skin last year. They begin with hairless skin with the subcutaneous fat attached from the shoulders and hams (rump), slice them into strips, smoke them and cook them to break down the collagens and connective tissues and begin rendering the fat. They then simmer them in lard to render most of the remaining fat. They are then drained, and dried to form "pellets" ready for frying. Their ingredient labels couldn't be simpler: Pork skins and salt. No preservatives.
Pork skins and pork rinds are two names for the same thing, made from skin of the hog. Called baconettes in Cajun Country, chicharrons in Spanish, and scratchings in England, rinds are made by frying just the dried skin of the back or belly of the hog, no fat attached, until they get light, puffy, and crunchy, like giant rice crispies. Above is a picture of the best I have ever tasted, at the restaurant
, where they are made from scratch and served warm with a light dusting of dehydrated cheese and vinegar. Not the least bit greasy.
Why are pigskins and barbecue so popular at football watching parties? As any fan will tell you, the greensward the game is played on, marked with parallel white stripes, is called a gridiron. What he or she may not know is that a gridiron is an early name for the iron grate with parallel bars upon which meat is cooked over coals, hence the origin of the name.
Singleton speaks wistfully about his version of Mofongo: Cracklins and boiled plantains mashed together, formed into balls and fried.
has some tasty looking recipes using cracklins and they invite more.
I started with the traditional recipe: Deep fry the skins and subcutaneous fat layer in oil for about 6 to 8 minutes until they are GBD (golden brown and delicious). And doubly greasy. And the skin can get really really hard. Like shard hard. And frying them also makes a horrible mess. They can pop and spatter all over the stove and floor. I wanted to avoid the mess, tame the hardness of the skin, and add some flavor. So, of course, I took them outside.
2-3 hours
Related