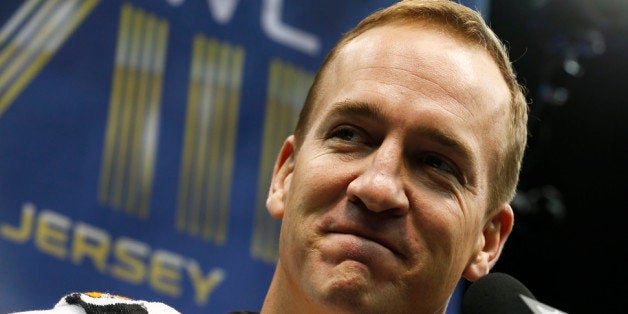 This Sunday, for the third time in the recent Super Bowl era, the NFL's best offense will face the league's best defense. In the previous two instances, the top defense won -- rather famously so.
Bill Belichick's game plan as the underdog New York Giants defensive coordinator defeated Buffalo Bills QB Jim Kelly's offensive juggernaut in 1991's Super Bowl XXV. This defensive strategy was considered so exemplary that the plan is currently on exhibit in the Pro Football Hall of Fame. That Belichick guy had promise.
In 2003, head coach Jon Gruden used his Tony Dungy-trained Tampa Bay Buccaneers defense to hammer the Oakland Raiders in Super Bowl XXXII. Hard as it is to imagine in 2013, the Raiders and QB Rich Gannon were the No. 1 NFL offense in the 2002 season. The Bucs defense scored three times in the 48-21 beat down.
Whether Peyton Manning and his historically productive offense can break this trend is the central question of Super Bowl XLVIII.
In this postseason, Manning and offensive coordinator Adam Gase have led their offense to an average of 37.9 points, with 457.3 total yards, 340.2 of which came through the air. In the past two games, Manning has completed 72.2 percent of his passes for more than eight yards per throw. The Broncos "only" gained about 117 rushing yards in their playoff wins.*
They will line up against a Seattle defense that has allowed 14.4 points and 273.6 yards on average in January. The Seahawks boast the top-ranked secondary: rather confidently self-christened "The Legion of Boom." They are especially strong on third down, allowing only six conversions in 23 attempts. The Seahawks are undoubtedly the strongest and fastest defense the Broncos have seen this year.
Unless you are only planning to watch the big game because your boss is giving a Super Bowl party, you know that Broncos QB Peyton Manning broke yet another series of individual and offensive NFL records. Five wide receivers had 60 or more receptions in 2013 and four scored ten or more TDs. This multitude of excellent ball catchers is one of the two keys to Denver's offensive success.
Seattle possesses the best cornerback currently playing in the NFL in Richard Sherman. Though video of his interviews is currently featured in the dictionary as the new definition of "brash," Sherman is an intensely intelligent athlete in whom preparation meets instinct to create a formidable defender.
Whenever top Broncos WR Demaryius Thomas lines up on the left side, he'll be battling his off-the-field buddy Sherman. Though both men are 6'3", Thomas has 30 lbs on the cornerback. Their mutual respect may keep things from getting nasty, but you can count on them being extremely, uh, aggressive.
Size may well be a determining factor in the Sunday war between WRs and CBs. Right CB Byron Maxwell can probably hold his own at 6'1" and 207 lbs, but slot corner Walter Thurmond III is 5'10" and 190 lbs. Fourth CB Jeremy Lane tops out at six feet, but is also only 190 lbs. Even stellar safety Earl Thomas is only 5'10".
Denver's No. 2 wideout is 6'3", 214 lb Eric Decker. Wes Welker is a smaller target, but anyone who questions his toughness simply hasn't been paying attention. Furthermore, Welker will passionately want to erase the memory of his dropped pass in Super Bowl XLVI.
Then there are TE Julius Thomas and RB Knowshon Moreno. Sheer math dictates that the smaller corners, Earl Thomas or strong safety Kam Chancellor will draw coverage duties here. At 6'5", 250 lbs, Julius Thomas is effectively a fast linebacker with exception ball-catching skills. Chancellor is the only size match, but the huge and powerful safety's strongest suit is not pass coverage. He is, however, quite adept at the big play.
Seattle's extremely talented linebacking corps could be pressed into service against receivers--taking them away from both rushing the passer and stopping the runners. The commitment and ability of this group was on full display in the NFC Championship's game-winning play. Sure, Sherman is getting all the attention, but the player who caught that tipped pass? Linebacker Malcolm Smith--all the way down into the end zone. Now that's sticking with a play!
Just about the time that Seattle thinks they've accounted for all of the above passing options, backup WR Andre Caldwell or one of the three rotational TEs (Virgil Green, Joel Dreessen and Jacob Tamme) will slip into the end zone for a quick TD catch. Even rookie rusher Montee Ball has some receptions from his legendary QB.
In the AFC title match, Denver employed numerous four wide receiver sets--and then used the RB as an outlet receiver out of the backfield! Numbers don't lie and despite Seattle's tremendous talent, the Broncos virtual brigade of men who can catch the football may be too much too handle.
Of course, if Manning doesn't have time to throw the football, there could be ten WRs downfield and it wouldn't matter. Pass protection is the second key to this matchup.
The Broncos offensive line exists on this planet primarily to protect Peyton. Given the choice between someone nailing No. 18 and a holding penalty, one can't imagine the coaching staff getting too upset if a flag is thrown. Manning was the NFL's least-sacked passer in 2013. After losing both their starting center and starting left tackle in preseason, this O-line has quietly become one of the very best in the league.
Conversely, the Seattle team has sacked opposing quarterbacks 47 times this year--so far. The Seahawks have so many good defensive linemen that they had to move Bruce Irvin to outside linebacker. There are nine D-linemen on the Seattle depth chart and two of the most dangerous, free agent acquisitions Cliff Avril and Michael Bennett, aren't even technically starters!
However, Manning could rival Dan Marino for sending the ball on its way in record time. At a widely televised Monday press conference, Pete Carroll noted that the Broncos offense was built around "efficiency and precision of getting the ball out." They do it well.
After the AFC Championship loss, Patriots linebacker Rob Ninkovich (shown on the NFL Network's NFL Replay) flatly stated, "When the ball's coming out that hot, you can be unblocked and you're still not going to get to him." Denver fans hope so.
As winter set in, Denver began to run the ball more frequently. This isn't exactly a revolutionary concept in the National Football League. However, it may well be a strategy to extend time of possession rather than any accommodation to weather.
Analysts on ESPN's NFL Live pointed out this week that the Broncos postseason drives have averaged longer than six minutes and featured an average of 12 plays. This has resulted in an average time of possession of 35:35 minutes. Expect more of the same as they strive to keep Seattle rushing threat Marshawn Lynch contemplating his new Skittles endorsement deal while sitting on the bench.
Broncos versatile RB Knowshon Moreno is the first player in franchise history with 1,000 rushing yards and 500 receiving yards in a single season. He may not possess the raw power of Lynch, but he is smooth, elusive and patient. He's also a terrific pass protector, allowing the team to keep him in the game on third downs where he can knock off his assigned pass rusher and then catch the ball underneath the coverage. Moreno suffered a rib injury in the AFC game and is listed as questionable, but should play even if it takes all the Novocain in the greater New York area.+
Moreno has run the ball 37 times in the playoffs for 141 yards and caught the ball for another 34 yards. Rookie RB Montee Ball has contributed 108 combined yards of his own. Denver may use their rushing attack primarily as a slowdown tactic and as a way of opening up passing opportunities, but expect Manning to catch Seattle off-balance at least once by checking to a run at an unexpected moment.
Game Plan and Peyton Manning's Brain
For those of you who will only be in front of the television because your girlfriend is a rabid NFL fan, Peyton Manning is renowned for his intellectual mastery of the game of football. Coupled with exhaustive research on defensive tendencies, his attack on opponents is most often described as "surgical." Remember what the digitized and mathematically sectioned world as seen through the Terminator's computerized eyes? We can be reasonably sure that's what the field looks like to No. 18.
Often overlooked in the shadow of Manning's mental gymnastics is the fact that two years ago, after four neck surgeries, his career hung in the balance. The nerve damage on his right side was so extensive that his muscles were severely atrophied. The amount of determination and discipline necessary in rebuilding his body to an NFL-ready form is a feat comparable to Vikings rusher Adrian Peterson's recovery from ACL surgery in nine months. It is possible that the process also strengthened his emotional resolve and psychological toughness under pressure in big games.
Manning is working with first-year offensive coordinator Adam Gase: a 36-year-old whose NFL future is so bright he had to turn down interviews for head coaching positions to stick with the Broncos throughout the postseason. Fans, players, coaches, the front office and petty much everyone in the Mountain Time Zone are extremely grateful.
Gase matches Manning in offensive instincts and, more importantly, brain processing speed. The two of them probe defenses based on their research. As soon as they identify a tendency, they systematically exploit it.
In this game, stacking and bunching WRs would reduce the Seahawks DBs ability to hit the Broncos WRs within the first five yards of their routes. These early "bumps" are one of Seattle's calling cards and forcing them to play on top of each other or further down the field can take away one of their primary tools.
The Broncos WRing corps are famous for their intricate crossing routes and "rub/pick" plays where one WR simply gets in the way of a defender so that a teammate can get free. Sometimes "getting in the way" entails a carefully timed full body block. Seattle's man-coverage defense may also be susceptible to more horizontal screen plays.
Expect a few "unexpected" plays: chances for a few offensive players to do something that they don't usually do. In the AFC Championship game third-string TE Virgil Green lined up in the backfield--presumably as an additional pass protector. But, no, he morphed into a tailback and rushed for a key six yards. Manning and offensive coordinator Adam Gase share an aggressive and creative mindset and should pull a few surprises out of their helmet on Sunday.
For a detailed look at Super Bowl XLVIII's Special Teams, Offensive Lines, Coaching Tendencies and Intangibles see my article on TheSportsDaily.Net.
Coming soon: Super Bowl Preview: Seattle Seahawks Offense versus Denver Broncos Defense
*regular season and playoff statistics from nfl.com
+injury information from cbssports.com
REAL LIFE. REAL NEWS. REAL VOICES.
Help us tell more of the stories that matter from voices that too often remain unheard.