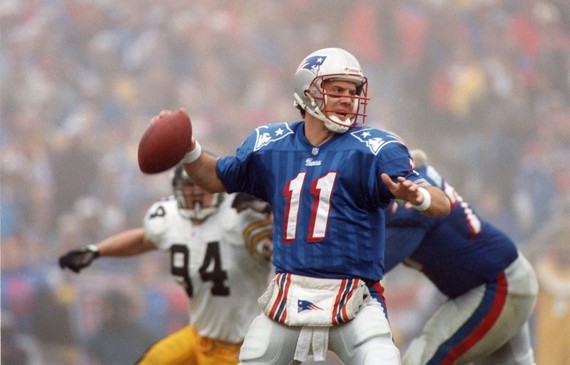 I am so very curious. What are the elements that constitute the makeup of the magic potion chemistry that keeps a promising destined for greatness sports legend in the making from fumbling down the rabbit hole into the seductive abyss and world of celebrity dysfunction? The lavish life of free stuff and infinite attention and high fives is quite a magnet when you got talent, Drew shares with me. It can hit you sideways. I inquire, what has been his lift, his play, to an elevated true life?
Well, let's see, he pauses. I hear a clap of thunder clap through the phone line. Sorry, Kay, I was distracted by an incoming storm. I am sitting in my truck waiting for my to wife come out of the store and the rain just hit. It's our 20th anniversary today. After another loud clap, he continues, it's quite simple for me. First off, I have incredible parents. They are deeply devoted to family and values. And they share their solid home life foundation success with others. It is their ministry, their offering. They have a collective meaningful mission to assist folks in creating and enjoying a positive family setting. We started a Foundation, Parenting with Dignity, two decades ago, which offers a framework for raising kids in a time where external pressures have never been greater. The mission of PWD is to help families develop a happy home life with open lines of communication. And much more. My parent's dedication to these values and this program has helped to keep me grounded.
My value to the world, according to my parents, was more than playing ball. I was raised in Walla Walla with great people around me. I have good solid pals. I have people that truly care about me. I planned my exit out of the NFL into my next phase early. I knew I wanted to raise a family and grapes. So the transition off the field was right, leaving before I had to.
Thanks to this keep it real life coaching offering from his devoted parents and some encouraging advice from Brian Murphy, Sports Information Guy at WSU, who suggested he keep his public and private selves separate, he rarely was tackled by identity confusion.
With his brilliant acumen on the field (making it to the super of all Bowls and consistently high-rated wines), tucked is his soul, Drew has transferable wisdom we could all lift from having a listen. Drew is an expert at throwing passes and planting seeds for promising yield. We can 12th man it for a moment to soak up his smarts on earning successive successes. I ask him so we can all benefit, how everything he touches, from footballs to grapes and to family and friends, lands so many winning touchdowns.
Drew shares that one of the keys to a rewarding life, instilled by his parents, has been to be mindful that there is something bigger, more important than self out there. I was taught that my value to the world was more than playing ball, he repeats. I learned that we must bring our lessons from our previous experiences and transition them into this chapter. We must choose to learn from our wins and losses and infiltrate them into our systems.
After my chat with Drew, I felt relieved. It is simple, yet monumental, knowing that our past plays can lead us to a better now, if we just plain look at what worked and what did not. Drew says, don't leave the lessons behind. Face failures. Yes, it is so very humbling to look at our mistakes head on. To tackle them takes confidence. Watch, analyze yourself, Drew encourages us. Know what you can fix, what you are able to improve. Catch the fumbles if you can. To be successful in sports (and real life) one must be able to handle regular film session. Self analysis is one of the keys to making alterations to our life.
I leave football outside, as best I can, shares Drew. Only on occasion when we retreat and I am in comfort dad, friend, son mode, do I have to make a quick adjustment to Drew football dude mode. If fans come say hi I feel like my public self, with my guard up, shows up. My two worlds only on occasion intersect and it is still uncomfortable when they do. I go from regular guy to famous guy. One has lived a rock star existence. And the current one has dirt under his nails and bottles to fill with grape juice and homework to finish (with at least one of four of his tribe). DB strives for peace while still humbly accepting the good wishes and grace of his generous fan club members.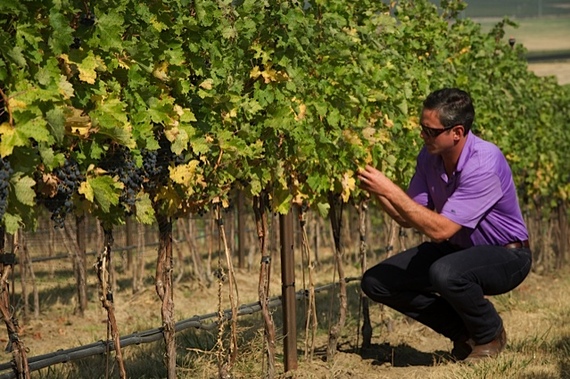 Drew doubled backed to begin again in his hometown, Walla Walla, where the fields and soil yield some of this earth's most delicious wines. He huddled with his new teammates and planted grapes and a new life.
Doubleback is one of my top 2 favorite Big Reds with a touch of sass. DB is in it's 7th vintage, with over 10 years of blood, sweat and prayers that has created unparalleled delight in a bottle. Doubleback has grown 10 fold in that time. Team Doubleback is mindful to not push for too rapid growth in order to properly tend to their customers and grapes. Bearing fruit takes time, Drew says. We do have spectacular fruit. We are lucky we have a great team and faith. And excellent soil.
To be successful Drew shares that he/we must have the whole package. It all has to be right. One must: Be mindful of the mission , Offer high touch (be there), Top notch (be aware) customer service, Have an authentic story, Create excellent product (Doubleback scores 92-97 every year, which is a phenomenal accomplishment) and Assemble the huddle of the right team mates. There are a lot of good wines out there. There are a lot of good players and teams out there.
We can all be standouts, if we decide to be, Drew promises.
What seeds are you choosing to plant in your life today? We do reap what we sow. Gratitude to Bledsoe for the reminder. What we do doubles back to us. Good luck to you.
Related
Popular in the Community