 The Super Bowl is a time for football lovers and non-football lovers alike to come together over hearty, homestyle, sometimes Mexican- or Southern-themed food. Food that is heavy, manly, and meat-centric; what better time than the Super Bowl to buy 6 pounds of pork butt, and have at it? But meat is expensive, and making tons of burgers isn't economical, or necessarily all that fun for the person tapped with making them.
That's when we consider downsizing. Mini sandwiches are one of the best items in our repertoire. At cocktail parties and buffets, they tend to make an appearance. They're cute but still hearty and filling, and their concept seems to spark our creativity. From meatball mini subs to three-bite chicken tortas, these sliders can be mixed and matched to create a glorious spread for your Super Bowl party.
What follows are a few of our favorite mini sandwiches, accoutrements and serving ideas that are sure to score with even with your most super-sized fans.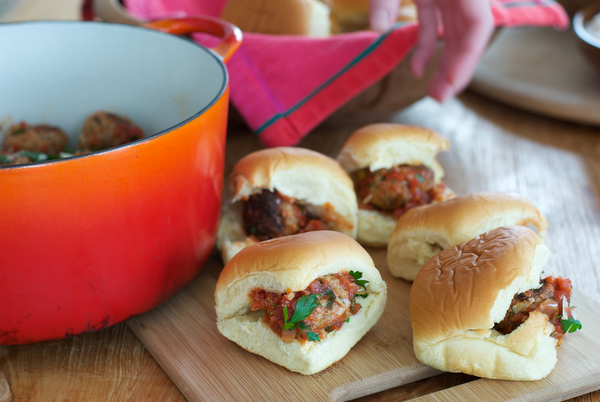 First up, meatball subs. The meatballs are juicy and flavorful, but they're baked, not fried, which means they can be made in advance. Then they're reheated in a pot of tomato sauce and scooped into dinner rolls.

Then we've got these Mexican Chicken Tortas (recipe below). They are the kind of sandwich that truly transcends its parts. Creamy, smoky chipotle mayo mingles with crunchy red cabbage and cumin-rubbed chicken covered in melted jack cheese. Refried beans round out the shebang.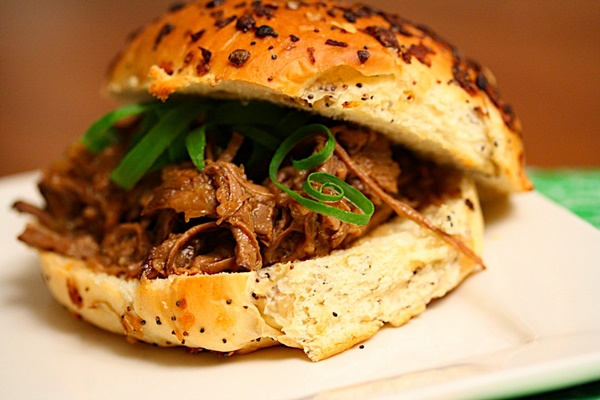 Brisket is one of our favorite meats, slowly cooked and extremely flavorful as it is. After shredding, we pile it into challah rolls, top the meat with scallions, and dig in.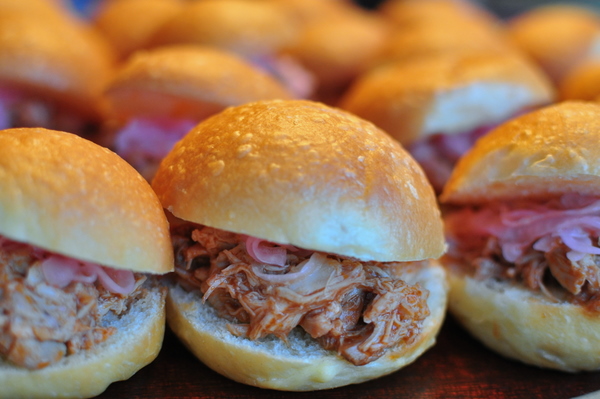 These pulled chicken sandwiches basically fulfill the urge to eat pulled pork, but they're a little less labor intensive to make. The barbecue sauce that coats the shredded chicken thighs is sweet, salty, and utterly satisfying.
If you're thinking of tending towards the vegetarian side of things, unexpected as it may seem, you don't have to veer away from sliders altogether. A recipe for Barbecued Lentils functions beautifully as mini sloppy joe filling--just buy dinner rolls and stuff it in. Or, there are these tried-and-true Chickpea Burgers--shape them small and fit them inside mini pitas and you're set.
Mexican Chicken Tortas
Makes 12 small sandwiches
For the beans:
1 tablespoon safflower or other neutral oil
1 onion
2 cloves garlic, minced
1 teaspoon ground cumin
1 teaspoon ground coriander
1 can refried beans (not fat free)
cayenne to taste
salt
½ cup mayonnaise
1 chipotle chili in adobo sauce
1 tablespoon adobo sauce (from the can)
For the red cabbage crunch:
1/2 small red cabbage, thinly sliced
1 shallot, thinly sliced
1/2 teaspoon salt
pepper
1 tablespoons sugar
1 tablespoons white wine vinegar
2 teaspoons neutral oil
For the chicken & assembly:
1 1/2 tablespoon cumin
1 tablespoon coriander
2 teaspoons salt
freshly ground pepper
about 3 pounds boneless, skinless chicken thighs (you want about 12 small thighs)
4 ounces jack cheese, grated
12 dinner rolls (for mini sandwiches) or 8 kaiser rolls (for meal-sized sandwiches), sliced almost all the way through
toothpicks (optional)
For the refried beans, heat the oil in a medium saucepan over medium heat. Add the onions and cooking, stirring frequently, until soft but not brown, 6-7 minutes. Add the garlic and cook another minute. Sprinkle the spices into the pan and cook for another minute, stirring to distribute them. Scrape in the refried beans and stir to combine them with onion mixture. Raise the heat to medium-high and let the beans cook, stirring every few minutes to let a crust develop on the bottom. This increases the flavor. After 20 minutes, taste for salt and spice and correct as needed. Set the beans aside-they don't need to be warm for the sandwiches, just room temperature.
To make the chipotle mayo, combine the mayo, chipotle, and adobo sauce together in a mini food processor and pulse to break up the chili and distribute evenly. This can be done up to a week in advance and kept refrigerated.
Combine all the ingredients for the cabbage crunch in a medium bowl. Cover and allow to sit for at least an hour at room temperature, or longer in the frige. Taste and add more salt, sugar, or vinegar as needed.
For the chicken, preheat the oven to 400°F. Line a baking sheet with parchment paper and brunch it with oil. In a medium bowl, combine the cumin, coriander, salt, and a few grinds of black pepper. A few pieces at a time, toss the chicken in the spices, then arrange on the baking sheet. Bake for 30-35 minutes, until the chicken is cooked through (you can tell either by cutting into a piece and looking, or by pricking one and making sure the juice runs clear). Take the pan out of the oven and distribute the cheese evenly over the pieces. Return to the oven for 3-4 minutes, until the cheese melts.
To assemble the sandwiches, pull out a bit of the doughy part from the inside of the top piece of the roll. Spread the bottom with a layer of refried beans and the top with chipotle mayo. Cut a chicken thigh to fit the size of the roll-if you're using mini rolls, you may have to trim the chicken; if kaiser rolls, you may have to use one and a half. Reserve the scraps for fitting onto other sandwiches. Top the chicken with a tablespoon or two of red cabbage crunch and close the sandwich. Fasten with a toothpick if you like.