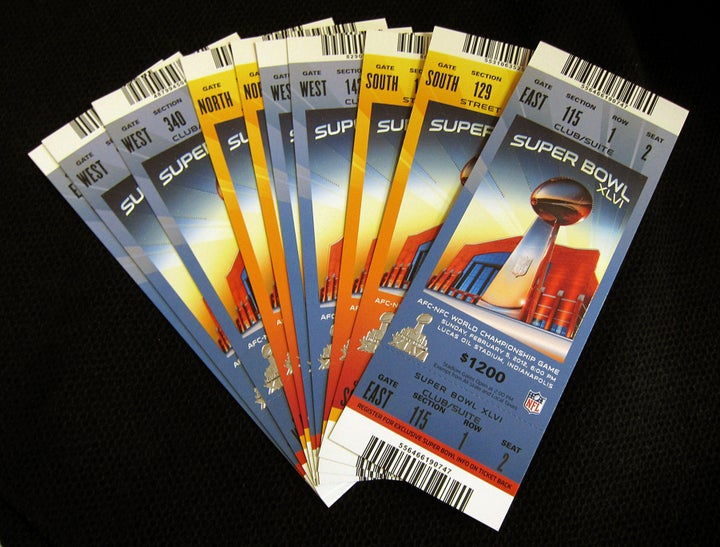 UPDATE: The woman identified as Jason Elia's ex-girlfriend is refuting his story. SEE UPDATE BELOW FOR FULL DETAILS

No, Elia's health won't prohibit him from heading to Indy to see the Giants take on the Patriots in Super Bowl XLVI. As he told John Wessling and Anson Ainsworth on ESPN 97.5 in Houston, Elia is looking to give the tickets away after the girlfriend for whom he purchased the tickets dumped him upon learning that he'd been diagnosed with cancer.
Asked by Wessling and Ainsworth, about the break-up, Elia described his ex's response to his diagnosis.
"Because I have cancer... she said it was too much stress for her to handle to have a boyfriend with a chronic disease."
While she supposedly can't handle such a relationship, Elia indicates she has no problem taking Super Bowl tickets from someone with a chronic disease. According to Elia, his ex has been asking for the tickets ever since she dumped him. Her argument (by way of Elia) is that she should still receive the tickets because she had been the intended recipient at the time of purchase. That she dumped him? Apparently, she thinks this is irrelevant.
CLICK HERE TO LISTEN TO ELIA'S INTERVIEW ON ESPN 97.5 IN HOUSTON

Elia intended to propose on Christmas and then give his then-girlfriend the Super Bowl tickets as a Christmas gift. He also shelled out for an engagement ring. However, his pre-Christmas diagnosis of bladder cancer and her subsequent decision to break up ruined these seemingly well-laid plans. He never had the chance to propose, and to his girlfriend's chagrin, never actually gave her the tickets. Of course, he had dropped enough hints about them leading up to Christmas that she strongly suspected that he'd purchased them.
He had indeed purchased the tickets. But rather than give them to his ex, he's going to give them away to whomever is able to deliver him the most new followers on Twitter.
Initially, Elia intended to name the winner of his contest during the Pro Bowl but he changed his plans on Monday as his story garnered national attention.
As the story has gotten wider attention, the hashtag #WinMyExsSuperBowlTickets has earned Elia scores of new followers on Twitter. With an 87% chance of recovery, Elia should be able to entertain all of these new followers for a long time. In the meantime, jilted lovers everywhere have a new hero.
According to Sen, Elia drastically exaggerated the significance of their relationship. While speaking with ESPN 97.5, Elia had stated that the couple had been together for 5 months. According to Sen, they only met once and she had no idea about the Super Bowl tickets before Elia went public with his story and shared Sen's Twitter handle.
The Daily Mail claims to have emails exchanged between Sen and Elia in which he does not deny that the story he told is not what it seems. However, Elia reportedly told the Mail that he is sticking to his story while clarifying that the ex-girlfriend he was speaking about is not Sen.
Late on Monday evening, Elia claimed to reveal the winner of the tickets via a podcast.
Calling all HuffPost superfans!
Sign up for membership to become a founding member and help shape HuffPost's next chapter