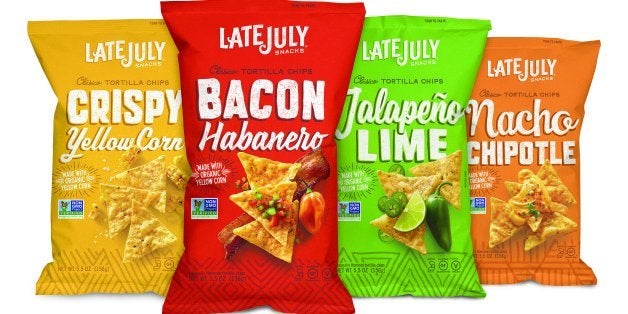 If you're not shoving as many chips into your face as possible on Super Bowl Sunday, you're doing something wrong. Luckily, there's a new game day chip of choice, at least according to us, that will ensure maximum dip consumption and minimum snacking fatigue. You may be comfortable with plain old corn tortilla chips, and we know you're cozy with Doritos, but do yourself a favor this year and shake things up with a just-released line of tortilla chips that were pretty much made for the Super Bowl. Behold, Late July Taco Truck-Inspired Tortilla Chips.
Late July, the company that brings you organic, non-GMO multigrain tortilla chips like Sea Salt Seashore and Sub Lime, has just started selling three new flavors you want to know about (and one you will forget by the time you scroll to the bottom of this page): Nacho Chipotle, Jalapeño Lime, Bacon Habanero and Crispy Yellow Corn. Move over, Doritos. Yeah, we said it.
Nacho Chipotle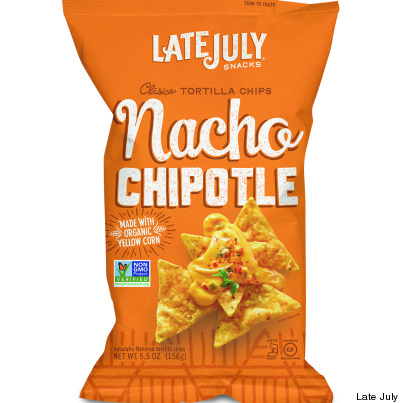 These chips rule. They were definitely the favorite among the HuffPost editors who tried them. They basically taste like Nacho Cheese Doritos without the overly fake flavor. Somewhat flakier than Doritos, they have the texture of a less artificial chip, and with an addictive but not overwhelming flavor, we could eat a whole bag, no problem.
Jalapeño Lime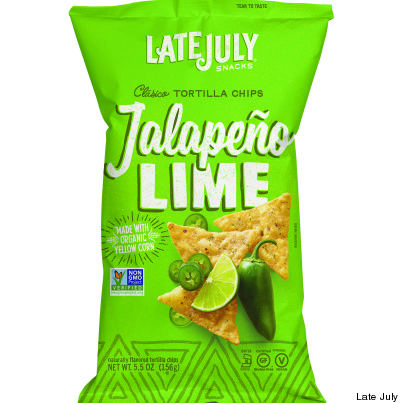 The closest chip to these might be Cool Ranch Doritos, but comparing them would be selling these chips short and overlooking the incredible jalapeño flavor. Thanks to the lime, they're mouth-puckeringly tart, just like Cool Ranch Doritos, but these Late July chips are much more layered and exciting. The jalapeño tastes legitimate: roasted and earthy, not simply spicy. The lime also comes through as distinctly identifiable. We could eat a whole bag of these chips too, and come Super Bowl Sunday, we might.
Bacon Habanero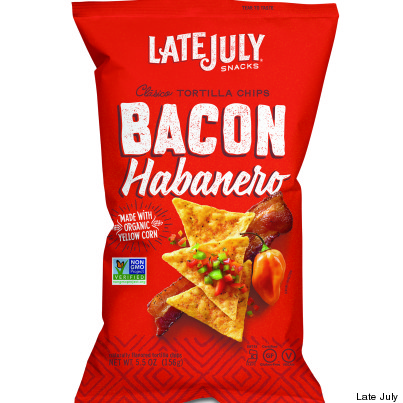 We've tried our fair share of interesting-verging-on-bizarre chips lately (ahem, Boulder Canyon's Turkey and Gravy chips), and these chips definitely follow suit. Seriously smoky with a sweet aftertaste, they deliver all the sensations you crave from bacon, but they come in chip form. That may not necessarily be a good thing, depending on who you ask, and there were definitely mixed reactions among the HuffPost editors who taste-tested this flavor. Overall, since we have many bacon lovers in the house of HuffPost, the consensus was a positive one, if a little perplexed. Whoever you are, they're pretty perfect for a Super Bowl feast.
Finally, the Crispy Yellow Corn flavor was too boring to write home about, so we didn't. Super Bowl Sunday (and life) is all about focusing your energy, so we advise you do the same with these Late July Taco Truck chips. Stick to Nacho Chipotle, Jalapeño Lime, and Bacon Habanero.
The chips are available now for $3.69 for a 5.5 ounce bag at Whole Foods and other retailers, just in time for Super Bowl Sunday. They will be sold nationwide by Cinco de Mayo. Olé!