Super Bowl XLVII will be the Harbaugh Bowl -- or the #HarBowl if you're following along on Twitter.
"I don't know if we had a dream this big. We had a few dreams, we had a few fights. You know, we had a few arguments, just like all brothers," John told reporters during his postgame remarks. "We'll try to stay out of that business. We'll let the two teams duke it out as much as possible."
That two road teams won during the NFL's Championship Weekend is remarkable enough (and last happened in 1997), but to have each of those teams coached by brothers ensures that you'll be hearing a lot about the Harbaugh family for the next two weeks. On Thanksgiving 2011, the Harbaughs made history by becoming the first brothers to face off as head coaches. The Ravens emerged victorious from this first sibling showdown, 16-6.
In Atlanta, the 49ers needed a historic comeback to dig out of an early 17-0 hole against the Falcons. With Frank Gore rushing for two touchdowns in the second half, San Francisco ran to a 28-24 win.
Up in New England, John, 50, had a few words of congratulations for his younger brother, Jim, 49, before the AFC Championship Game kicked off.
Once that game got underway in frigid Foxboro, the Ravens did something unprecedented, too. Entering the AFC Championship Game, Tom Brady was 67-0 in home games when the Patriots held a halftime lead. Despite trailing 13-7 at the intermission, the Ravens outplayed the Patriots in the second half on both sides of the ball en route to a 28-13 win.
Befitting the reputations of both Harbaugh-coached teams, the Falcons and Patriots were both shut out in the second halves of their championship game losses. The representatives from the AFC and NFC, the Ravens and 49ers will face off in New Orleans on February 3, 2013. Kickoff is set for 6:30 p.m. EST. Expect Jack and Jackie Harbaugh to be among the most riveted spectators -- if they can bear to watch.
Jim compared his parents' nail-biting experience watching the Ravens and 49ers play back-to-back games during the Divisional Round of the playoffs from their home in Mequon, Wis. to a marathon of watching the "24."
Jack agreed. Not Jack Bauer. But Jack Harbaugh.
"There was one day I remember (Jim) brought the first season of '24' before we went on a vacation," Jack told The San Francisco Chronicle. "I think there was a full season of '24' we watched in one day. So I think that's a probably a very good analogy."
If watching each son coach in separate games was as stressful as a day at CTU then what will it feel like to watch them match wits in the Super Bowl?
MORE FROM THE ASSOCIATED PRESS:
Preparing to coach the Baltimore Ravens in the AFC championship game Sunday night, John Harbaugh watched on the stadium's big video screen as Jim Harbaugh's San Francisco 49ers wrapped up their victory in the NFC championship game.

John looked into a nearby TV camera, smiled broadly and said: "Hey, Jim, congratulations. You did it. You're a great coach. Love you."

Less than four hours later, the Ravens won, too. Some siblings try to beat each other in backyard games. These guys will do it in the biggest game of all. Yes, get ready for the Brother Bowl.

It'll be Harbaugh vs. Harbaugh when Big Bro John's Ravens play Little Bro Jim's 49ers in the Super Bowl at New Orleans in two weeks.

As much chatter as there will be about the players involved – from Ravens linebacker Ray Lewis and his impending retirement to 49ers quarterback Colin Kaepernick's sudden emergence – the Harbaugh family angle will make this coaching matchup the most scrutinized in the nearly half-century of Super Sundays.

The Harbaughs' sister, Joani Crean, wrote in a text to The Associated Press: "Overwhelmed with pride for John, Jim and their families! They deserve all that has come their way! Team Harbaugh!"

Who's a parent to cheer for?

During the 2011 regular season, the Harbaughs became the only brothers to coach against each other in any NFL game (the Ravens beat the 49ers 16-6 on Thanksgiving Day that year).

Now they'll be squaring off with a championship at stake in a Super Bowl filled with firsts – and one truly significant last.

It will be the first one between coaching brothers, of course. First one for Joe Flacco, the oft-doubted Ravens quarterback with the superb touch on deep balls and a QB-record six postseason road wins. First one for Kaepernick, the second-year player with the tattooed arms, the sprinter's speed, and a shoulder that zips throws like the high school baseball pitcher he used to be.

And it will be the last game for 17-year veteran Lewis, Baltimore's emotional leader and this postseason's top tackler with 44 so far.

"This is our time," Lewis pronounced.

He appeared to be on the verge of tears before and after helping Baltimore become the only team in 68 tries to overcome a halftime deficit against Patriots quarterback Tom Brady in Foxborough, Mass.

The NFC West champion 49ers (13-4-1) open as 5-point favorites, seeking a record-tying sixth Super Bowl title but first since 1995. The franchise of Hall of Fame quarterbacks Joe Montana and Steve Young is 5-0 in Super Bowls.

The AFC South champion Ravens (13-6) are headed to their second Super Bowl; Lewis was the MVP when Baltimore beat the New York Giants in 2001.

With Kaepernick's terrific passing – he was 16 of 21 for 233 yards and a touchdown in only his ninth career NFL start – and two TD runs by Frank Gore, San Francisco erased a 17-point deficit to beat the Atlanta Falcons 28-24 Sunday.

Baltimore then fashioned a comeback of its own by scoring the last 21 points to defeat the New England Patriots 28-13, thanks in large part to Flacco's three second-half touchdown tosses, two to Anquan Boldin.

In the often risk-averse NFL, each Harbaugh made a critical change late in the regular season in a bid to boost his team's postseason chances. Clearly, both moves worked.

After 49ers quarterback Alex Smith, the starter in last season's overtime NFC title game loss to the New York Giants, got a concussion, Jim switched to Kaepernick for Week 11 – and never switched back. Now San Francisco has its first three-game winning streak of the season, at precisely the right time.

Baltimore, meanwhile, was in the midst of a three-game losing streak when John fired offensive coordinator Cam Cameron and promoted quarterbacks coach Jim Caldwell to replace him.

The 50-year-old John is 15 months older than Jim and generally the less demonstrative of the pair, although John certainly did not lack intensity while making his case with officials a couple of times Sunday.

The ever-excitable Jim – who was treated for an irregular heartbeat in November – was up to his usual sideline antics in Atlanta.

He spun around and sent his headset flying when the original call stood after he threw his red challenge flag on a catch by the Falcons. He hopped and yelled at his defense to get off the field after their key fourth-down stop with less than 1 1/2 minutes left. He made an emphatic-as-can-be timeout signal with 13 seconds remaining.

Expect CBS to fill plenty of time during its Super Bowl broadcast with shots of Jim, that trademark red pen dangling in front of his chest, and John, who usually wears a black Ravens hat. Yes, that is sure to be a focal point, until they meet for a postgame handshake.

___

Follow Howard Fendrich on Twitter at http://twitter.com/HowardFendrich
Before You Go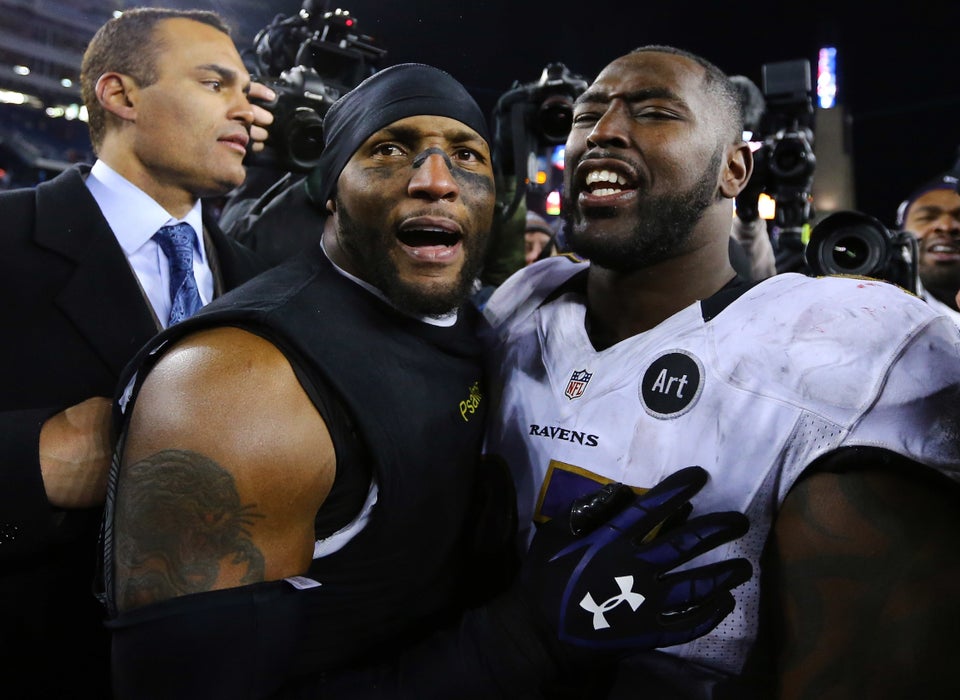 AFC Championship - Baltimore Ravens v New England Patriots
Popular in the Community