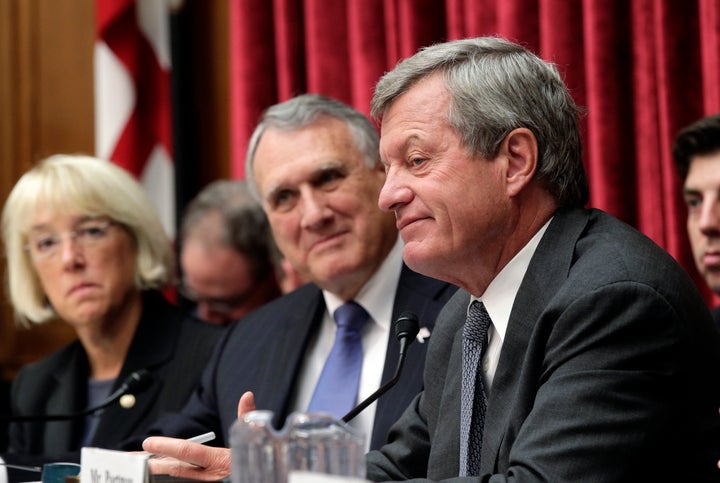 WASHINGTON -- Congressional Democrats on the super committee tasked with finding $1.2 trillion in deficit reduction have ruled out supporting a measure that would have extended their deadline for making recommendations.
Multiple Democratic aides tell The Huffington Post that committee members held a private discussion last week during which they decided against the idea of pushing the November 23rd requirement to report to a later date.
The committee does have the power to grant itself more time. If seven of its 12 members were to pass a resolution extending its deadline, it would be sent to Congress and would be immune to amendments and filibusters -- the same privileges that the committee's final set of recommendations will receive. But Democrats decided against taking advantage of that option, figuring that it would send a poor message about lawmakers' capacity to act on weighty matters and increase the opportunity for Republicans to push and sell a deficit reduction plan that included no revenue increases.
"It has been dismissed by both sides," an aide said of the idea, noting that Senate Minority Leader Mitch McConnell (R-Ky.) had also raised objections to pushing back the deadline.
House Minority Whip Steny Hoyer (D-Md.), first floated the idea last week that Congress could pass an extension on the committee's behalf giving it more time. Some have expressed concern that there isn't enough time for members to reach a majority-backed agreement and have it scored by the Congressional Budget Office before the deadline.
Aides familiar with the committee's machinations say members were fully aware that they had the option to grant themselves an extension but were not inclined to use it. It remained more likely that the committee would miss its deadline than extend it.
"I don't think the super committee is going to succeed because our Republican colleagues have said 'no net revenues,'" Sen. Chuck Schumer (D-N.Y.) said on MSNBC Monday morning. "When Democrats move too far left, we lose. We're now -- the basic mainstream of Democrats … we're willing to move to the middle ... They are not willing to do any revenues."

Popular in the Community