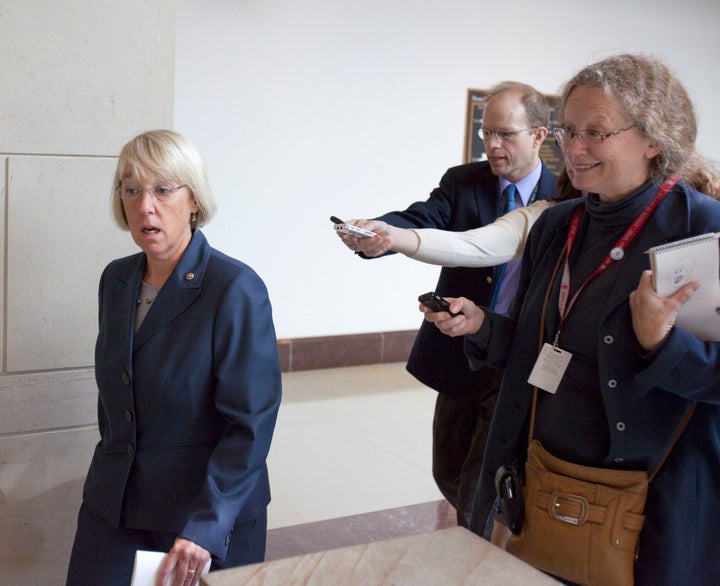 WASHINGTON -- The six Democratic members of a 12-member super committee with extraordinary powers to shape spending over the next decade held another secret meeting on Wednesday, out of view of the press and public.
The lawmakers, appointed to the Joint Select Committee on Deficit Reduction by leadership, have held the majority of their meetings behind closed doors, despite calls for its discussions to be as open as possible. They are tasked with finding at least $1.2 trillion in spending cuts over the next decade, possibly making cuts to entitlement programs, discretionary spending and the military as well as reforming the tax code.
But so far, most meetings have been held in private, with lawmakers declining to say much of anything to reporters. The committee is now meeting twice each day, once midday and once in the evening, but releasing little information about what is discussed. On Wednesday, a few reporters milled around outside during the meeting of Democratic lawmakers as staffers guarded the closed door, but no information was released when the members exited.
Sen. Patty Murray (D-Wash.), a committee co-chair, defended the closed-door meetings before entering yet another private meeting on Wednesday afternoon. She told reporters the committee will make its final decisions in front of the public, but needs privacy to be "honest with each other."
"I remember well one time when I was very little and I was fighting with my brother every other minute and my mother put us in a backroom and said don't come out until you got it figured out," Murray told reporters. "We stared at each other for a while, but we came out friends."
The secretive nature of the meetings is even more significant because the committee was created in a private process during negotiations over raising the debt ceiling, said John Wonderlich of the pro-transparency Sunlight Foundation.
"The process that led us here was secretive to its core ... The law that created the super committee was only reviewed for a few hours by Congress and the public before they created it and passed it," he said. "We've always said that it's fine for Murray to call to meet any time she wants -- you can't keep members of Congress from talking each other -- but that's not what's happening here. This is an all-day meeting."
The plan they eventually unveil, which is slated to come out before Nov. 23, will hold a special advantage over run-of-the-mill legislation: it will be filibuster-proof in the Senate, requiring only 51 votes for passage rather than the typical 60, and will not allow for amendments in either chamber.
The 12-member super committee has three members from each caucus or conference, led by Murray and Rep. Jeb Hensarling (R-Texas). The other Democratic members are Sens. John Kerry (D-Mass.) and Max Baucus (D-Mont.) and Reps. Chris Van Hollen (D-Md.), Xavier Becerra (D-Calif.) and Jim Clyburn (D-S.C.). The Republicans are represented by Sens. Jon Kyl (R-Ariz.), Rob Portman (R-Ohio) and Pat Toomey (R-Pa.), and Reps. Fred Upton (R-Mich.) and David Camp (R-Mich.).
Of course, many of the members are high-ranking, making it difficult to set up meetings on short-notice, and public hearings require booking witnesses. The committee must, under its rules, give at least 48 hours notice before a public hearing.
As of Wednesday afternoon, no information about the next public hearing had been announced.
UPDATE: 6:10 p.m. -- This post was updated to include statements made by Sen. Murray later on Wednesday.

Popular in the Community