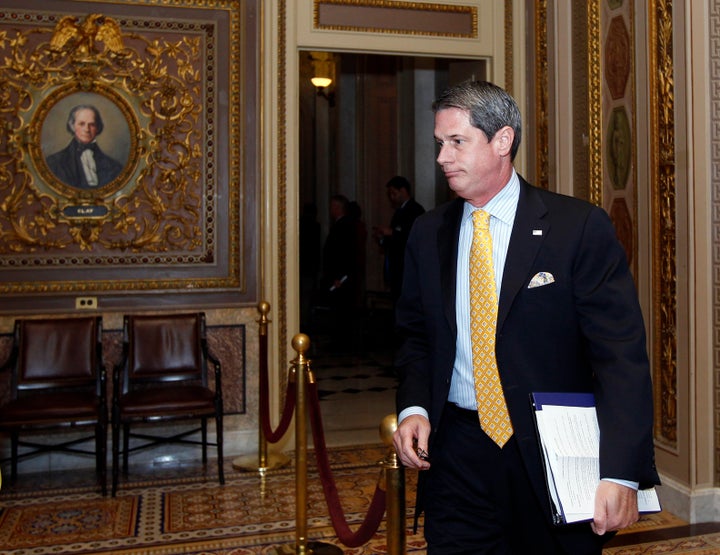 WASHINGTON -- Immediately after voting against the debt limit deal, Sen. David Vitter (R-La.) introduced a bill to require the real time disclosure of campaign contributions to members of the so-called "super Congress."
According to a press release from Vitter's office, the bill would require all contributions over $1,000 made to either the member's campaign committee or their leadership PAC to be disclosed within 48 hours of receipt.
"Given the important work this committee will be doing over the next four months, it's just plain good government for the public to know what special interests are trying to influence the committee," Vitter said in a statement. "We're talking trillions in cuts, and there are already threats to increase taxes on many job creators. We need to see full transparency and accountability because these committee members will be making huge decisions with a lot on the line."
The super committee is already facing questions about its openness. On Tuesday, transparency advocates told HuffPost that the yet to be formed group will need to be more transparent than the normal standing committees.
John Wonderlich, the Policy Director at the pro-transparency Sunlight Foundation, called for real time disclosure of campaign contributions to super committee members in a Tuesday morning blog post. "If you're among the few people deciding the country's future, then the public deserves to know who is donating money to your campaign at the same time," he wrote.
Wonderlich responded to Vitter's bill in a statement to HuffPost, "We're glad to see Sen. Vitter is recognizing that real-time disclosure of campaign finance is necessary to keep our politics accountable, even if the $1,000 thresshold is higher than it should be."
The Vitter bill would institute a system of disclosure that mimics the campaign finance rules for the final days before an election. Candidates are required to disclose their contributions every 48 hours during the twelve days before both a primary and a general election.
Public Campaign, a campaign finance nonprofit that aims to reduce campaigns funded by special interests, believes that members of the super committee should go even further than the Vitter bill calls for them to do.
"The Vitter bill would certainly be a step forward, but we would go two steps further. We would urge the members appointed to the commission to forgo political fundraising during their appointment to the committee," Public Campaign President & CEO Nick Nyhart told HuffPost.
Few precedents exist for either the proposed Vitter bill or the forgoing of fundraising. One past example occurred when Senate Finance Committee Chairman Max Baucus (D-Mont.) refused to accept political action committee (PAC) contributions from the health care industry while he crafted the health care bill from 2009 to 2010.
Popular in the Community