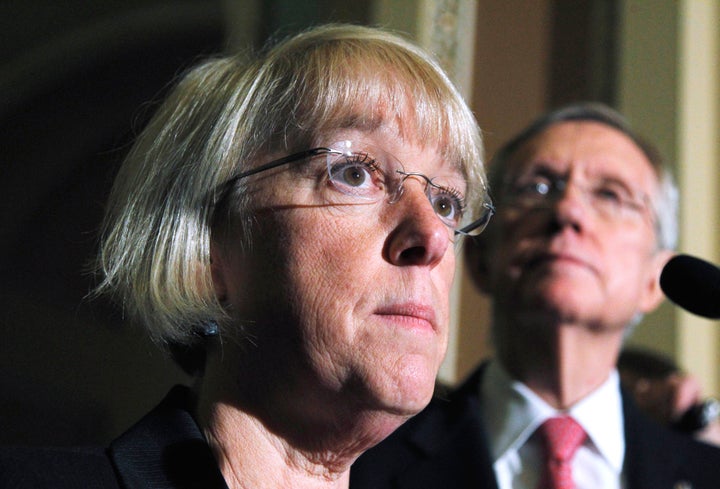 WASHINGTON -- Women comprise more than half of the population of the United States. Yet Sen. Patty Murray (D-Wash.) will be the only woman sitting on the new, powerful "super Congress," a 12-member committee responsible for coming up with a plan to cut at least $1.5 trillion from the federal budget by Thanksgiving.
"I think half the members of the committee should be women. I believe that people whose lives will be impacted by decisions have a right to have their voices heard in those decisions," said National Organization for Women President Terry O'Neill.
It's true that Congress doesn't accurately reflect the gender breakdown of the country either; female lawmakers make up a combined 16.8 percent of the House of Representatives and the Senate. But even that number is high when compared to the super committee, where women will comprise just 8.3 percent of the total.
"I am pleased to see that the Super Committee reflects a wide array of ideological perspectives and the representatives are from diverse regions of the country," said Sen. Jeanne Shaheen (D-N.H.), who has been a vocal advocate for the inclusion of women's voices in the budget negotiations, in a statement to The Huffington Post. "It would have been great to see more women represented, as we're more than half the population, but I am very happy to see Senator Murray as a co-chair."
"Senator Murray would always like to see more women at the table, but as the only woman on this committee she will certainly be going to bat for the needs of women, working families, and all those who are depending on a balanced solution to this problem," assured Murray spokesman Matt McAlvanah.
At a Democratic caucus meeting last week, Shaheen stood up and implored Senate Majority Leader Harry Reid (D-Nev.), who was responsible for choosing the Democratic senators on the committee, to appoint women.
National Women's Law Center Co-President Nancy Duff Campbell echoed Shaheen's point that having Murray as a co-chair made a strong statement, adding that she hoped the male members of the Super Congress would also work to protect women's rights.
"I think it's fabulous that it's Patty Murray," said Campbell. "She's one of the strongest advocates for women in Congress. The fact that she's going to be a co-chair is very significant. ... There are also people like [Reps.] Chris Van Hollen and Xavier Beccerra -- there are other people who have also been appointed to the committee who have been very strong on women's issues. I'm disappointed obviously that there wasn't a Republican woman on it."
O'Neill said she was especially worried about the fact that the Republicans on the committee back Rep. Paul Ryan's (R-Wis.) budget plan and its proposal to change Medicare. Fifty-six percent of the health care program's beneficiaries are women.
"If you look at the committee as a whole, you've got six -- fully half the members of that committee -- who are already on record voting to convert Medicare to a private voucher system," she said. "Every single one of the Republicans on that committee voted to do that. Every single one of them -- and by the way, not one of the Democrats voted to turn Medicare into a voucher program."
"On behalf of women of this country, I think this committee is absolutely terrifying. From where I stand right now, our best hope is they can't agree on anything," she added.
During budget negotiations between lawmakers and Vice President Biden this spring, women were completely shut out of the room. That group had three top administration officials, including Biden, and six members of Congress -- all men.
"As we watch these budget negotiations go forward, we're going to make sure that it's not balanced on the backs of women and children," said Murray, who spoke at the press conference. "Privatizing Medicare, sending money to insurance companies, increasing the cost for Medicare recipients by doubling them, is not something we will support."
Women -- including House Minority Leader Nancy Pelosi (D-Calif.) -- were also left out of final budget negotiations in April, when White House aides gathered with high-level staffers for Reid and House Speaker John Boehner (R-Ohio) to hash out a measure to fund the government for the rest of the fiscal year. The final deal involved a major battle over women's health, including debates about blocking government funds to Planned Parenthood and banning the District of Columbia from using its own tax revenue to subsidize abortions for low-income women.
As far as racial diversity is concerned, the committee will have two members of color -- Reps. James Clyburn (D-S.C.) and Xavier Becerra (D-Calif.), who are members of the Congressional Black Caucus and the Congressional Hispanic Caucus, respectively. Pelosi appointed both of them to the committee.
This story was updated with a statement from Murray's office.
CORRECTION: This story originally listed Rep. James Clyburn as a Republican. He is a Democrat.
Calling all HuffPost superfans!
Sign up for membership to become a founding member and help shape HuffPost's next chapter