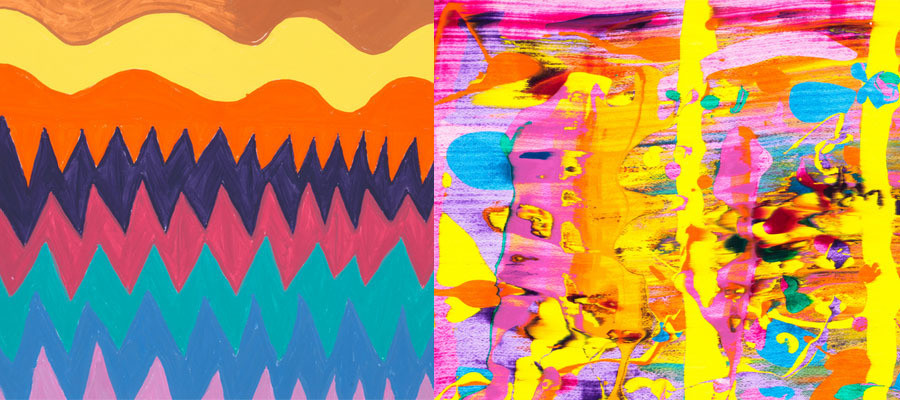 Left work by Eva Jun, right work by Jenny Sharaf
"I didn't really have expectations," artist Alicia McCarthy told The Huffington Post. "It's exactly the same as it would be meeting someone you don't know with the potential for collaborating."
McCarthy was one of five local contemporary artists selected by curator Jenny Sharaf to partner with a contemporary artist at Creativity Explored, a San Francisco-based nonprofit art center and gallery where artists with developmental disabilities create, exhibit and sell art. The resulting exhibition, "Super Contemporary," features collaborations in every sense of the word, with each artist pairing free to develop a unique creative process.
"We had a few months to do a collaborative project, whatever that looked like," Sharaf said. "The show is mostly focused on process, and friendship too, in a way. Everyone developed these really amazing friendships out of it."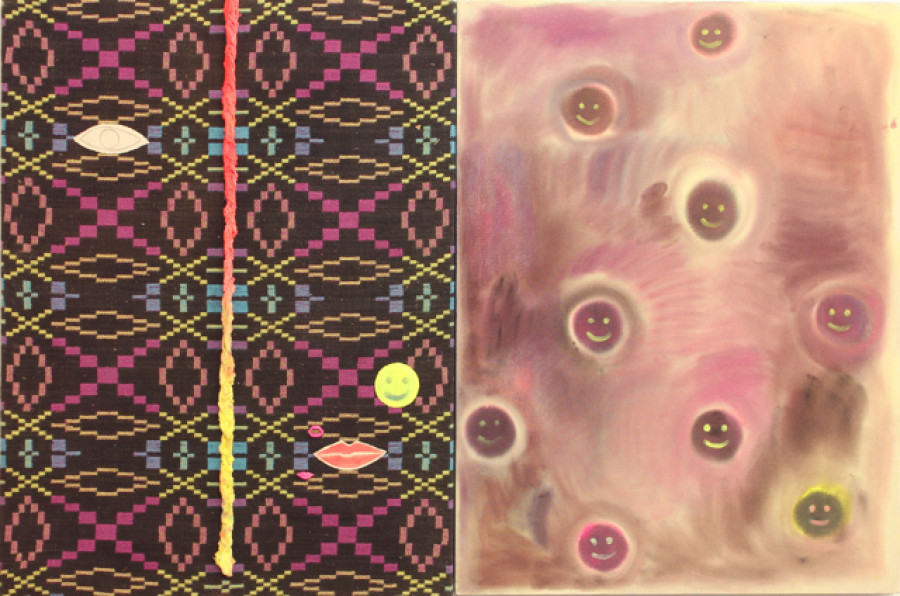 Bad Karma by Sarah Thibault, 2014, mixed media, 40 x 60 inches
Each artist pairing was assigned "intuitively," Sharaf explained, based both off of the artists' artistic languages as well as their personalities. Sharaf, known for her psychedelic abstractions that transform Michael's craft paint into melting neon hallucinations, teamed up with Creativity Explored artist Eva Jun, also known for her love of tactile surfaces and intense pigments. "Eva has these beautiful patterns she creates, she calls them waves and zig-zags," said Sharaf. "I think we share a sort of dedication to paint."
After the initial partnering, it was up to the two artists to forge their own artistic path, and whatever work emerged as a result. "We didn't really know how collaborative it would be, since everyone is pretty invested in their own abstract language and process at this point," said Sharaf. "Everyone is a developed artist. So the processes all look a little bit different. Eva and I really enjoyed being each other's assistants. I often need an extra set of hands in the studio, and I started to mix Eva's colors for her so she could keep working. We both learned how to manage people, which is a skill set I think we both needed. Sometimes we collaborated more. We'd pick colors together and riff off each other. If you look at our works you can see we used the same palette."
Creativity Explored works with individuals to foster artistic potential, strengthen confidence in self, inspire connections with other artists and art lovers and provide the tools to become working artists. The nonprofit gives artists the space, supplies and support they need to begin an art career, including the chance to exhibit professionally.
The term "outsider art" can be used to describe artists beyond the confines of the artistic institution, whether due to physical isolation, developmental disability or the simple desire to work apart from the academic mainstream. Instances of collaborations like "Super Contemporary," however, illuminate the marginalizing aspects and inaccuracy of the moniker. "I think 'outsider art' -- we should just ditch that word," said Sharaf.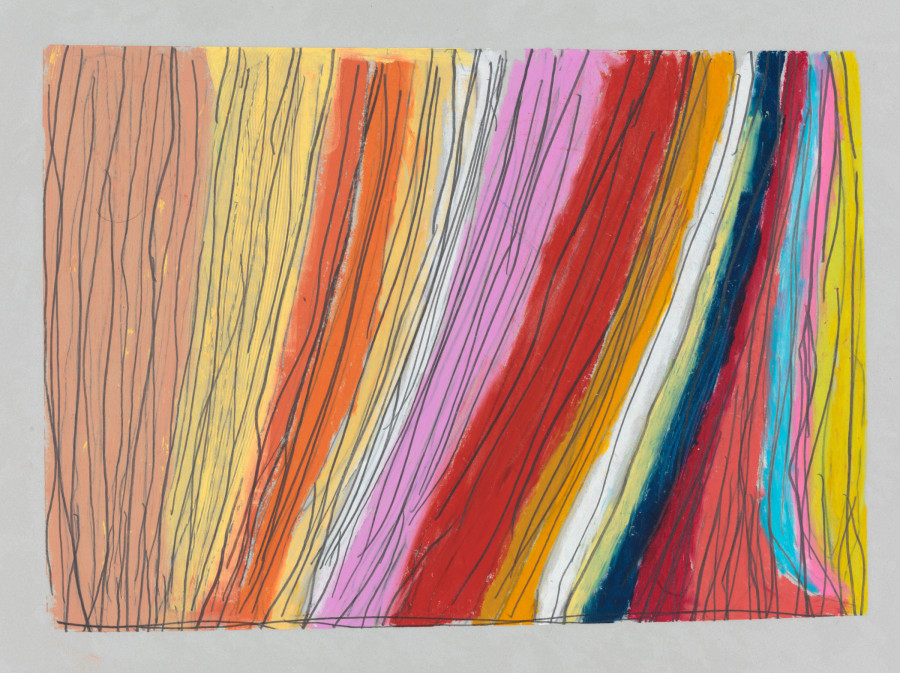 Untitled by Maria Berrios © 2015 Creativity Explored Licensing, LLC, oil pastel and graphite on paper, 11.25 x 15 inches
There are aspects of the project that set it apart from the establishment. "Compared to the contemporary art world, it's very free," Sharaf explained. "You can do whatever you want, everyone is riffing off each other, inspired by each other. I never had that experience in art school, so that's been a really fun, free exchange of practice. Other people influence me, I influence people, and it's not even like we're talking about it."
"I think the thing that is most striking to me is the long hours that these artists put in each day," contemporary artist Maysha Mohamedi commented. "I have to work another job so I go to the studio at strange hours and I have a small child and have to pay attention to how I'm marketing myself. And when I see these artists working for like eight hour stretches, I think -- sometimes in the art world it's so much about the PR. And the whole idea that one would be working so hard for such a long stretch of time on something your passionate about is kind of lost."
The consensus seems to be that, despite a unique goal, Creativity Explored feels just like any other art-making environment in the best possible way. "It's really just like any studio, just a lot of people making art," said McCarthy. "I'm really grateful just to have been invited here. Everyone is so welcoming and accommodating."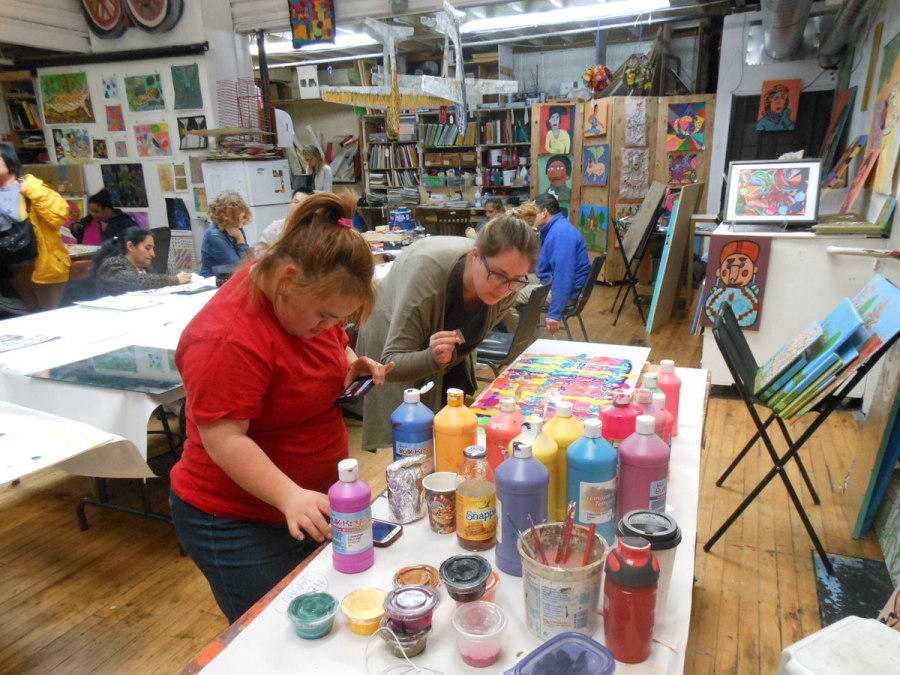 CE artist Eva Jun (left) and curator and artist Jenny Sharaf (right).
"It makes me feel uncomfortable to talk about them as outsiders now that we're friends. Their art is just as good, if not better, than what's going on in the academic realm. I go to a lot of art fairs and I see a lot of crappy art that's less conceptual than what's going on at Creativity Explored," Sharaf said. "If you're kind of intimidated by art it's a great place to start."
Creativity Explored's Eric Larson expressed a similar sentiment in an earlier interview with The Huffington Post: "I understand there needs to be a term for it, but it implies that inside-outside dichotomy. On a certain level we're all just artists. Some might have more attention than others but there is a real democratic view of what art is here at the studio. I don't necessarily have a problem with it, because you need to have a label on it in some way, but especially with a disabled community it implies they are somehow outside the mainstream."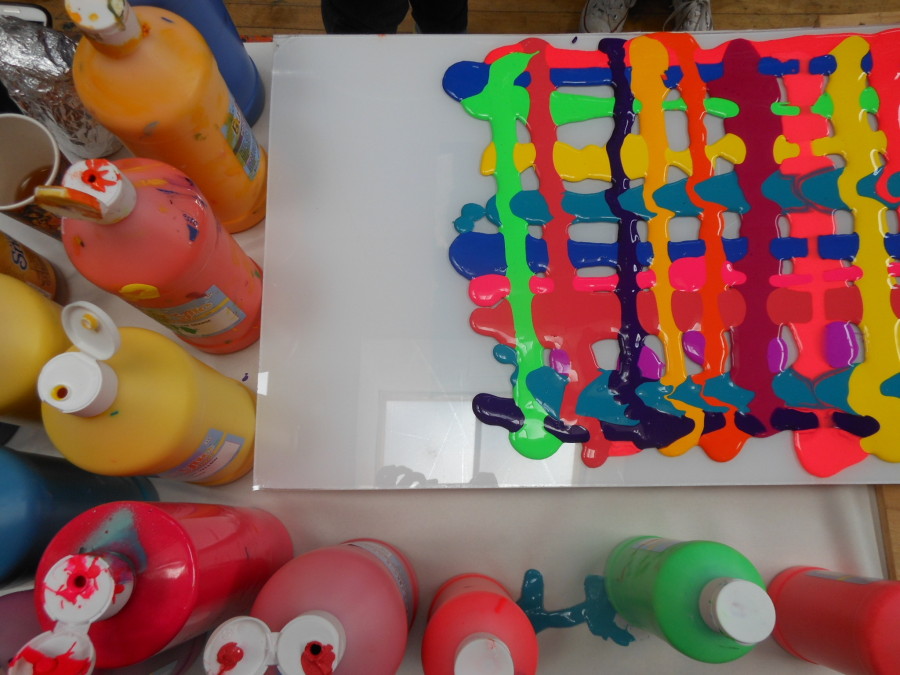 A work in progress by CE artist Eva Jun and curator Jenny Sharaf.
The final artworks, most dwelling in the realm of abstraction, depict a vibrant inner world of rich colors, graphic patterns, touchable textures and a heavy dose of imagination. Eva Jun's "Happy is a shade of Blue" features smooth waves of acrylic paint that sharpen until the bottom layer resembles teeth, all in recharged pastel hues reminiscent of a Georgia O'Keeffe painting, with the saturation turned all the way up on Photoshop. You can see the resemblance to Sharaf's oozing color-scapes, resembling TV static liquefying more quickly than a popsicle.
"I'm more collaborative than I realized," Sharaf said. "I hope to do more projects that put artists in new situations and challenge them in a way regular gallery shows maybe don't. And, of course, continuing to create a community around art."
"Super Contemporary" runs from April 30 until June 17, 2015, at Creativity Explored in San Francisco. Participating artists include Maria Berrios and Sahar Khoury; Eva Jun and Jenny Sharaf; Kaocrew "Yah" Kakabutra and Maysha Mohamedi; Taneya Lovelace and Alicia McCarthy; and Evelyn Reyes and Sarah Thibault.
Outside the Lines" is an ongoing series addressing the prickly genre sometimes referred to as outsider art.
Calling all HuffPost superfans!
Sign up for membership to become a founding member and help shape HuffPost's next chapter
BEFORE YOU GO
PHOTO GALLERY
Outsider Art Fair Preview