Who else is obsessed with all things cozy?!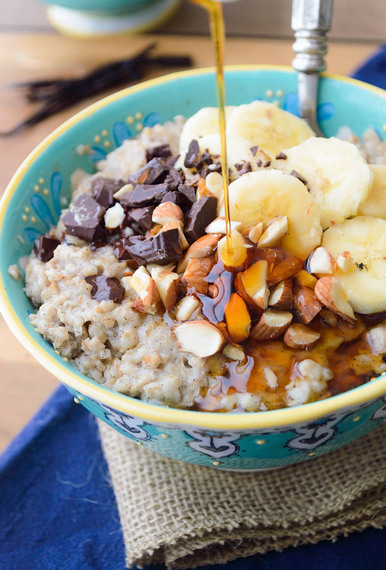 It's January people. We need extra thick Costco blankets, fuzzy pink slippers, checkered scarves that wrap around your entire body, smooth whisky cocktails that warm up the soul, polka dot rain boots, steamed almond milk lattes and a COZY BREAKFAST to start the day.
I know some of us aren't down for the whole cooking thing or have time to eat breakfast before that 6:00 a.m. wakeup call for work, school or whatever it is making your schedule hectic as ever.
This is 2016, we are all energizer bunny busy people trying to be a superhero on a daily basis because life feels so much more fulfilling that way.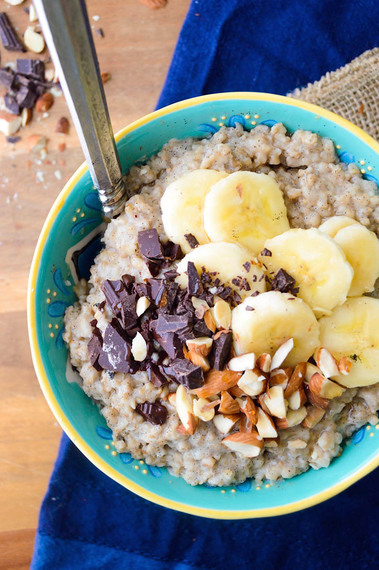 Psssst guess what. You deserve a break. Like a once-in-awhile-break that allows you to come up for air from your chaotic life.
You deserve a cozy bowl of steel cut oats studded with vanilla beans, maple syrup and cinnamon spice. Superwoman can't save the world without the proper fuel ya know?
Before you ignore my zen style advice and opt for that stale bagel from Starbucks... you should know these creamy steel cut oats can cook over night via the magic slow cooker AND makes a huge batch which = COZY BREAKFAST ready for you all week long. Boom.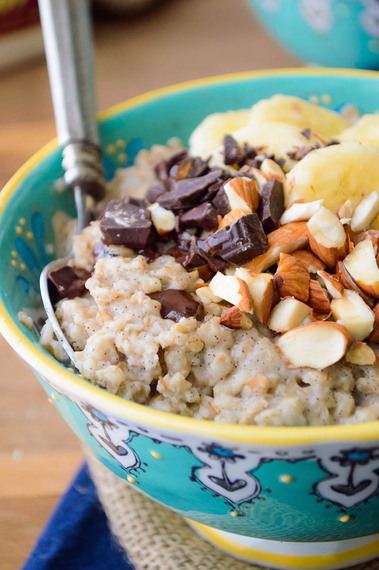 For more information on this recipe go HERE
Ingredients
1 cup steel cut oats (dry)
2 cups vanilla almond milk
2 cups water
2-3 vanilla bean pods
2 Tbsp maple syrup
2 tsp cinnamon
Sea salt to taste
2 Tbsp ground flaxseed (optional)
Topping Ideas: Sliced banana, berries, chopped almonds or nut butter, maple syrup or brown sugar, Greek yogurt, chocolate chips
Directions
Set your slow cooker to low heat and grease with olive oil or coconut oil. DO NOT skip this step please or else your oats will stick to the slow cooker in the morning, trust me I learned the hard way.
Place your milk and water into the slow cooker along with the steel cuts oats. Scrape over your vanilla bean pods with a knife and scoop out the beans. Stir them into your oats along with the maple syrup, sea salt, cinnamon and flax.
Cook oats in the slow cooker for 8 hours or overnight. You can also prep them in a large pot the night before over the stove top as well if you don't have a slow cooker.
Notes: Leftovers can be stored in the fridge and reheated throughout the week in a microwave safe dish, with some almond milk.