Peppermint truffles pretty much exude holiday confidence. They make an amazing homemade gift, and Aimee's video tutorial will show you just how easy it is!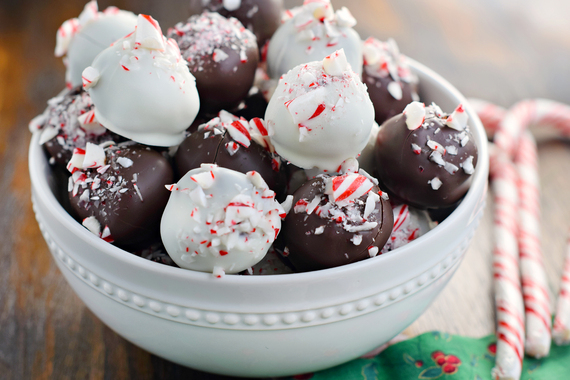 I've been wanting to make these super simple peppermint truffles for a long time now. Several years ago I shared these dark chocolate with coconut truffles. I knew back then that I wanted to make a Peppermint version.
Those chocolate coconut truffles are one of my mom's favorite candies. Here in Illinois we have a place called Fannie May (if you're not familiar, it's probably best that way, haha). But they make this Trinidad truffle that is so amazing. Those chocolate coconut truffles are a copycat version of that Fannie May treat.
But, some people are anti-coconut (Hi Michael, sweet hubby o'mine). Certain people would much rather enjoy peppermint truffles.
Making these treats is super easy, but I put together a little video to help you see the preparation in action!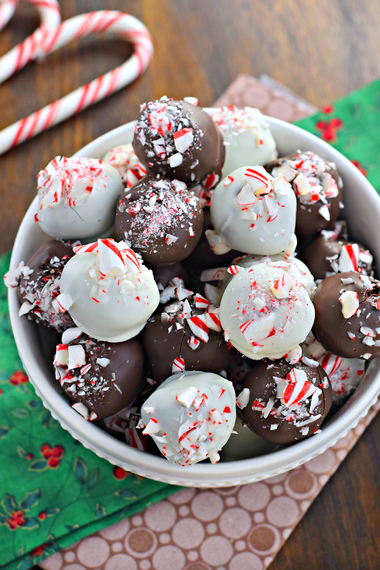 A few quick tips:
Use a good quality chocolate for this recipe. It's the star of the show, so make it shine! I love using Ghirardelli Bittersweet Chocolate Morsels (60% cacoa)
Heat your chocolate and heavy cream in a glass bowl in the microwave for one minute. Stir until smooth. If it's still not smooth, heat in 15 second increments.
Refrigerate the chocolate for about an hour.
Once chilled, it should be soft (but not hard). Use a 1 Tbsp scoop to drop truffles onto a parchment paper lined baking sheet. FREEZE truffles for another hour.
Use finger tips to shape frozen truffles into a ball. Then use a toothpick to dip truffle into melted chocolate. Again, USE GOOD CHOCOLATE. I love the bags of Ghirardelli Melting Wafers. Not only do they melt smooth, but they taste delicious too. Be sure to sprinkle your truffles immediately with crushed peppermint. Be generous, this is where the peppermint flavor comes into play!
Be sure to check out some of my other favorite truffle and candy recipes for the holiday season!
(and video tutorial too!)
Aimee Shugarman of
likes all things sweet, as you can probably guess. Writing about homemade candy came naturally, and we're oh so thankful she's our
.