Forget the foot long sub or the nachos and cheese. What a good football team needs to win is a muffuletta, a line backer size sandwich stuffed with Italian cured meats and cheeses. An impressive muffuletta is as good as it gets for the Super Bowl. The best part is that you make it a day ahead of time so while you are laying in supplies like 6 packs of beer and respectable wine, you can get all the ingredients for this right in your grocery store. Some say the sandwich originated in New Orleans and it may be that Sicilian immigrants, of which New Orleans has a lot, made a version of this hefty sandwich, but it is more likely that the muffuletta originated in Calabria, where it was called a pitta. This was a two-crusted pie made from bread dough and filled with anchovies, tomatoes, capers and cheese. Over the years and with immigrant embellishment, the pitta has evolved. The point is that no matter who dukes it out in this year's game, the muffuletta is a sure winner.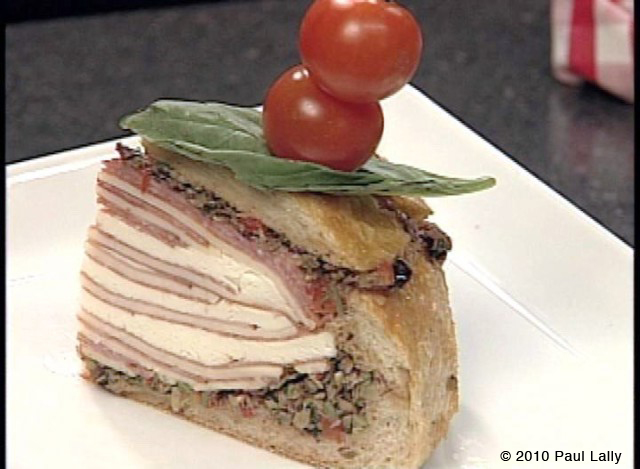 Salad Mixture
1 cup oil-cured black olives, pitted
1 cup green olives in brine, drained and pitted
⅔ cup sliced fennel bulb
½ cup marinated artichoke hearts, drained
1 small sweet red pepper, cored, seeded, and cut into strips
2 cloves garlic, minced
½ cup chopped mixed fresh basil, flat-leaf parsley, and fennel leaves
2 tablespoons extra virgin olive oil
Fine sea salt to taste
One 2-pound boule (round loaf) sourdough bread
Meat and Cheese Filling
¼ pound thinly sliced Genoa salami
⅓ pound thinly sliced prosciutto
⅓ pound thinly sliced capicolla
½ pound fresh or packaged mozzarella, sliced
½ pound thinly sliced provolone
Put the olives, fennel bulb, marinated artichokes, and pepper strips, in a food processor and coarsely chop. Transfer the mixture to a bowl and add the garlic, chopped herbs, and olive oil. Blend well and season with salt. Cover the bowl and set aside to marinate for several hours.
With a bread knife, cut a ½ inch thick lid off the top of the bread and set aside. With your fingers, pull out the interior crumb of the bread, leaving about a ¼ inch-thick shell. Reserve the inside crumbs of the bread for another use such as bread crumbs.
Spread half the marinated salad ingredients evenly in the bottom of the bread shell. Layer the meats and cheeses alternately on top of the salad. Spread the remaining salad over the top. Replace the bread lid. Wrap the bread tightly in aluminum foil. Place a heavy weight such as a cast-iron skillet or two clean bricks on top of the bread and refrigerate it for at least 6 hours or, even better, overnight.
An hour before serving, remove the foil and place the muffuletta on a serving plate. With a bread knife, cut it into wedges while it is still cold (this will ensure neatly cut wedges). Let it come to room temperature before serving. Find a photograph of the completed Muffuletta and other great Italian recipes on my blog at CiaoItalia.com.
Author Bio
Mary Ann Esposito, author of Ciao Italia Five-Ingredient Favorites: Quick and Delicious Recipes from an Italian Kitchen, is the creator and host of the long-running PBS series Ciao Italia, celebrating its 20th anniversary in 2010. She is the author of eleven successful cookbooks, including Ciao Italia Slow and Easy and Ciao Italia Pronto! She lives in Durham, New Hampshire.