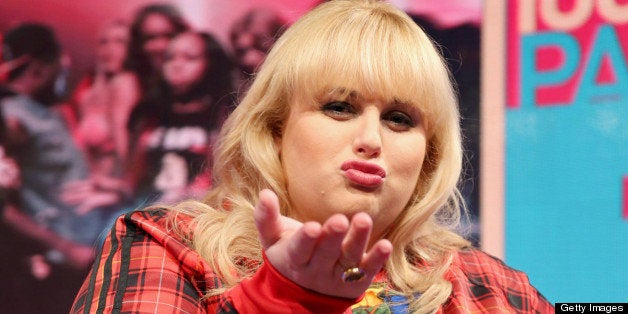 The half-hour "Super Fun Night" centers on Junior attorney Kimmie Boubier (Wilson) and her two best friends Helen-Alice (Liza Lapira) and Marika (Lauren Ash), who have had a standing date every Friday night for the last 13 years. They even have a motto for what they call "Friday Night Fun Night": "Always together! Always Inside!"
However, Kimmie's recent promotion throws a monkey wrench into the tradition. Not only is she now working with her idol, "Lady Lawyer of the Year" Felicity Vanderstone (Kelen Coleman), but she meets a dashingly handsome British attorney, Richard Lovell (Kevin Bishop), who invites her to his party at a trendy club. Determined to spend time with Richard and heed Felicity's advice to network, Kimmie sets out to convince her friends to take Super Fun Night on the road.
The network also picked up "The Goldbergs" from Adam F. Goldberg. Before there were parenting blogs, trophies for showing up, and peanut allergies, there was a simpler time called the '80s. For geeky 11-year old Adam (Sean Giambrone) these were his wonder years and he faced them armed with a video camera to capture all the crazy.
The Goldbergs are a loving family like any other, just with a lot more yelling. Mom Beverly (Wendi McClendon-Covey) is a classic "smother," an overbearing, overprotective matriarch who rules this brood with 100% authority and zero sense of boundaries. Dad Murray (Jeff Garlin) is gruff, hot-tempered and trying to parent without screaming. Sister Erica (Hayley Orrantia) is 17, hot, terrifying and not one to mess with. Barry (Troy Gentile) is 16, a grade A spaz with classic middle child syndrome. Adam is the youngest, a camera-wielding future director who's crushing on an older woman. Rounding out the family is beloved grandfather Al "Pops" Solomon (George Segal), the wild man of the clan, a shameless Don Juan who's schooling Adam in the ways of love. When Pops buys a new sports car and offers his Caddy to middle child Barry, it's enough to drive this already high-strung family to the brink of chaos.
"Back in the Game" stars "Psych's" Maggie Lawson as a single mother who moves back in with her crotchety father (James Caan), a retired baseball player, and begins coaching her son's (Griffin Gluck) little league team. She soon finds herself sucked back into the competitive sporting mindset despite her best efforts to leave that world behind.
"Mixology" is a single-camera ensemble comedy set in a Manhattan bar. It follows the exploits of singles in search of love and features "The Following's" Adan Canto, Kate Simses, Ginger Gonzaga, Sarah Bolger, Blake Lee, Andrew Santino, Adam Campbell and Vanessa Lengies. Executive produced by "Hangover" writers Jon Lucas and Scott Moore, it hails from Ryan Seacrest Productions.
"Trophy Wife" stars Malin Akerman as a recovering party girl who falls for an older man named Brad (Bradley Whitford) and finds herself saddled with an instant (and unenviable) family since Brad already has three manipulative children and two judgmental ex-wives. Marcia Gay Harden, Michaela Watkins and Natalie Morales co-star.
ABC canceled an additional five series from the 2012-2013 season: "Body Of Proof," "Happy Endings," "How To Live With Your Parents," "Malibu Country" and "Red Widow," which join the previously canceled "666 Park Avenue," "Don't Trust The B---- In Apartment 23," "Last Resort," "Private Practice" and "Zero Hour." On a more positive note, the network renewed "Castle," "Grey's Anatomy," "Last Man Standing," "The Middle," "Modern Family," "Nashville," "Once Upon A Time," "Revenge," "Scandal" and "Suburgatory." ABC has not confirmed the reported fates of "Family Tools" and "The Neighbors."
Calling all HuffPost superfans!
Sign up for membership to become a founding member and help shape HuffPost's next chapter